In our last submission, things looked pretty good in the big picture and on the intermediate-term. Near-term, however, we were concerned that the market was overbought on all our stochastics, that we were bumping up against the upper Bollinger band, that we were just about to get one of our famous "Best Fade" Sell signals and that TSP Talk's poll was showing a frothy 57% Bulls and just 25% Bears. The problem with getting bearish was that we had not yet gotten confirmation from my very reliable Actual Position Poll saying the top was in, so I felt it premature to take any bearish action. I expected some short-term weakness soon, but not just yet, and we felt that it was far too early to pull out the Bear suit.
In fact, the market rallied for a few days, corrected, then rallied on. So, not too bad a call.
Now that we are some 200 points higher, should we be looking for a top? We know that Octobers often see market declines, sometimes big ones. I get that. Also, our preferred trend indicator is negative, as is the Intermediate-term Breadth Momentum Oscillator. These things suggest some weakness is possible or even likely.
That said, I don't think we've got much more weakness ahead. First of all, Cumulative A/D Volume was a hair from making new highs yesterday. That's not what you'd expect in a weak market.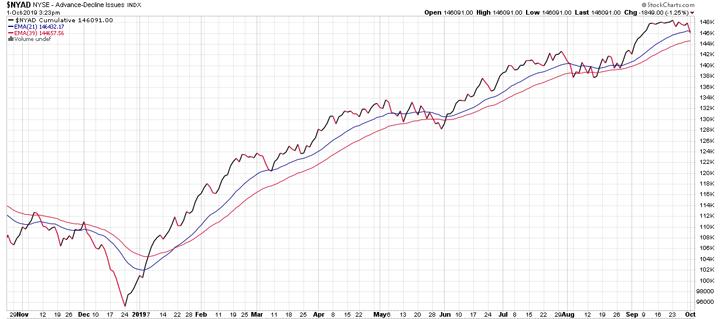 Also, Callum Thomas's "FinTwit" poll showed 63% fundamentally or technically bearish. This is a lot of bearishness for a market just a spit away from new highs. AAII is also well away from "Sell Territory."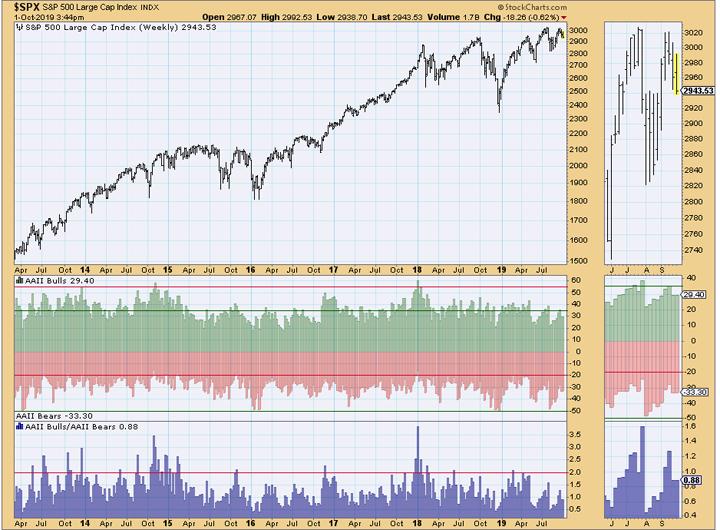 Now, Investor's Intel is showing a ton of bullish, which is consistent with weakness, but NAAIM isn't showing the same level of bullishness. That isn't inconsistent with a bit of selling, but it's not a super-reliable signal.
What's really got me wanting to stay bullish is the never-before seen reading from our Wall Street Sentiment Survey. We had ZERO Bulls in our weekly survey. I've been running this survey since the early 1990s and I've NEVER seen a 0 reading before. That's bullish. Period. Moreover, for the past 20 years, you can see that bearish readings, as high as they are now, have been generally bullish. In context with the market action and the lack of Bulls, I think we have to be longer-term bullish, even as this reading may presage short-term weakness this week.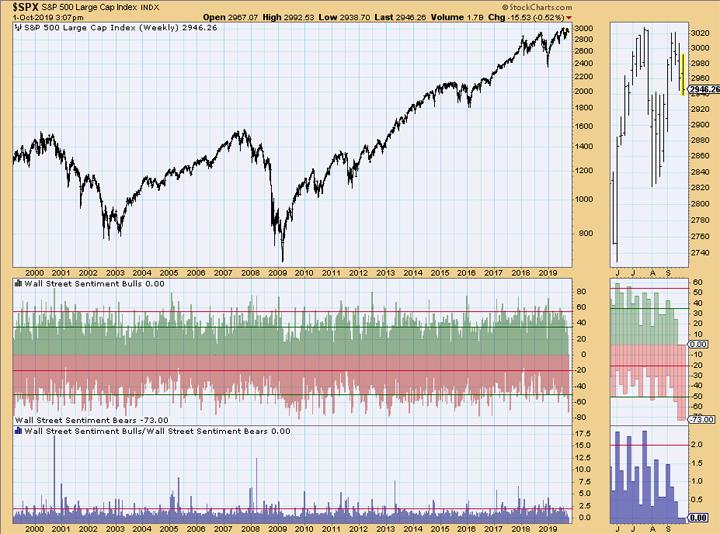 One last thought: if you are out of the stock market, chances are you are losing money right now to inflation. Yet a lot of people are doing just that. Moreover, with negative interest rates in many places, there's considerable pressure to find liquid, relatively safe, income-producing investments. The only game in town is the US stock market, in my opinion. Unless rates rise considerably, we believe the reality of inflation is going to drive large sums of money into the stock market. This could mean MUCH higher prices. I think it's far too early to pull out the Bear suit.
Have a prosperous week!
Mark Steward Young
Wall St. Sentiment
http://www.wallstreetsentiment.com/trial.htm