SPX Monitoring Purposes: Sold 6/1/21 SPX at 4202.04 gain 2.1%; Long 5/19/21 at 4115.68.
Monitoring Purposes GOLD: Long GDX on 10/9/20 at 40.78.
Long-Term SPX Monitor Purposes: Sold long SPX on 1/15/21 at 3768.25= gain 10.80%; Long SPX on 10/26/20 at 3400.97.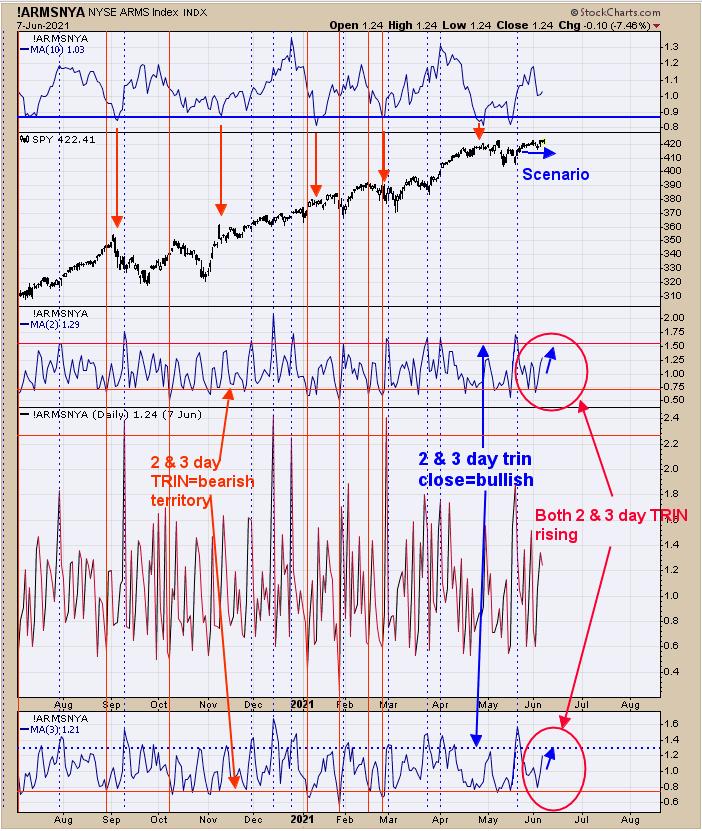 The bottom window is the 3-day TRIN; the third window up from the bottom is the 2-day TRIN. Over the last couple of days, both have been rising, a bullish short-term sign. We were expecting a pullback this week, and that still may be the case, but, with rising TRIN readings, the potential pullback may be shallow and could be limited to last Thursday's low near 415 on the SPY. Today's TRIN closed at 1.37 and leans bullish, but the TICK closed at +457, which is bearish. With the crosscurrent, we will remain neutral for now. Sold 6/1/21 SPX at 4202.04 gain 2.1%. Long 5/19/21 at 4115.68.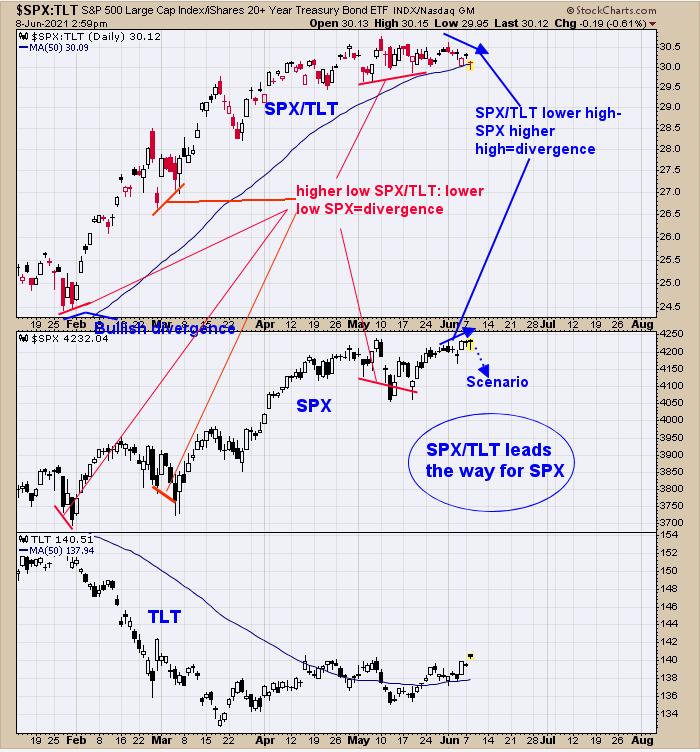 We updated this chart from yesterday and it's still showing weakness. Yesterday, we said, "The top window is the SPX/TLT ratio. It's common for the SPX/TLT ratio to lead SPX. For the last several days, the SPX/TLT ratio has been making lower highs as the SPX has been making higher highs, a negative divergence. This week is also the week before options expiration week, where whipsaws are common. Could see a pullback this week. Last Thursday's decline tested the open gap near 415 on the SPY on higher volume and suggests that area will be tested again and could be a downside target."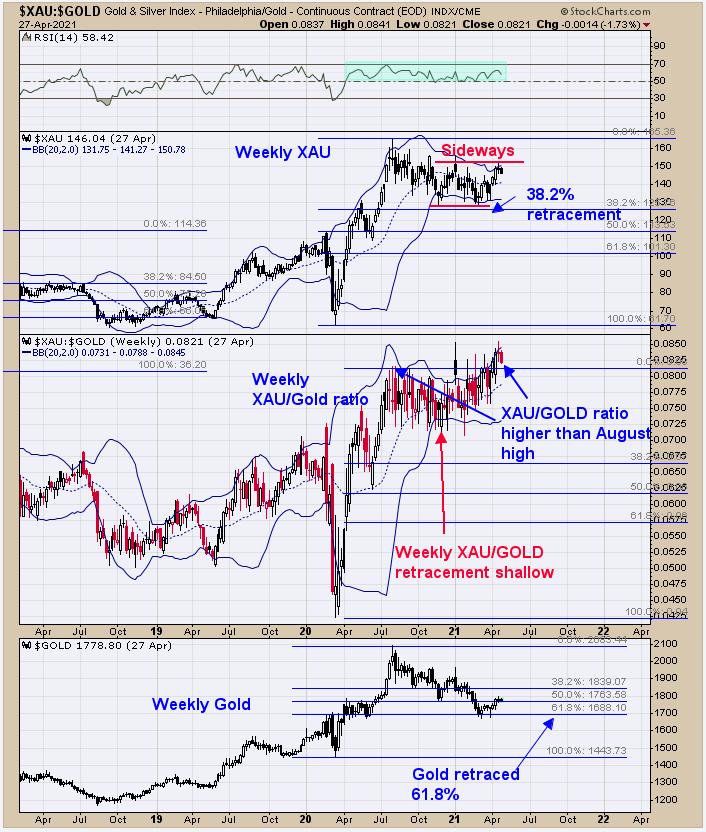 The bottom window is the weekly Gold chart, along with its Fibonacci retracements, which were 61.8% from last March low. Compare that to the weekly XAU chart, which only retraced 38.2%, illustrating that Gold stocks are stronger than Gold; this shows the market is in a bull market. This relationship can be seen in the weekly XAU/Gold ratio, which has been steadily rising since December 2020 and has hit new three-year high and a bullish longer-term sign. Though XAU has traded sideways since last November, the weekly XAU/Gold ratio has hit new highs above last November. In bull markets, the XAU/GOLD ratio leads XAU. This suggests new highs are coming for the XAU.
Tim Ord,
Editor
www.ord-oracle.com. New Book release "The Secret Science of Price and Volume" by Timothy Ord, buy at www.Amazon.com.