In the world of banking, the Canadian banks have been very resilient to market forces. Running through my scans today, I found the TD Bank breaking out to a new all-time high.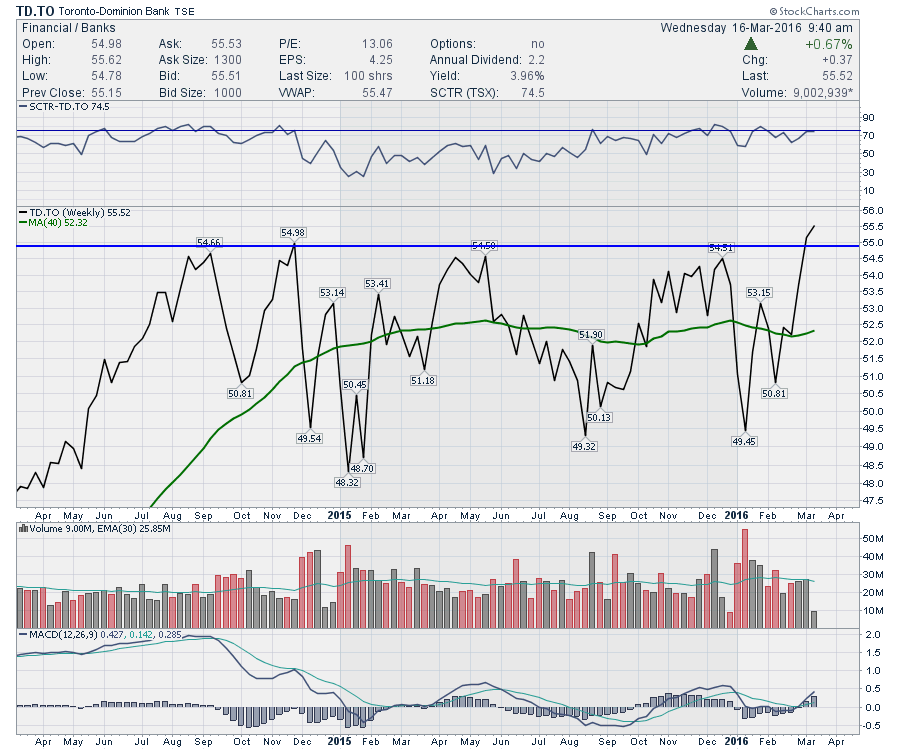 ---
While I am not that bullish on banks because of the impending debt restructuring in the oil patch, the steel industry, the miners, and the oil services industry to name a few, I am obviously surprised to see a primary bank in Canada breaking out to new highs. It is hard to argue with the price action. This looks bullish!
Rolling through the Canadian Banks might be a good strategy when one starts to flicker with the 'new-high' beacon. A quick look below suggests this may have more to run.
RBC is testing a major trendline on the multi-year chart as well. Notice how these SCTR rankings are still not above 75. I find that interesting, as they are not showing enough price strength to be leaders in the Canadian market.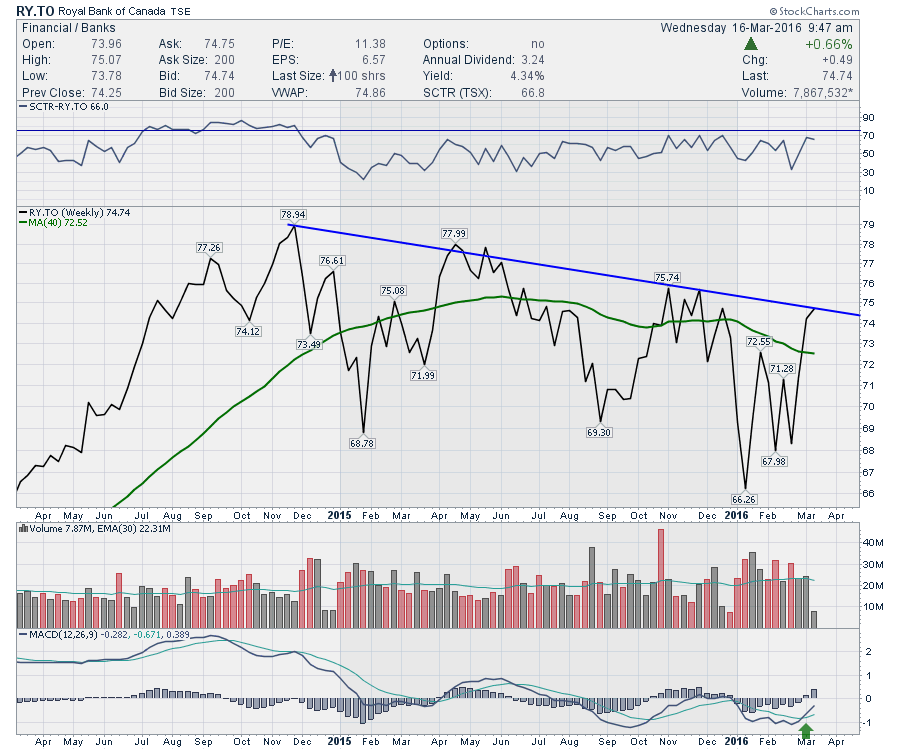 Looking in on Scotiabank, they suffer from Latin American exposure which has not been rewarding due to the influence of commodities in that region. However, they have broken out from a downtrend that started when oil broke down. The 52-week high is up around $65 but the recent price action has got the SCTR above 75! I like the sound of that.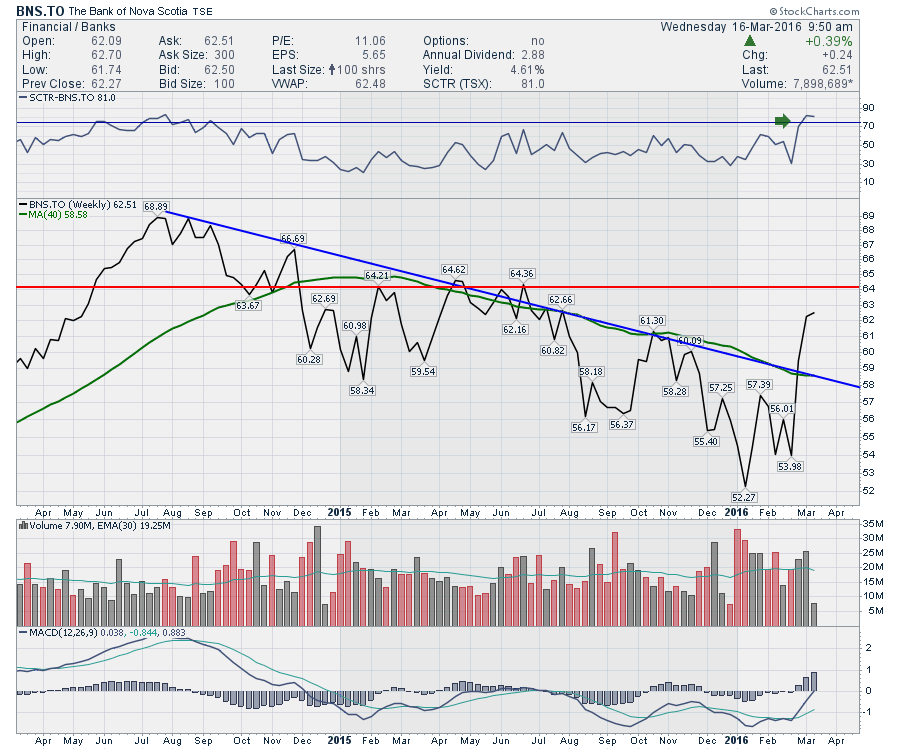 BMO is also trying to break to new highs. The intraday high is $79.14 which is not shown by this line chart, but if we close the week here, this will be a new 52 week closing high! SCTR above 75!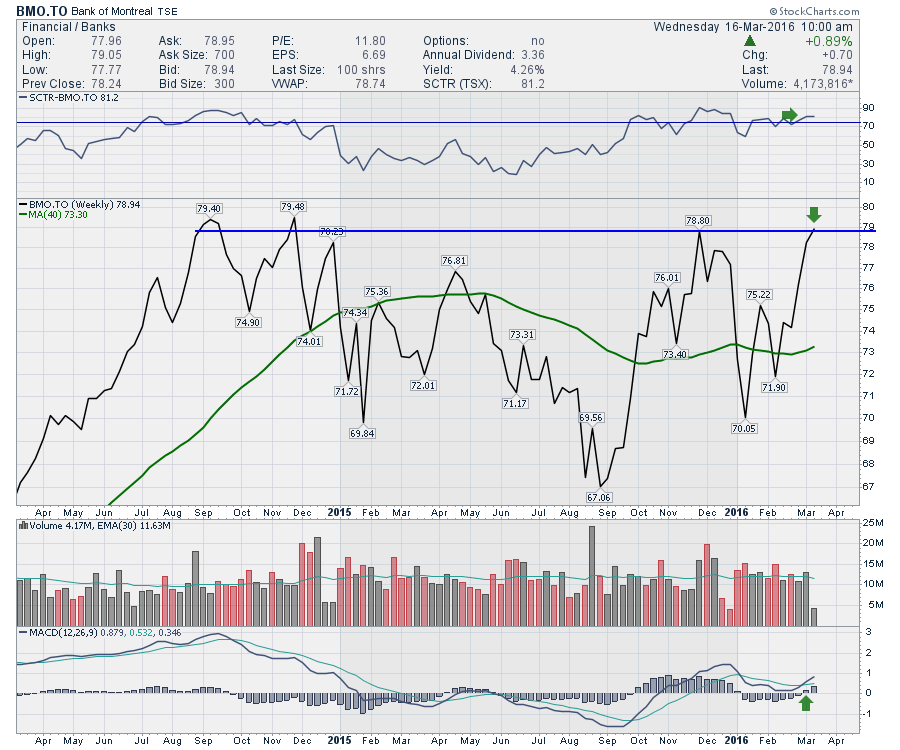 CIBC is a bank stock that does not get as much love as the rest of them. However, the SCTR has moved above 75 and the 52-week highs are not that far away.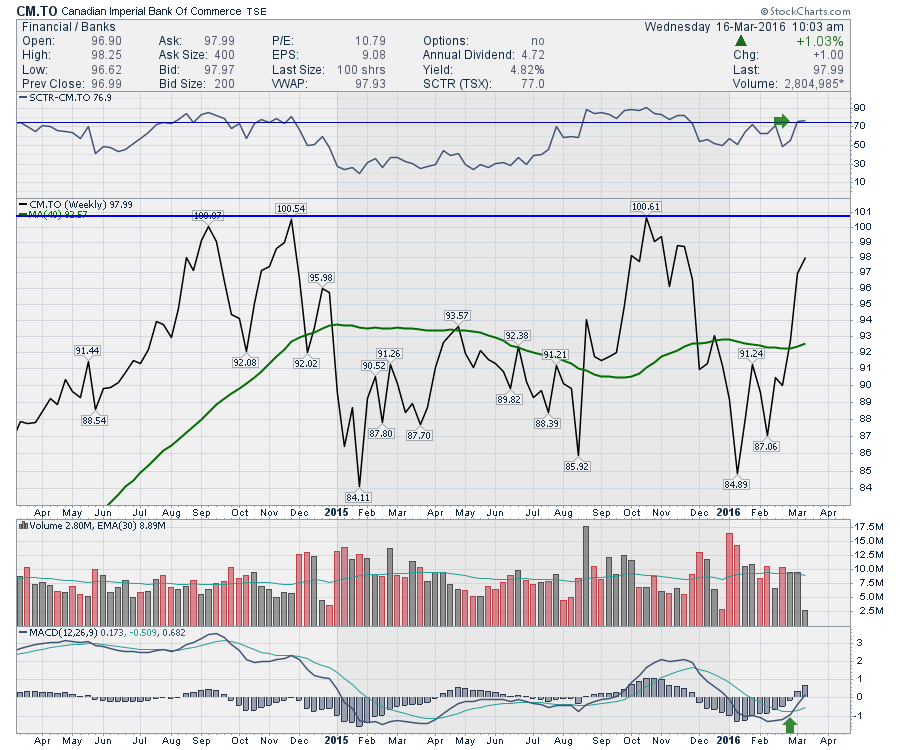 National Bank has been in a primary downtrend, but the trend line is being tested this week.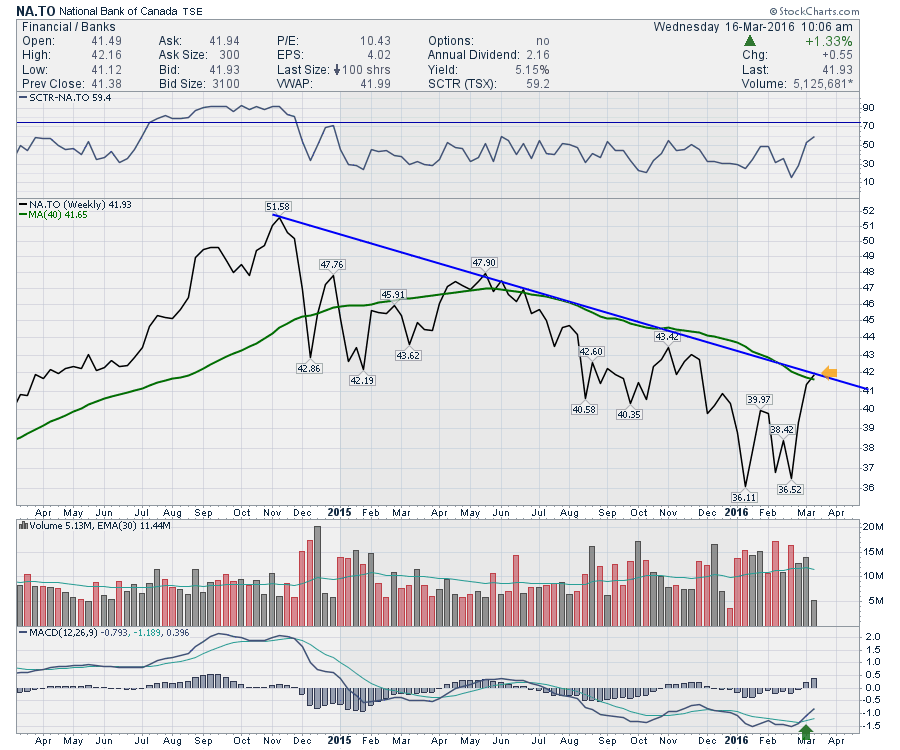 Canadian Western Bank sits in the centre of the oil patch. Obviously, the oilpatch loans are a problem. However, with the recent rally in energy stocks, this stock has broken above the 40 WMA and the trend line. The SCTR is just testing that strong 75 level. We aren't staring at 52-week highs any time soon, but this is an important development.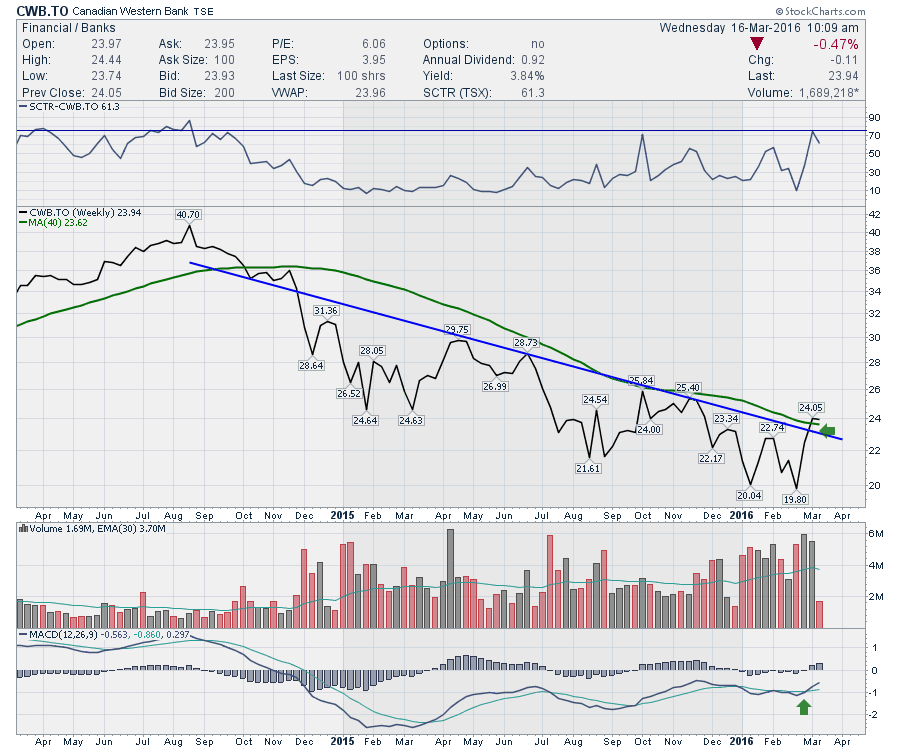 So my resistance to investing in the banking sector is weakening substantially. That negativity is going to flip to optimism if the markets continue higher early next week. I do think this week marks a major point of inflection in the markets. I'll be burying my bearishness if this can hold up to the end of next week. I'll have a lot more on the webinar being held Tuesday, March 22. You can register for that by following this link. The Canadian Technician Live Webinar 20160322.
I will be doing a Commodities-focused webinar on Thursday, March 17, 2016. Click here to register. The Commodities Countdown 20160317.
Regarding connecting to my articles,
I was recently asked about subscribing to StockCharts blogs. You must subscribe to each blog independently. I currently write on four different blogs within StockCharts. The Canadian Technician, The Commodities Countdown, Don't Ignore This Chart, and the ChartWatchers newsletter. If you are missing some of the commentaries I refer to, it could be posted on different blogs. I try not to duplicate across them. Sometimes different gold articles are discussed on the Canadian blog as well as the Commodities Countdown blog as an example. Please register for each of them independently by clicking yes below the article. You can also follow me on twitter @schnellinvestor. You can also connect with me on LinkedIn.
Good trading,
Greg Schnell, CMT