The Canadian transportation stocks rolled over on the back of the oil prices falling back in 2014. Most of the Canadian transportation stocks topped out in late 2014 to Mid 2015. Air Canada (AC.TO) was no different.
Currently this chart looks beautiful. The SCTR breaking out to 75 is my favorite signal. The price is breaking out to close the week, the month and the quarter. The volume acceleration is great and the MACD moving above zero on the weekly. Sweet!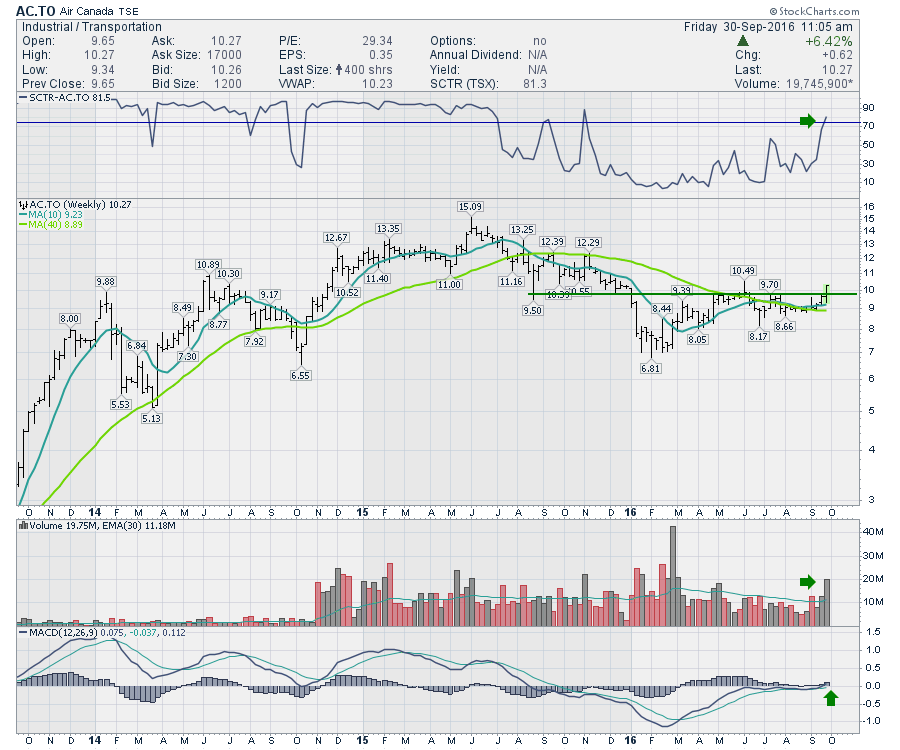 ---
I wrote about the Canadian Transportation stocks back in June and you can follow this link to see the article. Canadian Transportation stocks. The interesting part about the oil and gas/ transportation relationship is that most people would expect the transportation stocks to rise when oil is falling and fall when oil is rising. With the oil business being such an important part of Canada's economy, there is a positive correlation in general.
I will be doing a Canadian Technician webinar on Tuesday and you can follow this link to register. The Canadian Technician Webinar 2016-10-04.
Good trading,
Greg Schnell, CMT, MFTA.