Many stocks are up 100% or more
Most have seen dramatic volume surges
---
For Canada, Marijuana within the Healthcare Sector has been one of the single biggest performers over the last month. Let's review what is going on here.
The last month shown on the first table has seen spectacular gains. The Percentage Change column is remarkable.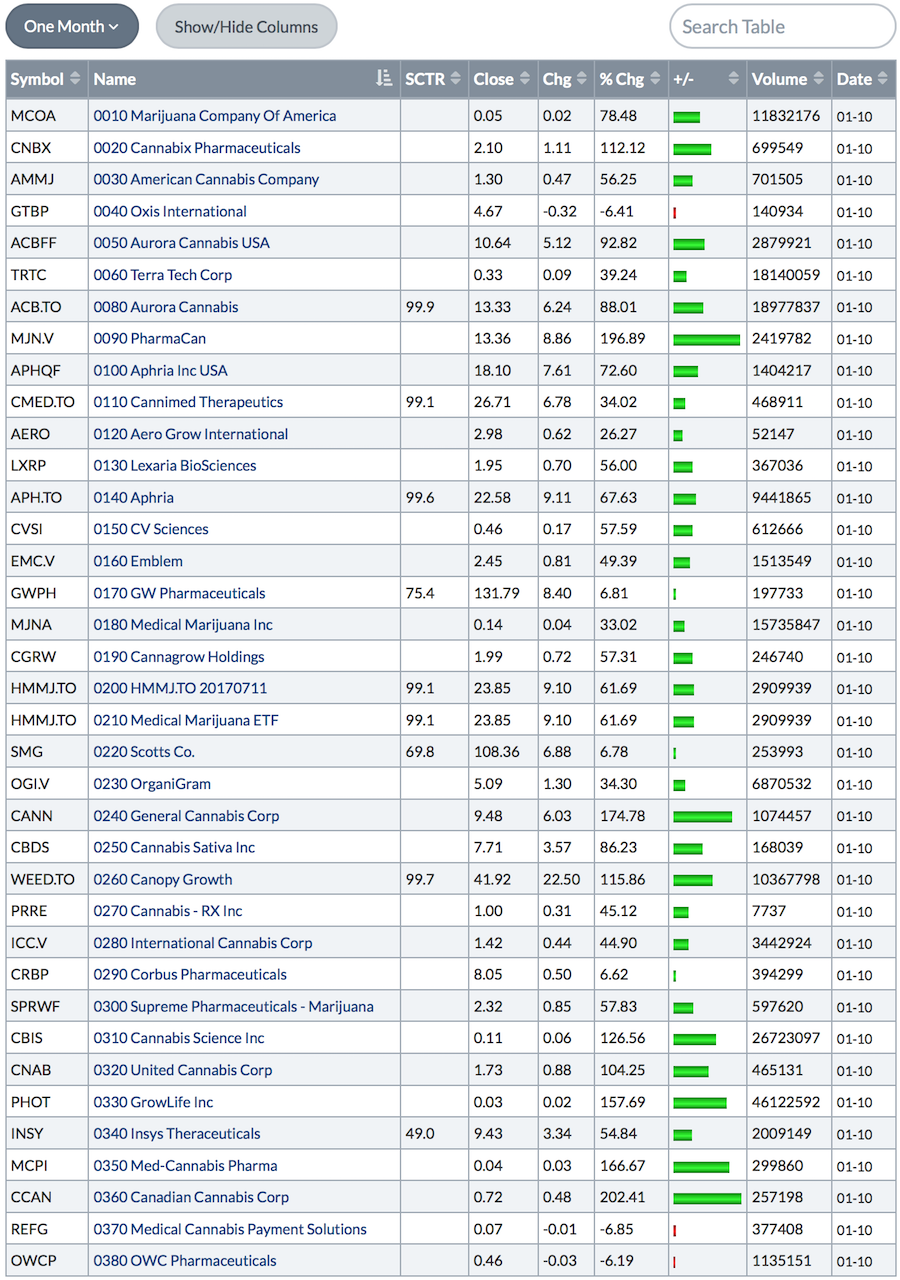 ---
The Marijuana stocks have had a wild week. This is a one-week table below. One was up 24%, some were down 30%.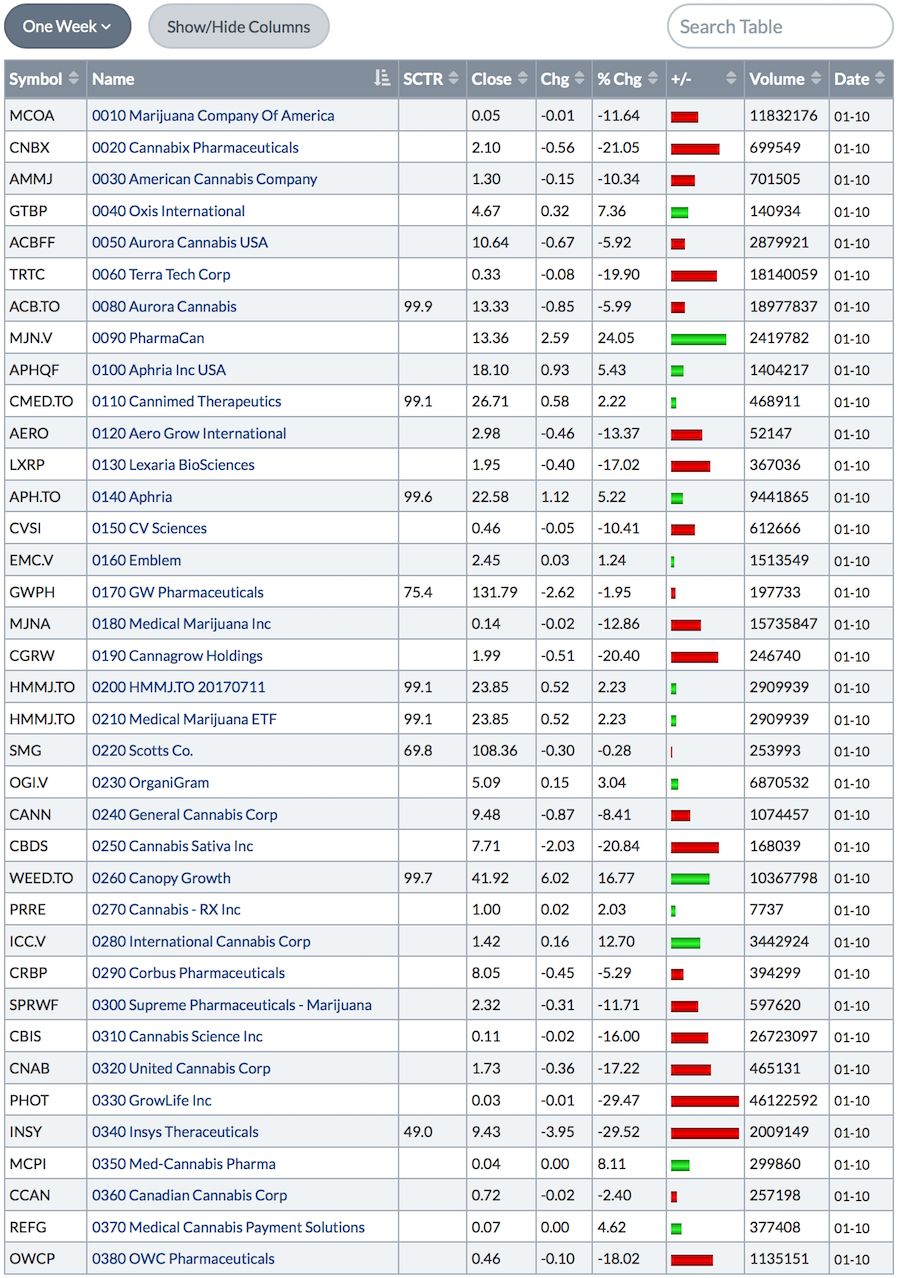 Today, it was cautionary.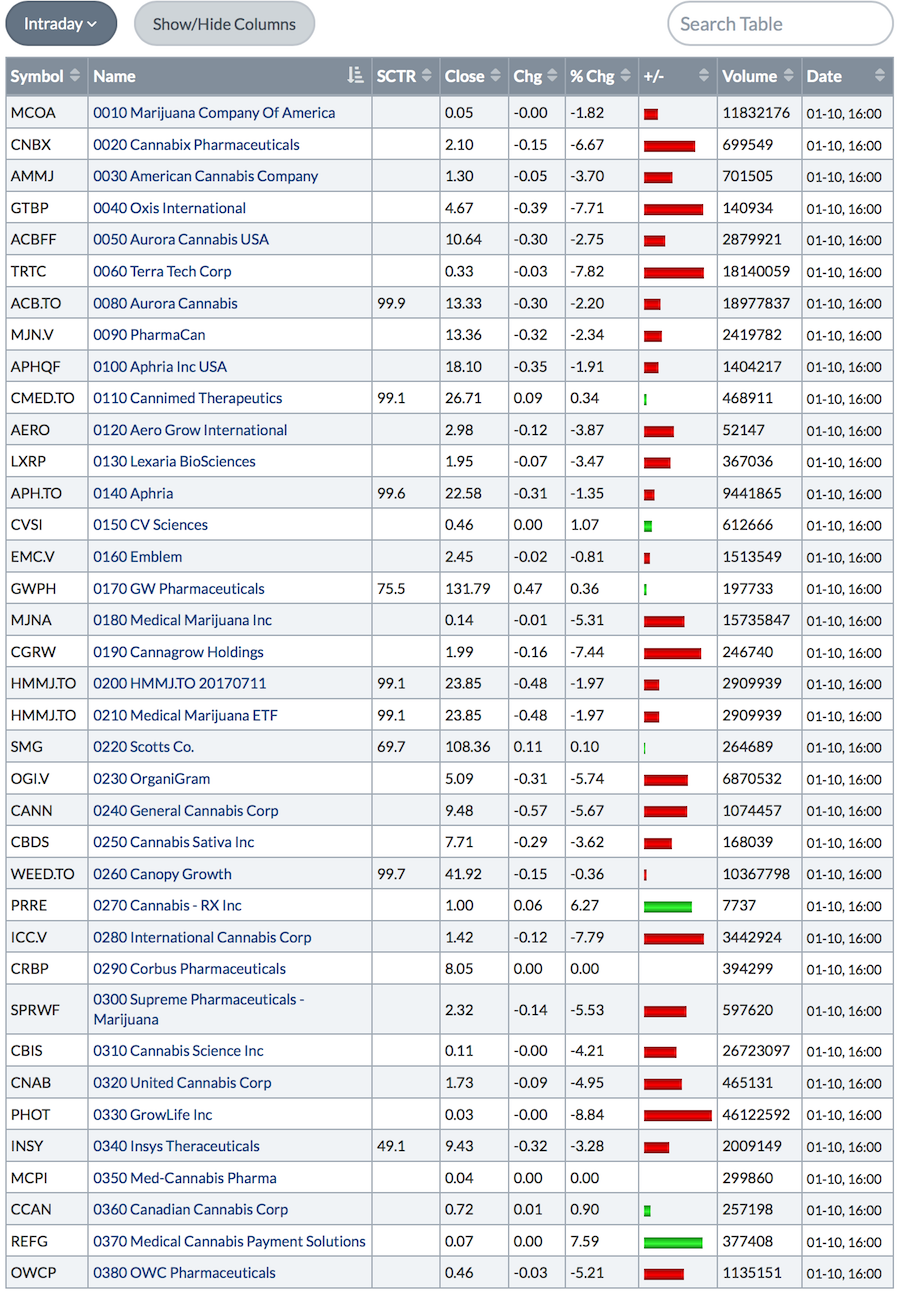 A lot of these stocks do not have an SCTR ranking. Most of the stocks without the SCTR are penny stocks. I will cover off the SCTR ranked stocks here as well as higher priced stocks, but it is a select few that have not had extreme volume and price surges.
Aurora Cannabis (ABC.TO) has moved 100% in six days and 500% in three months. Now it is just consolidating sideways. I have started with an SCTR ranking of 99.9, so this is the strongest one.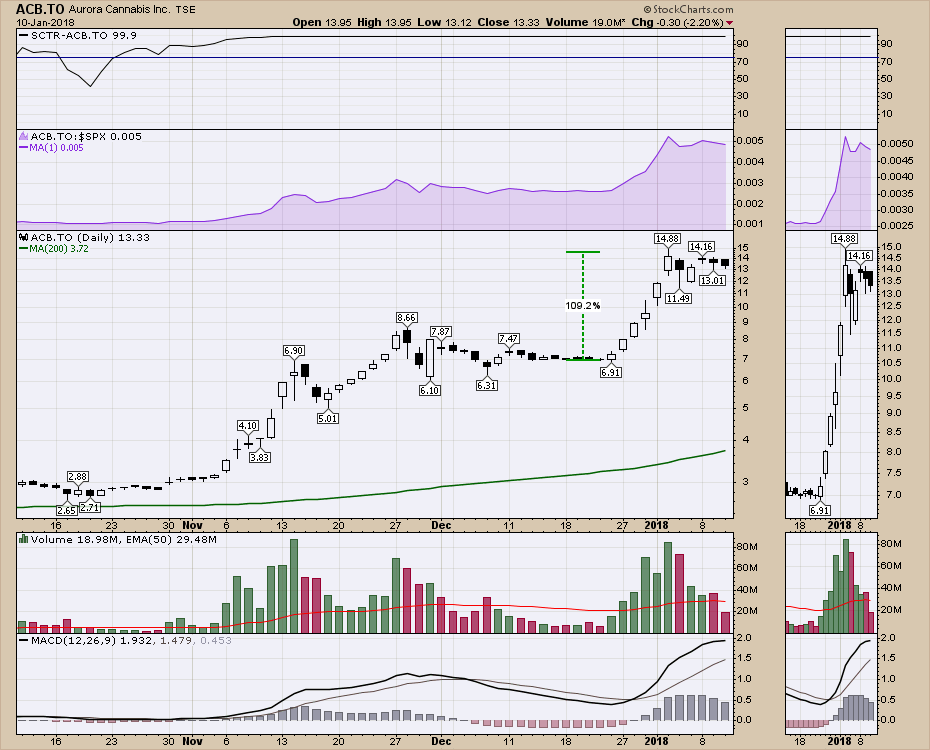 Canopy Growth Corp (WEED.TO) has moved 120% in three weeks. It is still in an uptrend (no kidding!) and the volume has held up. Both Aurora (above) and Canopy Growth had very low volume on the selling today compared to the huge volume on the upward surge. That has to be bullish.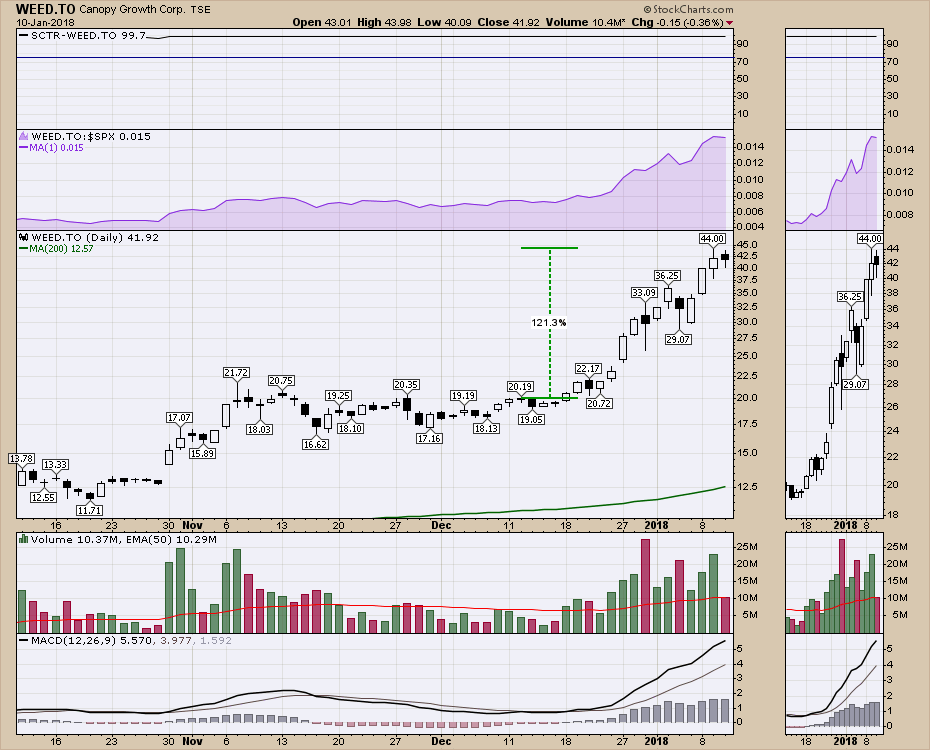 Aphria (APH.TO) announced earnings today. This chart is obviously beautiful. It is up 200 % in two months. The last two weeks have seen extreme volume.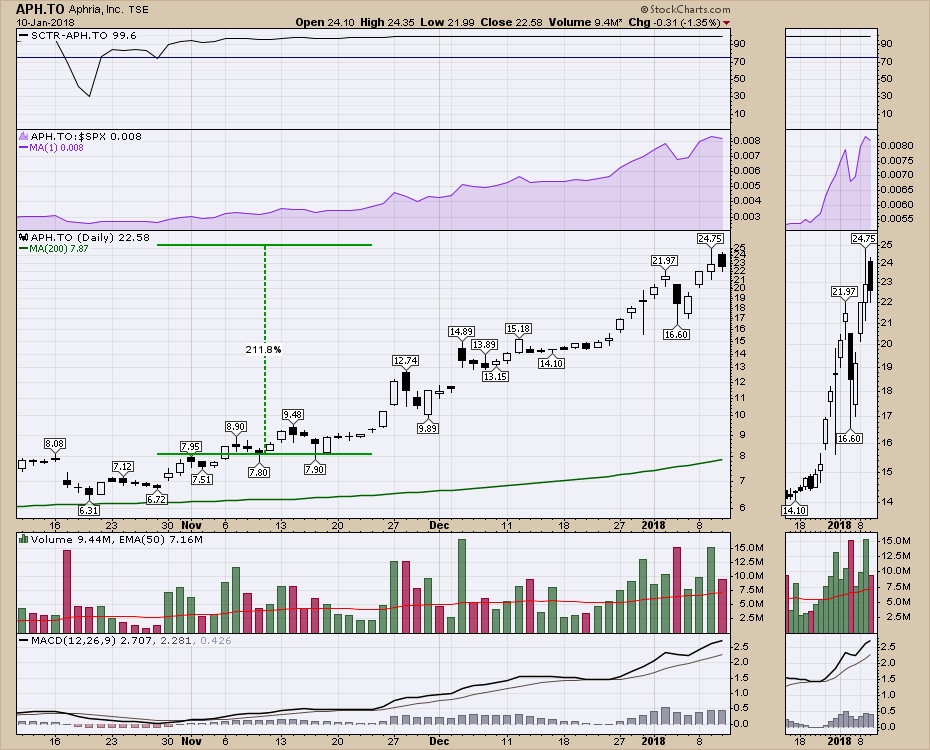 CanniMed Therapeutics (CMED.TO) is up about 140% in under three months.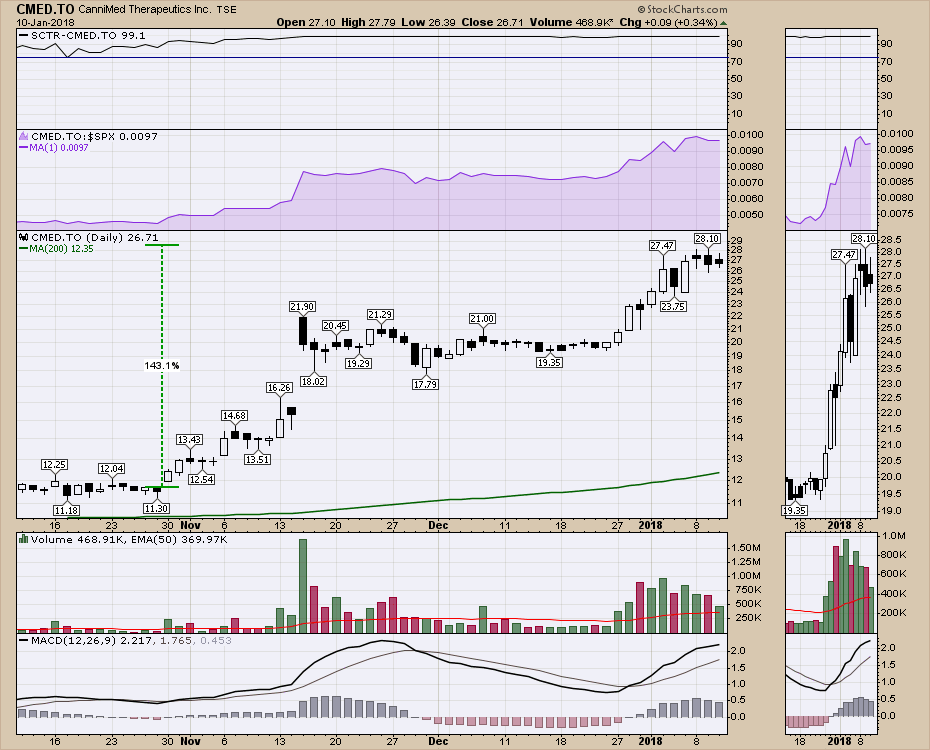 The Horizons Medical Marijuana ETF (HMMJ.TO) is a summation of many of these stocks. It has a very smooth trend. The recent volume blast may be a caution towards a consolidation, but this is still climbing.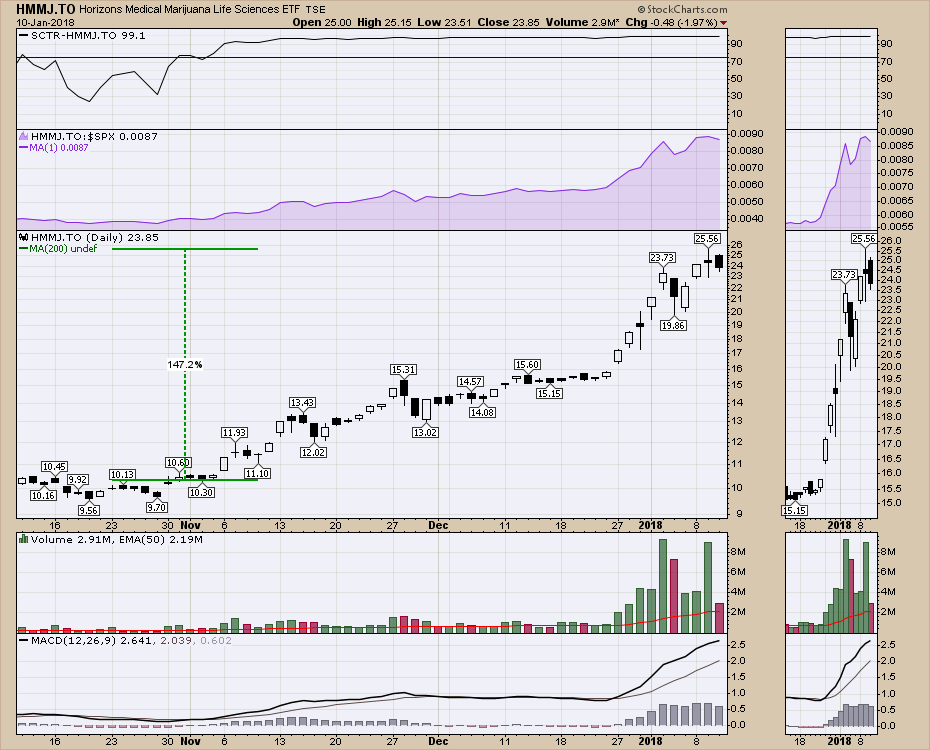 GW Pharmaceuticals (GWPH) has been pulling back the last two weeks, but it is sitting on support. This is a much higher priced stock. I would suggest watching this one closely to see if more money comes into the stock. This stock has not seen the volume acceleration.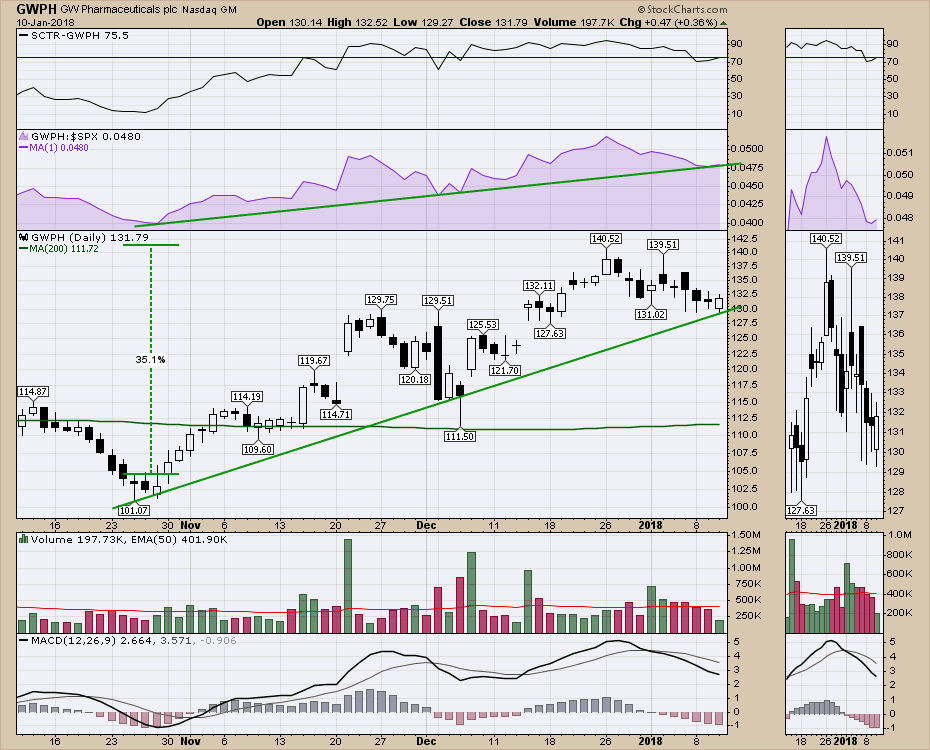 Scott's Co. (SMG) has not had a huge move but it is still up 12%. Watch this closely while it consolidates.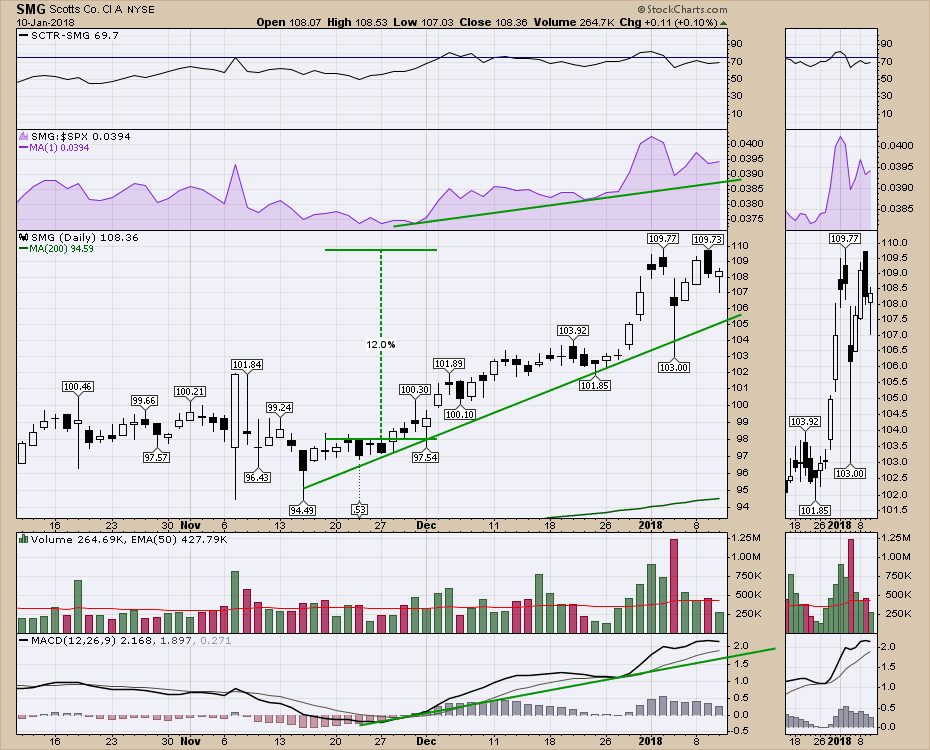 Insys Therapeutics (INSY) has a fabulous December (+ 160%), but it has already broken down 50% of the December gain. The SCTR has dropped to 49.1.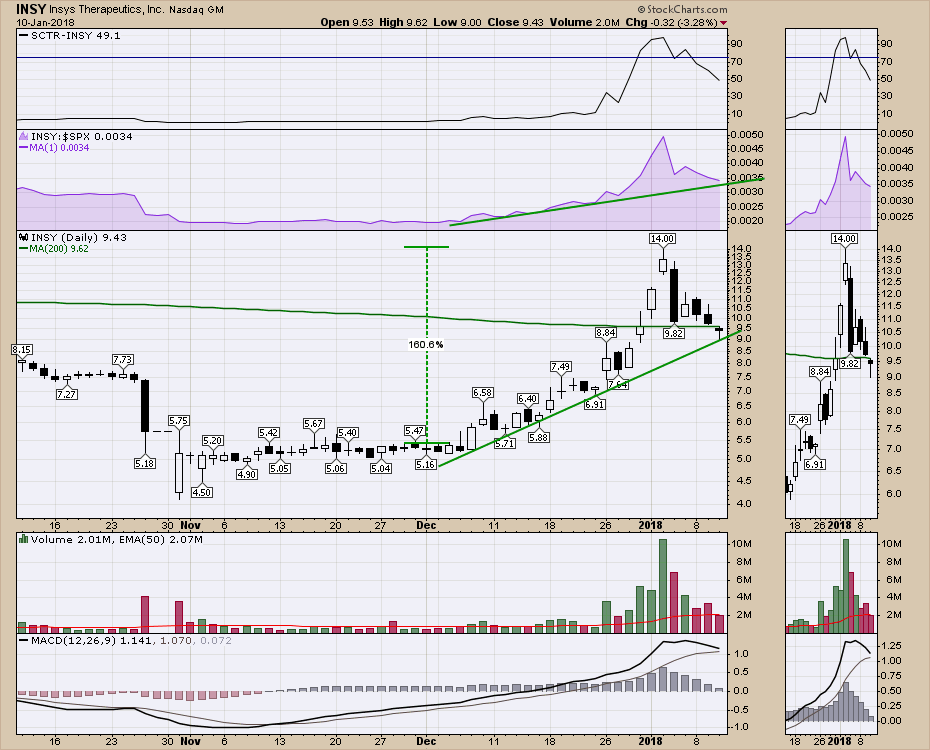 PharmaCan (MJN.V) is listed on the Venture Exchange so it does not have an SCTR. Without question, the rise in the stock is drawing attention to it. This is a fast percentage gain over two months at 350%.
Organigram (OGI.V) was one of the early names and it is doing well.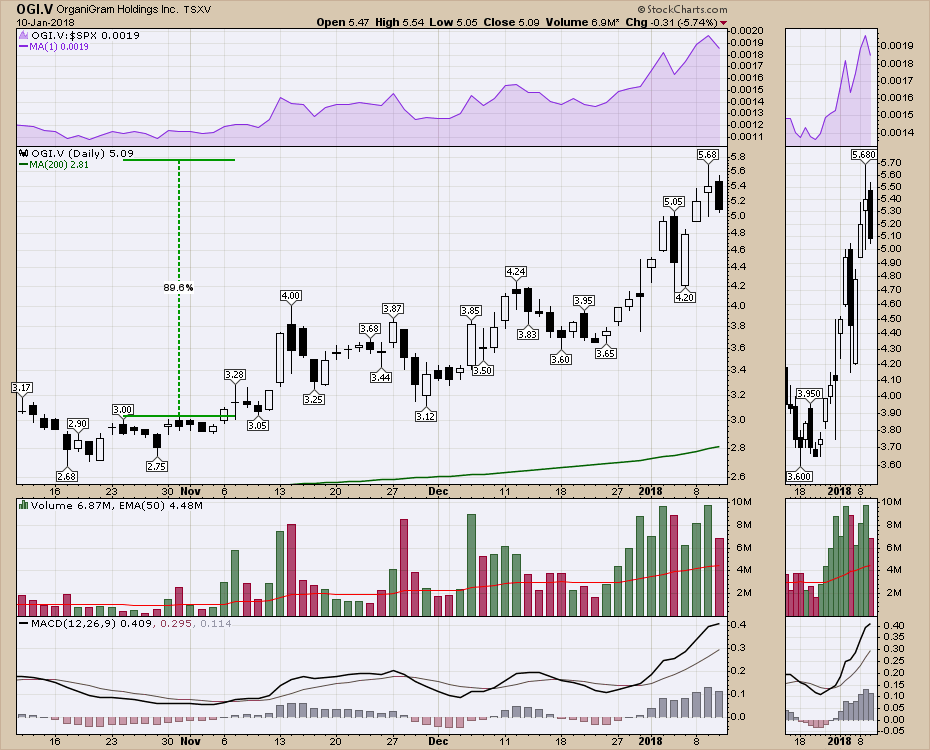 General Cannabis Corp (CANN) literally erupted from a $1.08 to 11.19 which is up over a 1000%. This trades in the USA with nice volume over 1 Million/day. You can get by with those kind of gains every two months!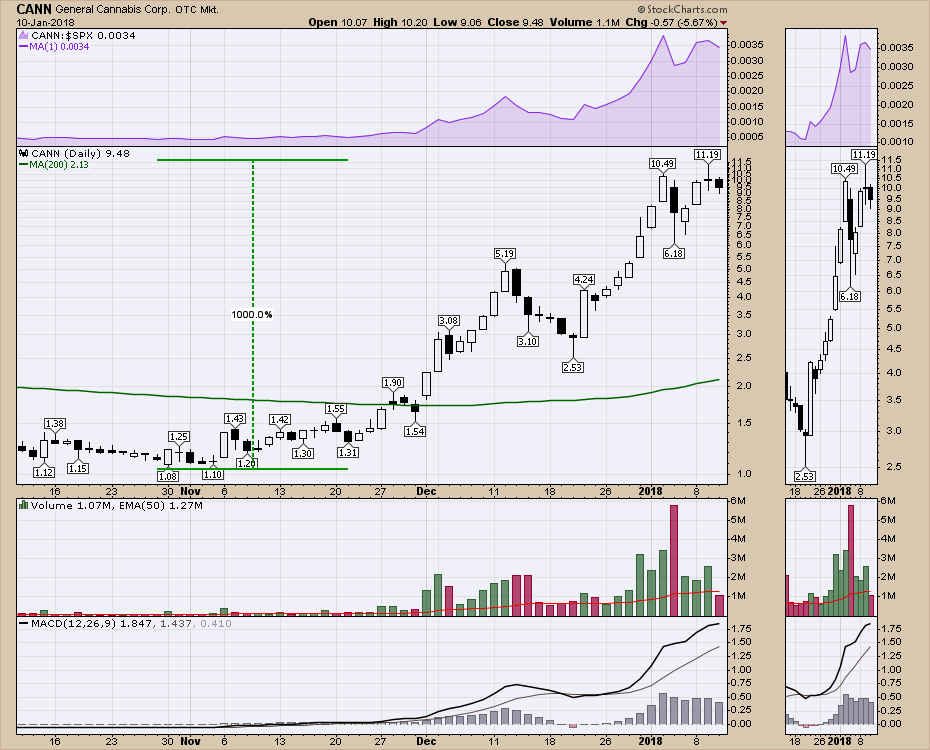 Cannabis Sativa (CBDS) also moved a couple hundred percent in two months.
I will suggest that these extreme volume surges may indicate an intermediate high is in place and the stocks may need to consolidate these gains. Almost every chart shows an extreme surge recently. If you look on the top three stocks shown, you will see historically that after extreme surges, the stock usually consolidates a little bit.
Nothing wrong with the charts right now, they just need to consolidate the gains.
Good trading,
Greg Schnell, CMT, MFTA