Financial stocks have lagged throughout 2014 and are showing signs of slowing momentum. That's keeping hope alive for the bears. The XLF (ETF tracking financial stocks) has a clear long-term negative divergence in play on its MACD as you can see from the chart below: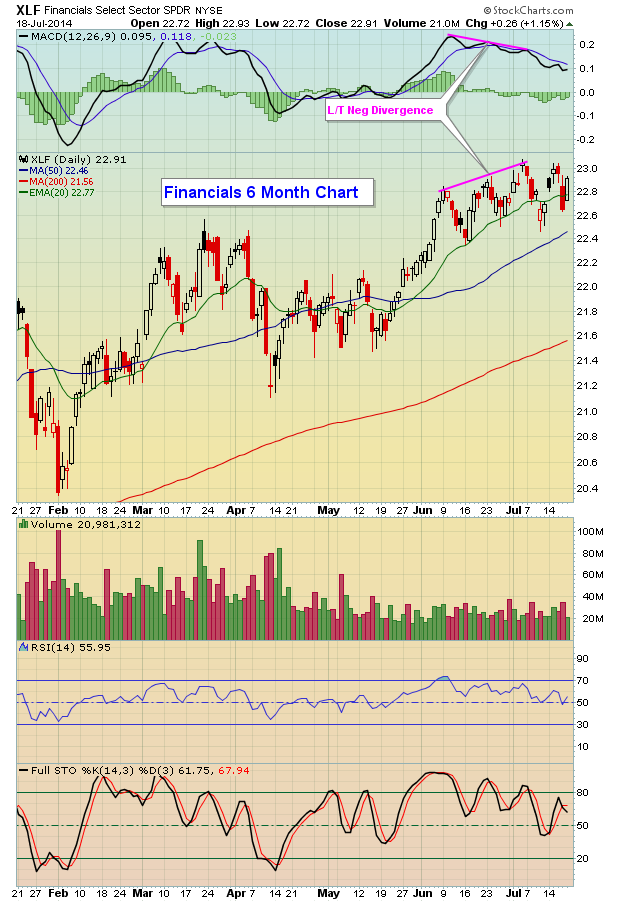 Most of the strength, however, has been concentrated in REITs, the defensive area of financials. That's not exactly where I'd like to see the strength centered, but it is what it is. One area of financials - mortgage finance ($DJUSMF) - has been lagging very badly as that industry group has dropped more than 6% over the past month, while many REITs have enjoyed gains in the 3%-5% range. The good news for mortgage finance stocks is that they reached key 2014 price support near 5.85 before bouncing on Friday. You can see this support on the following chart: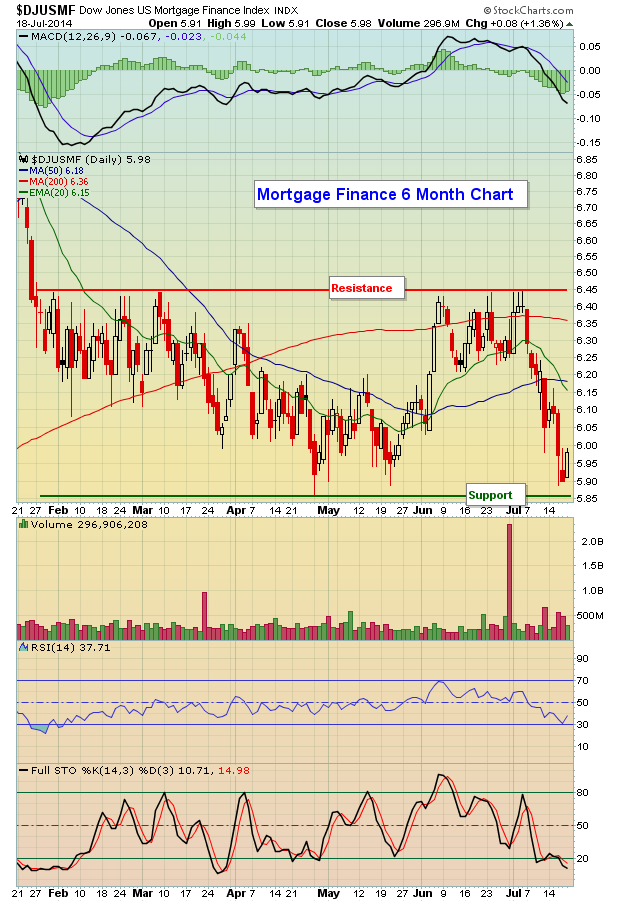 Financials are going to need to see strong earnings reports and guidance over the coming days to counter the slowing momentum issues discussed above.
At EarningsBeats.com, we've started a new feature (and it's FREE) that analyzes the technical merits of companies as they approach their earnings date. If you'd like to receive the first copy, simply CLICK HERE for more information.
Happy trading!
Tom Bowley
Chief Market Strategist/Chief Equity Strategist
Invested Central/EarningsBeats.com
About the author:
Tom Bowley
is the Chief Market Strategist of
EarningsBeats.com
, a company providing a research and educational platform for both investment professionals and individual investors. Tom writes a comprehensive Daily Market Report (DMR), providing guidance to EB.com members every day that the stock market is open. Tom has contributed technical expertise here at StockCharts.com since 2006 and has a fundamental background in public accounting as well, blending a unique skill set to approach the U.S. stock market.
Learn More