I know looking at one industry group is taking a very small sample of the entire stock market, but throughout much of history the stock market has performed strongest when financial stocks, especially banks, at least go along for the ride. Let me show you a long-term chart of the S&P 500 and break down its performance based on bank performance relative to the S&P 500. Check this out: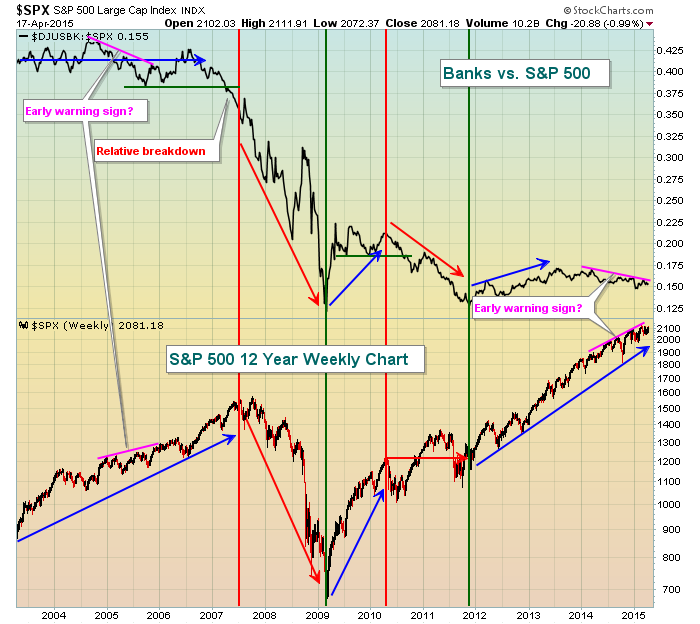 Generally, the S&P 500 tends to perform best when we see leadership from banks. Banks don't need to be the "leader" but they need to at least perform as well as the overall S&P 500. When banks go through periods of relative underperformance (red arrows), we normally see the S&P 500 either consolidate or decline. Back in 2005, we saw a type of negative divergence where banks began lagging rather badly on a relative basis while the S&P 500 continued to push higher. In fact, that S&P 500 strength continued for nearly two more years after that warning sign appeared. But check out the woeful relative performance of banks from mid-2006 to mid-2007. There was actually a relative breakdown in banks in mid-2007, just a few short months before the S&P 500 topped for 6 long and volatile years. Since the end of 2011, the S&P 500 has risen approximately 75%, but relative strength in banks seemed to end in early 2014. Is this a warning sign? Well it could be but I wouldn't be overly concerned until we begin to see actual price breakdowns.
So let's look at the current technical picture of banks using a daily chart: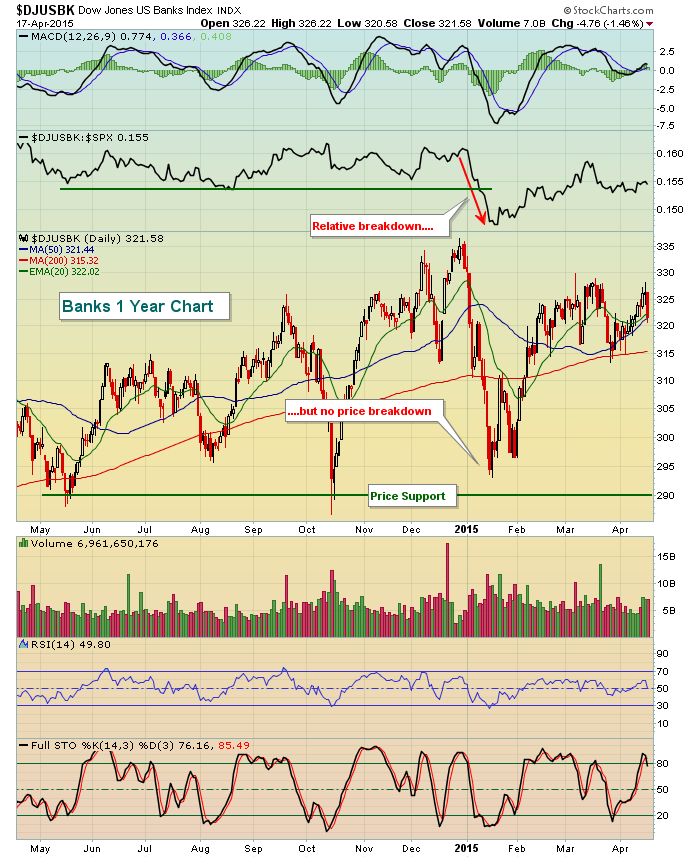 Banks saw a relative breakdown to open 2015, but never lost its price support level during that time. Yes, the relative weakness is a bearish development, but nothing is more important than the combination of price/volume. In this case, banks have continued to hold onto price support near 290. A loss of support there would, in my opinion, begin to send a much more significant warning sign. Until then, I'd consider the relative weakness in banks as nothing more than normal stock market rotation and I'd remain bullish on the group, expecting a further rally down the road.
Happy trading!
Tom
About the author:
Tom Bowley
is the Chief Market Strategist of
EarningsBeats.com
, a company providing a research and educational platform for both investment professionals and individual investors. Tom writes a comprehensive Daily Market Report (DMR), providing guidance to EB.com members every day that the stock market is open. Tom has contributed technical expertise here at StockCharts.com since 2006 and has a fundamental background in public accounting as well, blending a unique skill set to approach the U.S. stock market.
Learn More