Emerging markets usually do better when Treasury yields are dropping along with the dollar. Which may help explain why emerging markets were among the world's strongest stocks this week. The red daily bars in the first chart show Emerging Markets iShares (EEM) ending the week at a new four-month high. It's also trying to clear its 200-day average. The rising green line is the WisdomTree Emerging Markets Currency Fund (CEW). It started rising with the EEM in mid-March. That suggests that a weaker U.S. dollar is part of the reason for money flows into emerging assets. [Higher U.S. rates, and a strong dollar, siphon money from higher-yielding emerging markets]. Among the biggest EEM gainers this week were Brazil and Russia. The real star, however, is China.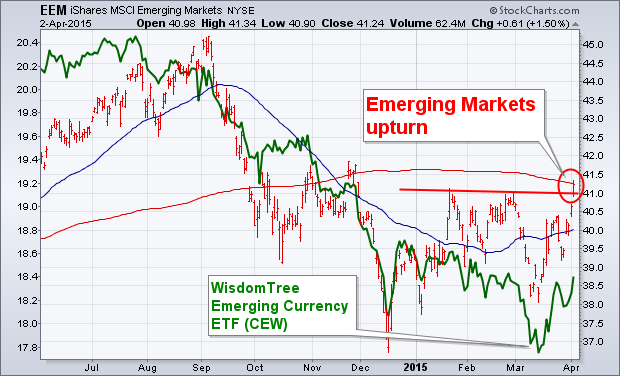 China IShares Achieve Major Bullish Breakout ... Chinese stocks have been the strongest in the world over the last year. The Shanghai Stock Index has gained 88% since last April and is now trading at the highest level in seven years. Money flows into Shanghai started last spring when the Shanghai-Hong Kong Stock Connect was first announced (and launched in November). That opened up trading of mainland Chinese stocks (A shares) to foreigners. The Hong Kong Hang Seng Index lagged behind Shanghai over the last year (gaining 14%), but it still close to a new seven-year high. The most liquid of the Chinese ETFs achieved a bullish breakout of its own this week. The chart below shows FTSE China iShares (FXI) closing above its 2010 high to reach the highest level since 2008. That's a major bullish breakout. Some newer Chinese ETFs have been started over the last year that focus on mainland stocks. The Deutsche X-Trackers Harvest 300 (ASHR) offers exposure to mainland A-shares traded in Shanghai and Shenzhen. I can't vouch for its liquidity, but the ASHR has gained 94% since last April. Chinese authorities have lowered interest rates to boost its economy, and have hinted at more monetary easing to come. That's also driving money into Chinese stocks.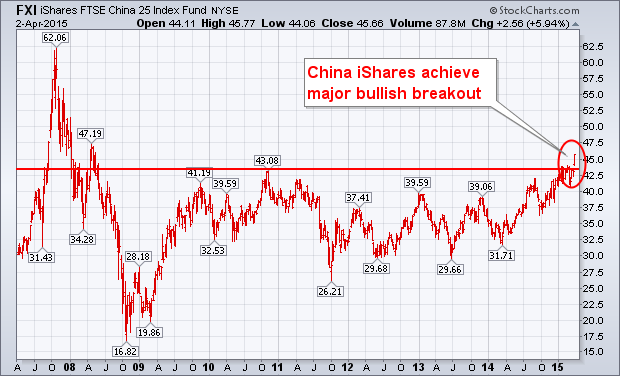 About the author:
John Murphy
is the Chief Technical Analyst at StockCharts.com, a renowned author in the investment field and a former technical analyst for CNBC, and is considered the father of inter-market technical analysis. With over 40 years of market experience, he is the author of numerous popular works including "Technical Analysis of the Financial Markets" and "Trading with Intermarket Analysis". Before joining StockCharts, John was the technical analyst for CNBC-TV for seven years on the popular show Tech Talk, and has authored three best-selling books on the subject:
Technical Analysis of the Financial Markets
,
Trading with Intermarket Analysis
and
The Visual Investor
.
Learn More