Earnings season has been in high gear the past few weeks with thousands of companies reporting their numbers. So far the results have been mixed but maybe better than most expected with the S&P now back to within striking range of its all time high.
One of the things we preach all the time at EarningsBeats.com is to avoid holding stocks into earnings reports. Why? Because you never, ever know how the market might react to a company's report.
If you want to see a prime example of the risk of holding a stock into its earnings report, look no further than Buffalo Wild Wings (BWLD) who reported their earnings recently.
Let me start by noting in the chart below that BWLD hit its all time high of $205.83 on September 23. It then proceeded to pullback to $173 one month later, so a 15% haircut. It bounced and tested its 20 day moving average near $185 from underneath just before its earnings release and remained well below that all time high in September. So to some traders there was the potential for some serious gains IF - and that is a BIG IF - BWLD knocked it out of the park. But, it didn't, and instead the stock fell over 17% on huge volume.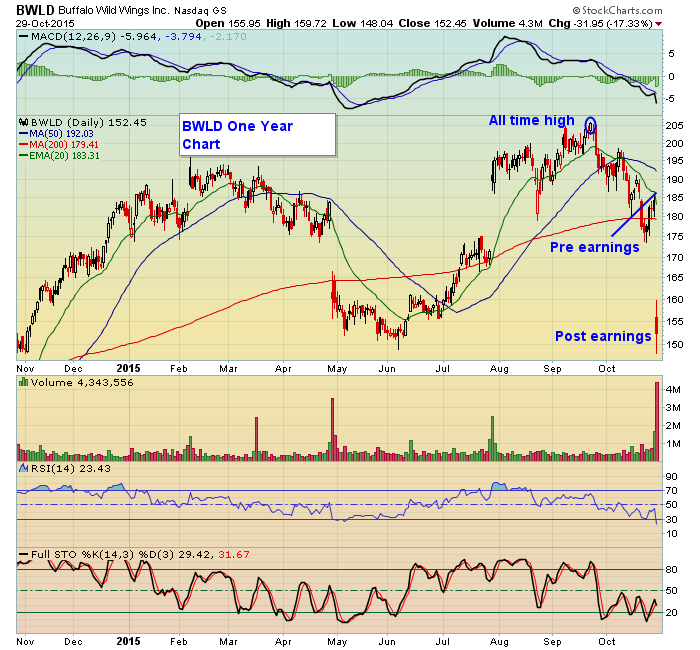 What's the lesson here? To avoid holding stocks into earnings reports because there's just no telling how the market will react to the numbers. It's always disappointing to dump a stock just before they report to see it soar on the results but believe me it's doubly painful to watch a position shrink by 17% knowing there's no getting it back anytime soon.
I'm going to be conducting a webinar with StockCharts.com's Senior Technical Analyst Tom Bowley on Wednesday, November 11 at 7:30 PM eastern. You are invited to join us for free. During the webinar we will be discussing the concept of finding companies that BEAT earnings plus have strong charts. So instead of rolling the dice into an earnings report we like to see the results and then pursue those that present the best reward to risk trading opportunities. Just click here to save a seat.
At your service,
John Hopkins
President
EarningsBeats.com