The market has been pretty much straight up since the February 11 bottom of 1810. Since that day the S&P has climbed 13%. That's a very impressive move by any measurement. In fact, I would argue that it has been too much too quick.
Look at the chart below and you will see a very stretched S&P with stochastics in the mid 90's and a RSI right near 70. Those two readings alone tell me that there's not much room left in this rally. On top of that the S&P is now two really strong days away from its all time high, something that seemed almost impossible just over a month ago when everyone was thinking the world was coming to an end.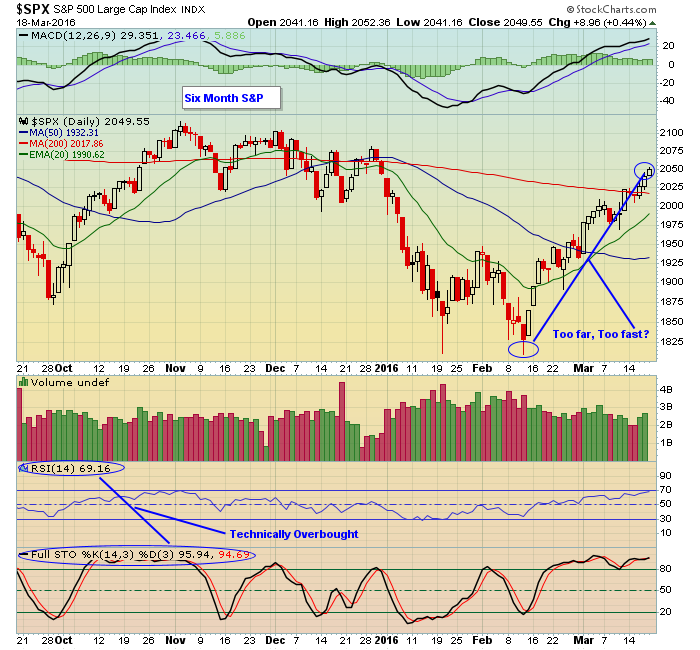 It is true that the VIX has fallen dramatically, an indication that traders are in a much better mood. On the other hand, oil has soared lately, with WTI crude rising by almost 45% in just five weeks. And remember that equities have been hostage to oil prices all year long so any decent pullback in crude is likely to have some type of negative impact on stocks.
So, the combination of an overbought market, a "too quick, too soon" move to the upside and a possible near term top in oil tells me that we could see some profit taking in stocks very soon. In fact, it is almost necessary if the bulls hope to keep the momentum and want to avoid an even bigger move to the downside.
The volatile market that has existed all year long has certainly gotten our attention at EarningsBeats.com and thus we recognized the need to provide our members with both short and long trading opportunities. We've done this through our exclusive "Candidate Tracker" where we present stocks that have either missed or beaten earnings expectations. This way, our members not only have long trading candidates to consider; they also have short trading candidates they can look at if the market does start to pull back. If you would like to see a sample just click here.
At your service,
John Hopkins
Earnings Beats.com