I don't want to steal Carl's thunder as I happen to know he will be writing a follow-up article to his previous article on Gold. However, I did receive an email question to look at possible support levels on the Gold Bugs Index ($HUI). I'm going to start with the longer-term weekly chart and follow it up with daily and 10 minute bar charts.
---
The breakout on the weekly chart for $HUI is impressive. Additionally the rising weekly Price Momentum Oscillator (PMO) has now reached readings not seen since 2011, yet it isn't overbought. The 17/43-week EMAs are preparing for a positive crossover, something also not seen since 2011. The long-term potential is enticing as we can see overhead resistance all the way up to 200 and 250. However, support levels are quite low at 140 and 100.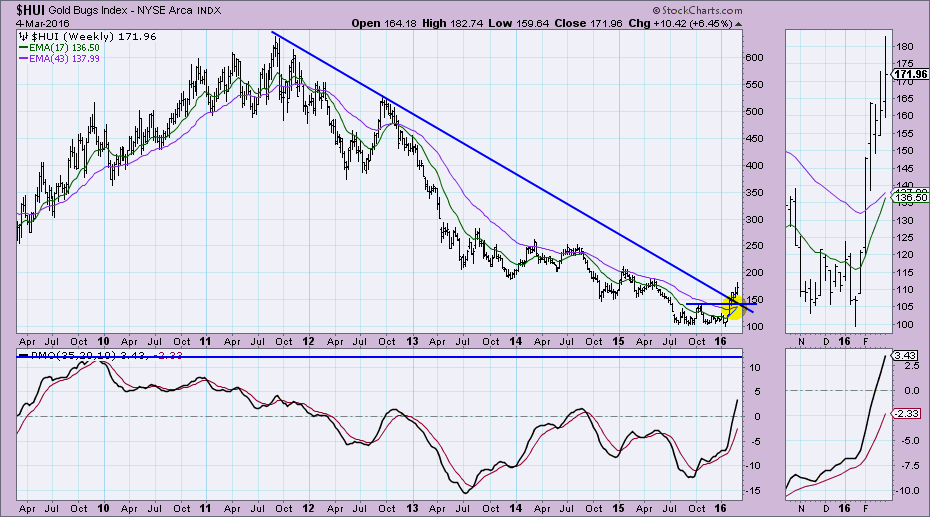 It was pointed out to me that the candlestick tail on the daily chart is a problem. It shows that the bears wrestled control from the bulls and pulled price back even after a strong open. The PMO is very overbought but bottomed above its signal line which is generally bullish. Overbought conditions do need to be relieved and the easiest way for that to happen is a pullback. Based on the weekly chart and daily chart, we know that could be quite painful. Positives are a 50/200-EMA positive crossover that officially moved $HUI into a bull market.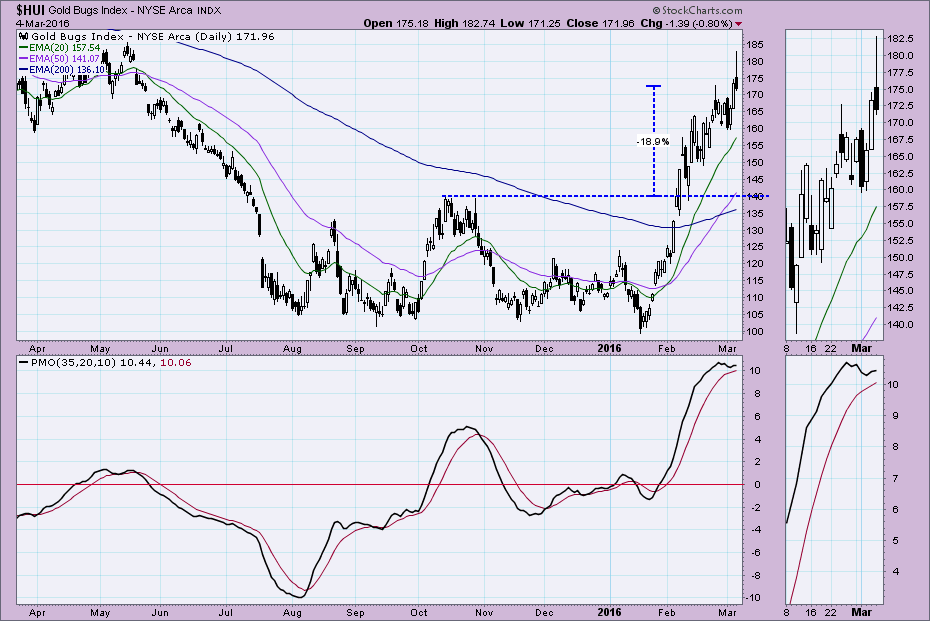 However, there are some areas of near-term support on the 10-minute bar chart. I've annotated the numerous "touches" to those lines.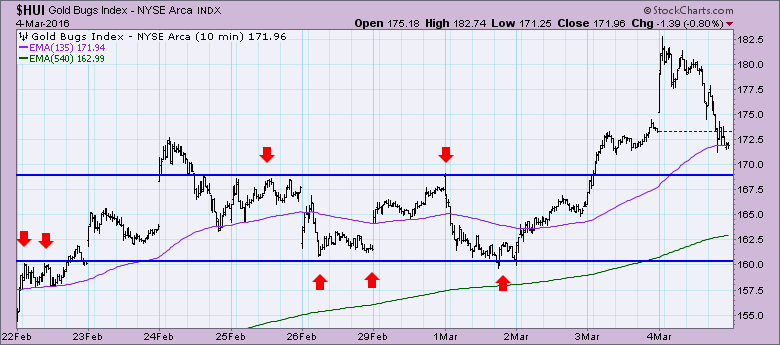 Conclusion: It isn't looking like the best short-term place to jump in as a pullback may be setting up. If you already are in, I would set stops accordingly based on your tolerance for various pullback levels. Overall, the long-term potential for Gold Bugs is high based on the the weekly PMO, breakouts and resistance levels, but it may need to correct for short-term PMO overbought conditions to clear on the daily chart.