The first quarter has come and gone and now we are about to embark upon another earnings season that will officially kick off when Alcoa reports its numbers after the bell on Monday, April 11. Alcoa rarely sets the tone for earnings season but when they do report it's a signal that thousands of companies will be sharing their financial results over the span of a few week's time.
Almost anyone you ask will tell you that earnings expectations have been lowered for the first quarter and this is one of the reasons the market has had trouble gaining traction. But along with lowered expectations comes possibilities that some companies will defy the odds and post better than expected numbers. We could also see the opposite; missing expectations. In both cases it presents opportunities to profit either on the long or short side, especially if you show patience.
As an example and shown below, Applied Materials reported its numbers in late February and gapped up when it beat both earnings and revenue expectations. Unless you were holding the stock into its earnings reports you would have missed the nice spike higher. It remained strong for two weeks then finally it pulled back in early March, easily holding above all key technical levels, and allowing those who were patient to get involved in the stock. Since then it has continued to move higher as it tries to challenge the highs from a year ago.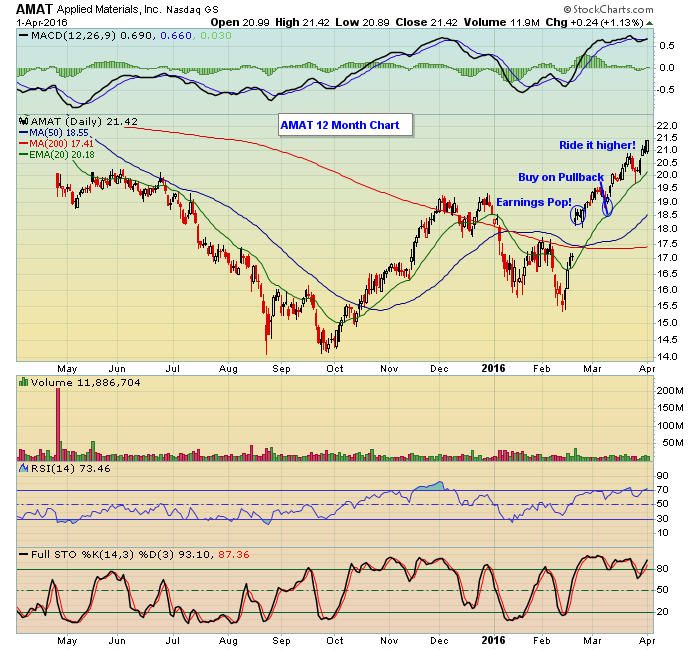 We see this time and again when we scan for those stocks that beat/miss expectations; a gap higher/lower followed by positive/negative action for a few weeks time. Then an opportunity to get involved once things have settled down.
I am going to conduct a FREE webinar on Wednesday, April 6 at 4:30 PM eastern. During this webinar I will be discussing our process of identifying companies that beat or miss earnings expectations and showing some examples of how they performed once their numbers were released. If you wish to join me just click here to register.
- John