Alcoa reported its numbers after the bell last Monday which served as the kick off for first quarter earnings season. This was followed by a few big banks and then next week we'll get hundreds of more companies reporting their numbers.
Earnings season is important because when everything else is said and done what matters most is the bottom line. In other words, every trading day we are inundated with mostly useless information and noise but when it comes down to it investors want to know if companies they own stock in are making money or not.
The whole earnings process is fascinating because you never know how the market will respond to numbers. It starts with expectations, what the "Street" is expecting in earnings per share and revenues. Quite often when a company beats both EPS and revenues the stock will go higher and when they miss both EPS and revenues the stock will go lower. But that's not always the case because you never really know fully what the "whisper" numbers are, which could be higher or lower than what the overall market is expecting.
In fact, at EarningsBeats.com we do our best to make sure our members avoid holding stocks into earnings reports because its a crap shoot at best. In other words, there is a 50-50 chance that a stock will go higher or lower after they report their numbers and it can become painful very quickly if you are holding a position that gets clobbered.
For example, you can see in the chart below on H&R Block the response to its last earnings report where they missed expectations. You wouldn't feel so great if you had held that stock into its earnings report.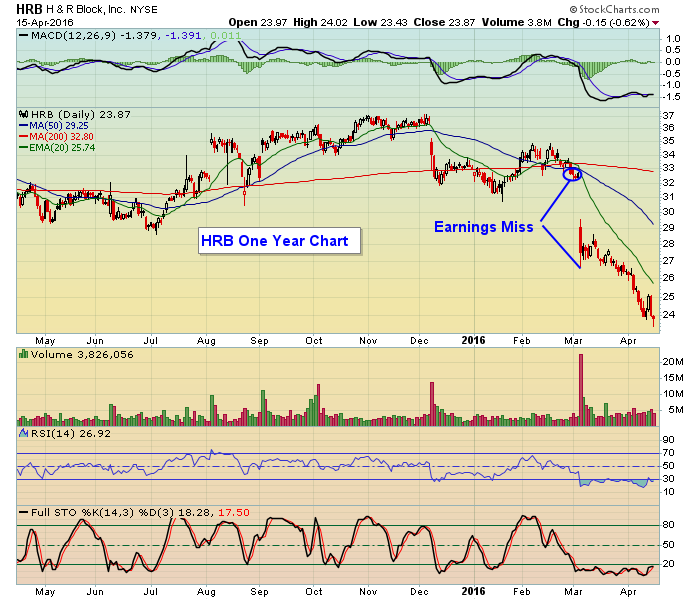 At EarningsBeats.com we keep track of companies that report earnings and key in on those that beat or miss expectations. From that we create a list, our exclusive "Candidate Tracker," which our members use to spot high reward to risk trading candidates. If you would like to see a sample of what the charts look like just click here.
At your service,
John Hopkins
EarningsBeats