The market has seen both the Dow and S&P hit record highs recently and now the NASDAQ wants to join the party. In fact the NASDAQ got to within just a few points of its all time high Friday, fueled by a very positive response to earnings in the tech sector, going to show that when everything is said and done the one things investors really care about is the bottom line.
It hasn't hurt that Central banks across the globe have moved into economic stimulus mode, the latest being Japan and this past week the BOE which lowered rates and signaled further help could be coming down the road. At the same time, Friday's non-farm payroll report showed a much stronger jobs report than expected, exciting investors who are hoping the US economic picture is better than most have thought.
Interestingly, until recently the NASDAQ was lagging both the Dow and S&P. But that started to change when Apple reported better than expected earnings just when it was showing signs of completely breaking down in late July. And you can see in the chart below that since they reported, AAPL has continued its ascent higher, taking the NASDAQ along for the ride.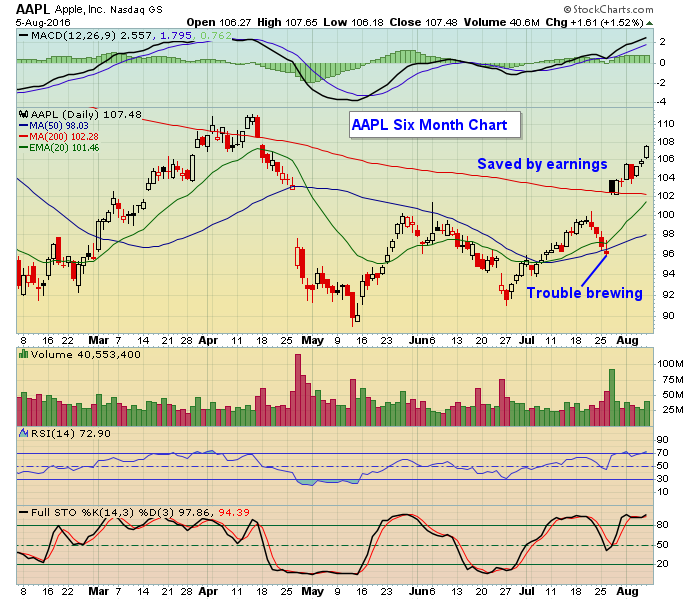 But it wasn't just AAPL's numbers that caught the attention of investors. Facebook, Google and Amazon all beat expectations as well. So it's the collection of better than expected earnings that has powered the market higher.
The renewed interest in stocks has come at a time that historically favors the bears. And some analysts and market observers are asking if equities are over priced, a fair question indeed. So the next few weeks could be important, especially with earnings season nearing an end and as traders look for fresh reasons to stay long.
At EarningsBeats we continuously track earnings and search for those companies that beat expectations, especially since traders gravitate to those stocks that show strong results. If you would like to see a sample of some of our most recent trade alerts to members just click here.
We're now in an historically tough time of the year. Earnings season is winding down. We've got an election coming up in just a few months. Some think the market is nearing a top. These are all important things to take into consideration when trading, making it even more critical than ever to zero in on those stocks that have shown strong earnings results.
- John