At EarningsBeats we are steadfast in avoiding being involved in stocks into a company's earning's report because one can never tell how the market will respond to a company's numbers. Case in point is Amazon who reported their numbers last week.
Just look at the chart below and you will see that the stock was poised to break out the day earnings were reported which was February 2. However when the market opened for business the next day the stock fell sharply.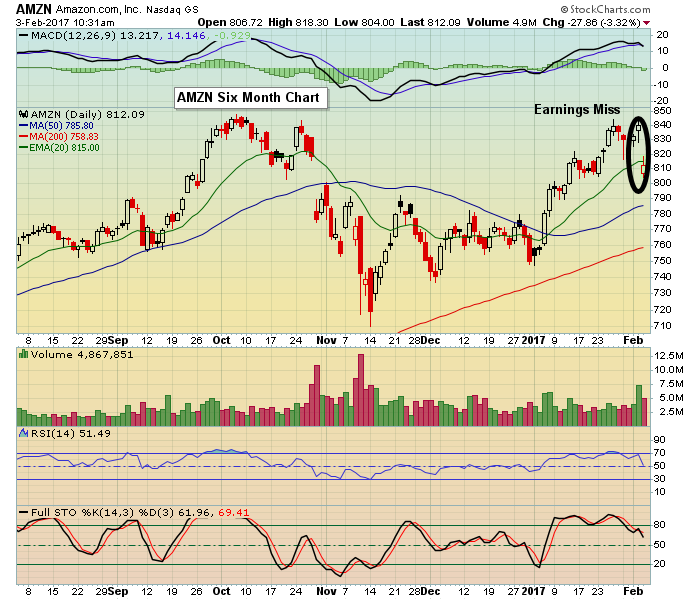 On the other end of the spectrum Apple reported blowout earnings and was rewarded handsomely as you can see below. But if you weren't in the stock prior to the earnings release you missed out on the nice move higher.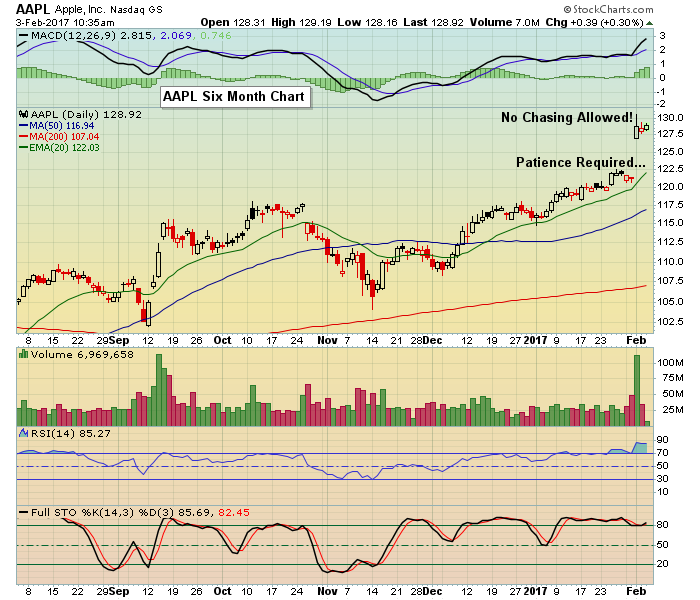 You might be cursing yourself for not having faith that AAPL would come through with great numbers and missing out on the strong move higher. On the other hand, how would you have liked to be holding AMZN into its report, only to see it fall $35 when you woke up the next day? See? A crap shoot at best.
This brings up the question; how can I take advantage of Apple's strong showing if I wasn't holding it into its earnings report?
Instead of worrying about missing the move higher on AAPL try to set a strategy to get involved on a pullback. You need to be careful and not premature because there was a great deal of excitement about its numbers; just look at the volume bar which was three to four times greater on the good news. At a minimum you would want to wait to see if the stock pulled back to the bottom of the gap on February 1 which was right around $127. However an even better place to enter would be closer to the 20 day moving average near $122. And that could easily take place and the stock would still be in good technical shape.
At EarningsBeats we track stocks that beat both top and bottom line expectations and we then present these to our members in our Candidate Tracker. This includes date reported, earnings per share (actual vs estimate) and revenues (actual vs estimate.) Some of these stocks become trading alerts that includes entry price, price target and stop loss. If you would like to see a sample of the Candidate Tracker just click here.
Everyone would like to ride a stock higher on strong earnings but no one likes to ride a stock lower when they miss expectations. This is why it makes sense to let a company report its numbers, watch market reaction and then set a strategy to get involved once all the hype settles down.
At your service,
John Hopkins
EarningsBeats