I made my case to EarningsBeats members this past Wednesday just before we started to see a bit of selling. Here are the highlights:
1-The VIX is up by almost 9% today as it tests its 50 day moving average from the downside even though the market is higher. This is troubling to me as I am seeing fear picking up in spite of today's buying.
2-All of the major indexes are extremely overbought. The NASDAQ has stochastics close to 100 and a RSI nearing 80. The Dow and S&P are close to those numbers. All represent sell signals.
3-The equity only put/call ratio is at its lowest level since November 15 of 2016. In other words, strong betting on the long side with a disproportionate number of calls to puts on options that expire on Friday. I see this as a contrarian signal.
4-The prime earnings season is basically over. Traders are going to be looking for other reasons to be long.
5-The S&P has been up six trading session in a row. This has happened only one other time over the past year.
6-There remain too many uncertainties that could derail the current rally at any moment. What might they be? Good question.
After I had mounted my case for a pullback there was some selling in the major indexes though the NASDAQ remained stubbornly strong. However I made it clear to members that it doesn't pay to chase stocks when the market is so stretched; best to wait for better opportunities.
For example, take a look at the chart for Apple which took off like a rocket after it posted better than expected earnings: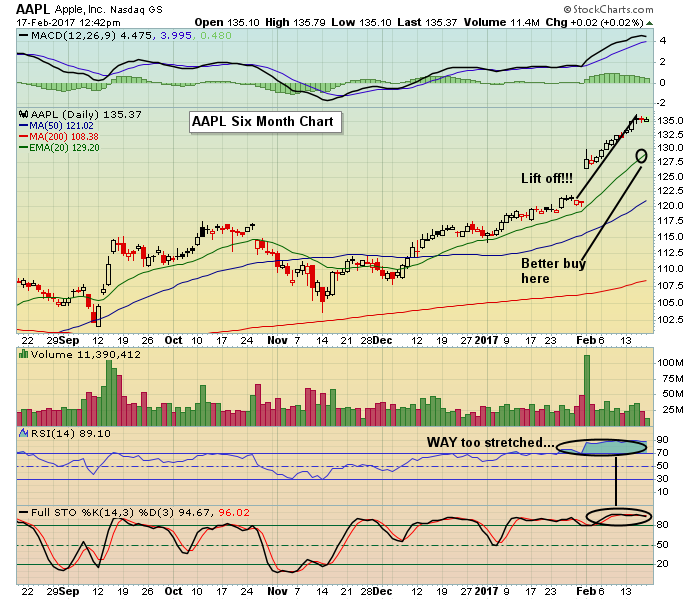 You can see that the stock rose 12.5% in just two weeks, a good year by some measures. You can also see that stochastics climbed up close to 100 and with a RSI of 90; the stock is incredibly overbought. But traders like to flock to stocks with strong earnings; it just makes sense to be patient and buy on your terms, not near the top. To me a much better entry point would be on any pullback to the 20 day moving average, now near $129, where it should get decent support.
This is what we do at EarningsBeats; scan for stocks that beat earnings and have solid charts. Some of these turn into trade alerts where we provide members with entry points, price target and stop loss. These trade alerts come from our exclusive "Candidate Tracker" and if you would like to see a sample just click here.
As a trader you need to continuously look for entry points on stocks that will provide you with high reward to risk potential. Chasing stocks that are stretched in an overbought market can eat away at your capital very quickly.
At your service,
John Hopkins
EarningsBeats