If you trade stocks you're going to run into situations where you question whether or not you are making good decisions. This could include identifying entry levels and setting price targets and stop losses. It could also include pulling the trigger on a trade, taking a loss or even locking in profits which is sometimes easier said than done.
At EarningsBeats we issue trade alerts to our members and every one carries with it potential risks and rewards. A trade can go against you quickly or it might work out just like you had imagined. But every trade alert issued has been studied carefully to help determine entry prices, stop losses and price targets. It then becomes a matter of trusting the work done and letting the trade develop.
A great example is a stock alert presented to members on March 15. The stock was Cambrex Corp (CBM) where we saw a solid reward to risk candidate with much greater upside than downside potential. Our entry price was $50.20 with a price target of $53.75 and a stop loss of any close below the 200 day moving average which at the time was $49.91. In this case it was over a 10 to 1 reward to risk; I like those odds.
You can see in the chart below that the stock hugged its 200 day for 9 trading days in a row. BUT...it never hit the stop loss level. Still, it took some nerve to hang in! Then finally the stock made the move we were looking for as it moved back above both its 20 and 50 day moving averages.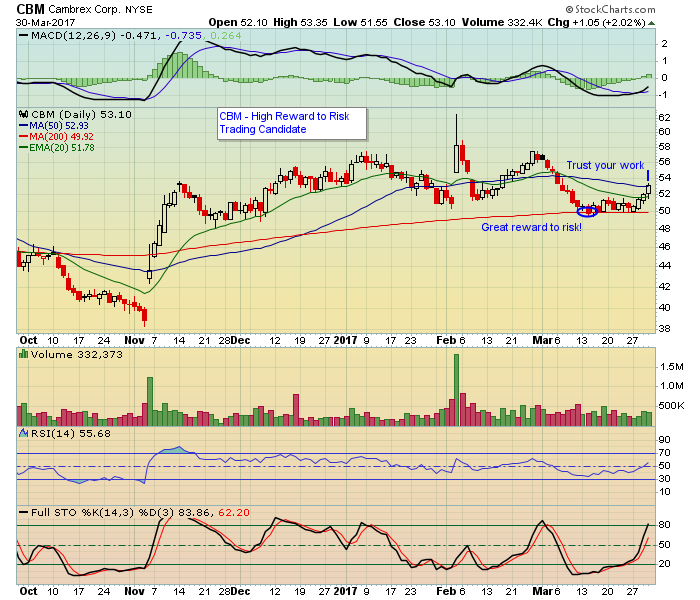 The key to succeeding with this particular trade was to trust the work that was done to put it in play in the first place. The downside risk was quite low relative to the potential upside reward but it also required a lot of discipline and nerves of steel as the stock tiptoed on its 200 day.
As part of the EarningsBeats service we search for those stocks that beat earnings expectations and also have strong technical charts. These become part of our "Candidate Tracker" and some of these become trade alerts just like CBM did. If you would like to see a sample just click here.
There are many things to consider when making a trade, including identifying strong reward to risk candidates, setting entry, target and stop loss levels. But if you trust your work and remain disciplined throughout the process you will greatly increase your chances for success.
At your service,
John Hopkins
EarningsBeats.com