The REIT iShares (IYR) and the Vanguard REIT ETF (VNQ) are at interesting junctures because they corrected within an uptrend. Even though both are at potential reversal zones, chartists should be careful because retail REITs and hotel REITs are weak spots within the REIT universe. The chart below shows IYR with an uptrend since November and a recent pullback to the rising 200-day EMA in May. The ETF held just above this EMA and firmed the last two weeks. It got a bounce on Thursday-Friday and a breakout at 79 would reverse the April-May pullback.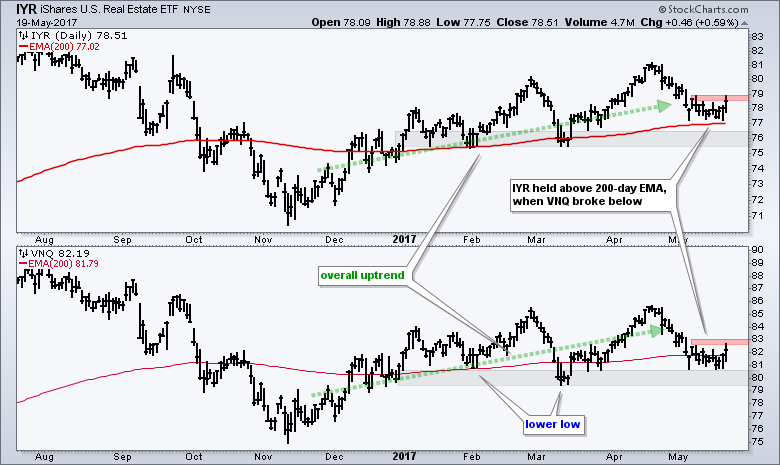 ---
The bottom window shows VNQ with a similar pattern, but VNQ is not as strong as IYR. Notice that VNQ formed a lower low in mid March and pierced its 200-day EMA in May. IYR, on the other hand, formed a slightly higher low in March and held its 200-day EMA in May. Nevertheless, the overall patterns look the same and a breakout at 83 would be bullish for VNQ.
The REIT iShares and the Vanguard REIT ETF area a very broad ETFs with over 120 stocks each and these stocks that can be divided into a dozen industry groups, which have different risk profiles and business models. According to their respective websites, ishares.com and vanguard.com, retail REITs account for a sizable portion of their holdings. Around 14.44% of IYR stocks are retail REITs and around 19.8% of VNQ stocks are from the retail REIT group. The PerfChart below shows the year-to-date performance of various REIT groups. Notice that Retail REITs (DJUSRL) and Hotel-Lodging REITs ($DJUSHL) are weighing on the group.
Simon Property Group (SPG) is the biggest retail REIT and a top holding in both REIT ETFs. This stock is clearly in a long-term downtrend and underperforming the market. Notice that SPG and the price relative (SPG:SPY ratio) hit 52-week lows this week. The stock got an oversold bounce on Friday and this is helped the REIT ETFs, but the bigger trend remains down and this could ultimately weigh on IYR and VNQ.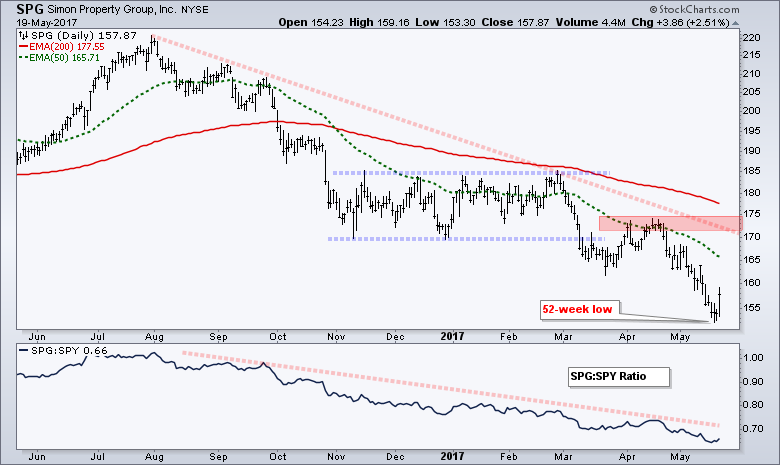 ****************************************
Thanks for tuning in and have a good weekend!
--Arthur Hill CMT
Plan your Trade and Trade your Plan
*****************************************