If you are looking for ways to manage risk in an increasingly volatile environment then you should start by searching for the "best of the best"; those companies that beat earnings expectations and have solid charts. This makes an awful lot of sense if you think about it; riding the coattails of those stocks that are both fundamentally and technically sound.
For example, take a look at the chart below on H&R Block. They recently reported earnings and the stock shot up over 10% after the numbers were released.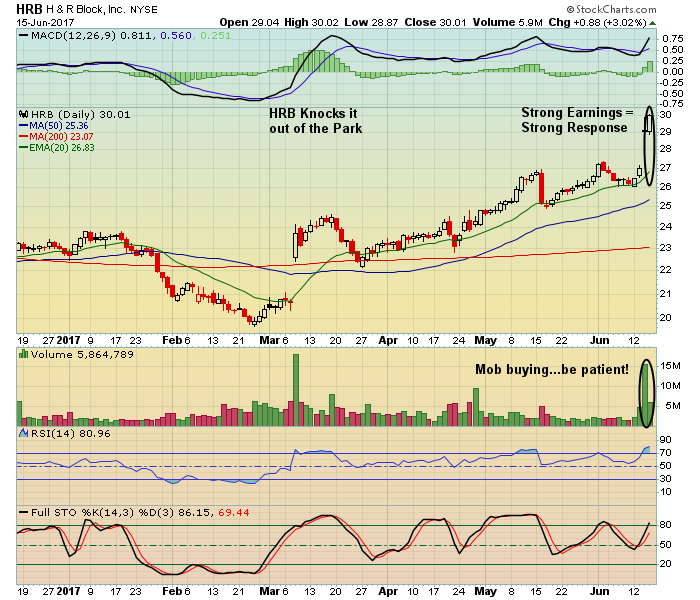 Look at that huge volume that came into the stock when traders learned of those strong earnings. In fact the same thing happened when HRB reported its earnings last quarter in early March. At the same time, unless you owned the stock into its earnings report, it doesn't make sense to chase it after that nice gap up. Instead, it requires lots of patience; let the stock work its way back to a key level of technical or price support after the euphoria wears off, and that's when you make your move.
For example, wouldn't it be worth considering taking a position in HRB if it pulled back to its 20 day moving average, currently at $27.12? It would still be technically sound, you could place a tight stop in case it continued moving lower, and your upside could potentially be a revisit of the high near $30. THAT would be a solid reward to risk play.
In order to take advantage of price appreciation that goes along with solid earnings you will need to develop a way to find those stocks. In fact I believe this is vitally important so I have decided to conduct a webinar this Monday, June 19, at 4:30 pm eastern. During the webinar I will discuss the method for how EarningsBeats.com stock trading candidates are selected and will discuss recent performance and how managing reward to risk really works in growing a portfolio. As an added bonus for attendees, I will be joined by StockCharts.com Senior Technical Analyst, Tom Bowley, who will discuss setting up ChartLists and how to run scans that meet specific criteria, quite a potent combo. Just click here to save a seat for the webinar.
Every trader out there knows how difficult it is to identify trading candidates, pull the trigger on a trade and come out of it with a profit instead of a loss. At least take the time to search for those companies that have both solid fundamentals and strong charts as they can add a level of protection and potential not found in most stocks.
At your service,
John Hopkins
EarningsBeats.com