The market moved into a rare funk last week as traders decided in unison to take profits, especially in the tech heavy NASDAQ. This is quite understandable with all three of the major indexes hitting record levels during the month of June.
There are various theories as to why stocks took a tumble from being overpriced to worries about the lack of progress with the health care bill to quarter end window dressing to a more aggressive Fed. Whatever the reason, there's always one good remedy that seems to cure all market ills; solid earnings.
Just take a look at the chart below of the S&P and you will see how the market perked up right after earnings season began in January for 2016 Q4 and then again in April for 2017 Q1.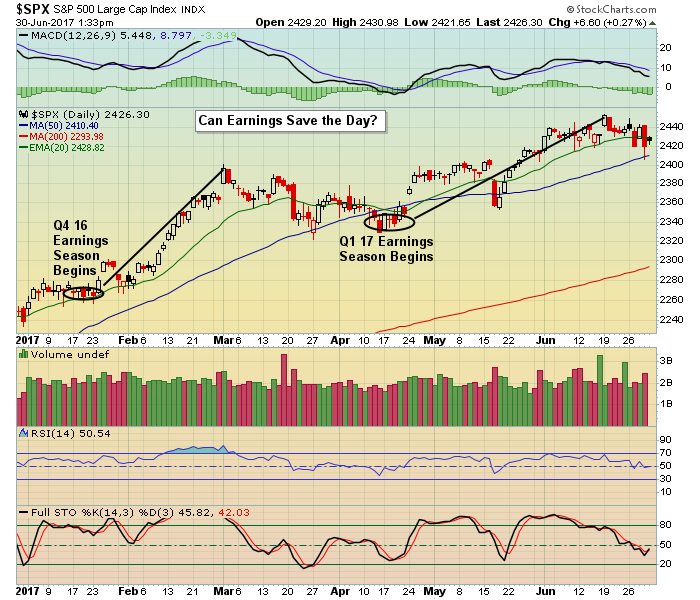 The good news for the bulls is the 2017 Q2 earnings season will kick off over the next few weeks and for a solid month+ we'll be getting earnings reports galore. And if companies continue to show earnings growth it could help to get stocks back on track.
Of course we'll continue to see headlines that stymie the market but those headlines will become less important once actual numbers start to get released. This is because when everything is said and done the one thing shareholders care about more than anything else is the bottom line.
One of the things we do at EarningsBeats is scan for companies that beat earnings and have solid charts. These are the types of stocks that grab the attention of traders. And with earnings season right around the corner our list will grow. If you would like to see a sample just click here.
The bulls have done a great job of holding key levels on pullbacks consistently since the market bottomed last November. Can they hold the line this time as well? Maybe, but traders are going to be looking for proof that earnings continue to be strong since nothing compares to strong numbers when everything is said and done.