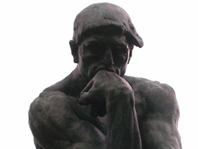 The Australia All Ords Index ($AORD) is trading well below its April-May highs and stuck in a long and tight consolidation. In contrast, the Australian iShares (EWA) hit a 52-week high in late July and remains close to this high. Which one are we to believe? Are Australian stocks lagging like $AORD or leading like EWA? Let's investigate.
---
The lower window shows the Australia iShares breaking out to new highs in July and outperforming $AORD over the past year. There are probably some different holdings or weightings between the two, but this does not totally explain the performance differential. $AORD shows us what is happening to Australian stocks in the local currency (Aussie Dollars). This is what we analyze to find out how Australian investors are feeling about their economy, their stock market and future prospects. Personally, I think this is the purest measure of a country's equity market.
EWA shows how Australian stocks are performing in US Dollar terms. This means they benefit from strength in the Aussie Dollar and weakness in the US Dollar. The PerfChart below shows year-to-date performance for $AORD (+1.17%), EWA (+15.24%) and the Australian Dollar ETF (+11.10%). I chose year-to-date because the Dollar has been incredibly weak this year and the gains in the Australian Dollar are clearly benefitting the ETF.
This currency effect means the Australia iShares is a hybrid based on the performance of Australian stocks and the Aussie Dollar. Keep this in mind when analyzing any ETF that holds foreign stocks. A new high in the Australian iShares does not always mean Aussie stocks are strong. As the current chart shows, the new high has more to do with the currency. $AORD, in contrast, has gone nowhere since June and we are waiting for a directional break.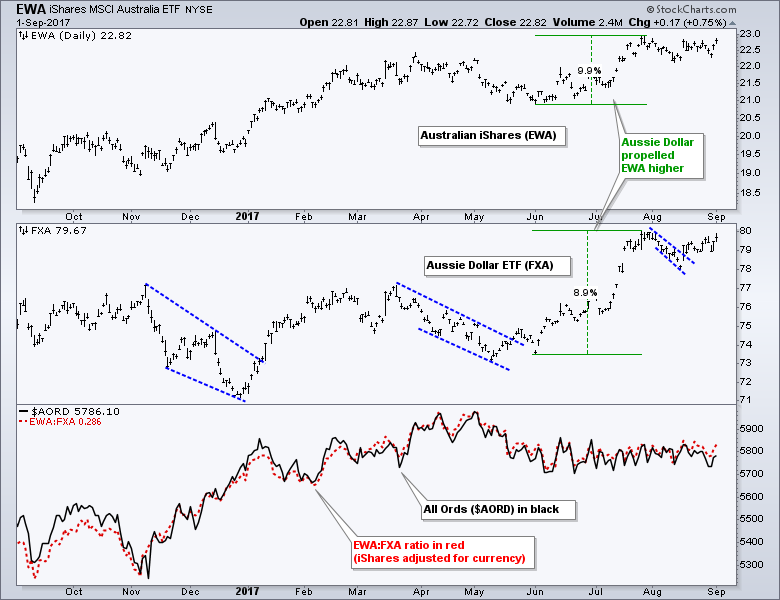 The bottom window on the chart shows the Australia All Ords Index in black and the Australia iShares adjusted for the currency using the EWA:FXA ratio. Notice that these two plots are pretty much the same. In the most simplistic of terms, the performance of the stock index in local currency ($AORD) plus the performance of the local currency (FXA) reflects the performance of the ETF (EWA).
The ideal situation is to find a rising stock index and a rising currency. However, there is sometimes a seesaw effect between the stock index and the currency. In other words, sometimes the stock index and the currency are negatively correlated, such as the Nikkei 225 ($NIKK) and the Yen ETF (FXY).
Follow me on Twitter @arthurhill - Keep up with my 140 character commentaries.
****************************************
Thanks for tuning in and have a good day!
--Arthur Hill CMT
Plan your Trade and Trade your Plan
*****************************************