If only it was that easy, right? The problem many times is that a company that reports great results one quarter fails to do so the next. But my strategy is to find companies that not only reported great results in the prior quarter, but also showed major accumulation at the time, and just after, that earnings report was released. Analyzing the volume is critical during this step. I look for well above average volume for a period of a few days or more as the stock rises after its earnings-related gap higher. Over the next few to several weeks, these companies pull back on lighter volume and prepare for the next earnings run. That's where planning and doing your homework become so important. Here are a few trading candidates that fit the bill and could be primed for a big pre-earnings run higher:
---
Healthcare Services Group (HCSG):
After its last earnings report, HCSG shot up five bucks from 46.50 to 51.50. It continued trading a few dollars higher over the next week or so, before beginning a decline that's lasted the past six weeks. Price support near 50 has been holding and I love the reversing hammer candlestick on Friday. Check it out: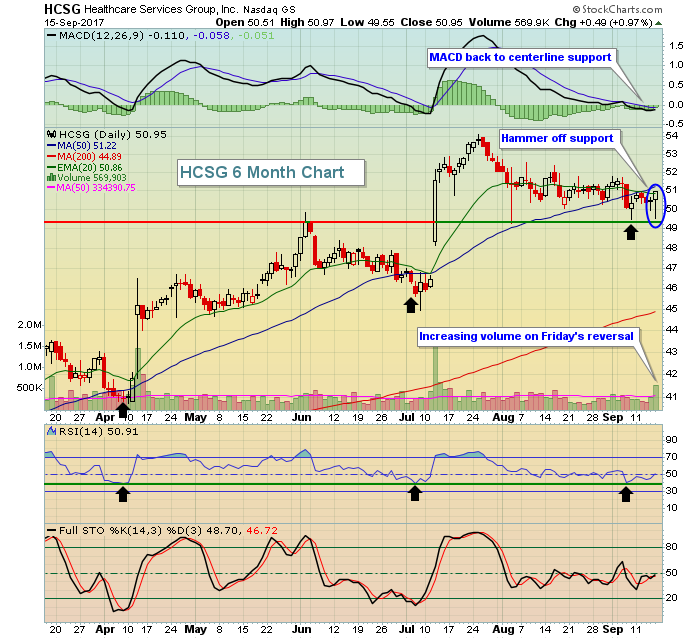 HCSG reports its next quarterly results on October 9th and could be poised to at least challenge the late July high near 54 before that date. (Disclosure: I own shares in HCSG)
Edwards Lifesciences Corp (EW):
EW has gapped higher each of its last two earnings dates, although its late July report did not result in a breakout. Instead, EW has meandered lower on lesser volume until printing a slight positive divergence near a key price support zone from 109-111. I'd look for that level to hold as support with EW possibly rising over the next 4-5 weeks to challenge its 120 price resistance. Here's the chart:
I like the fact that the volume on EW has been strong recently on up days, supporting the theory that EW could be bottoming just before a pre-earnings rise.
ADTRAN, Inc (ADTN):
One month from today, ADTN will report its latest quarterly results and it appears that recent strength and improving volume trends could be suggesting a continuing rise leading up to better than expected results. Take a look at the recent technical picture: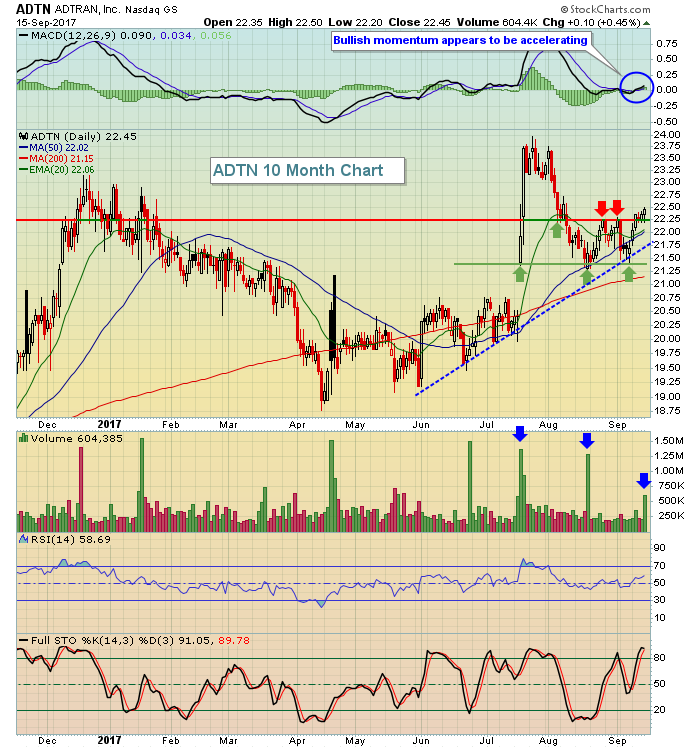 The July gap higher was accompanied by very heavy volume, while the retreat to gap support was on much lesser volume. Note that the RSI dipped into the 40s on the gap support test and now we're on the rise again. Clearing 22.25 on increasing volume was bullish as it took out a double top, which adds to the bullishness here.
Honorable mention: Athenahealth (ATHN), Alphabet (GOOGL), Bank of New York (BK)
Happy trading!
Tom