Earnings season is in full swing now and so far so good. How do I know this? All you have to do is look at the overall market reaction. And it doesn't hurt when a giant tech company left for dead knocks it out of the park.
Take a look at the chart below on IBM, a company that has been lagging the market for a long time. but with one earnings announcement IBM reminded the market it still has some life in it, climbing 10% after reporting a blowout quarter.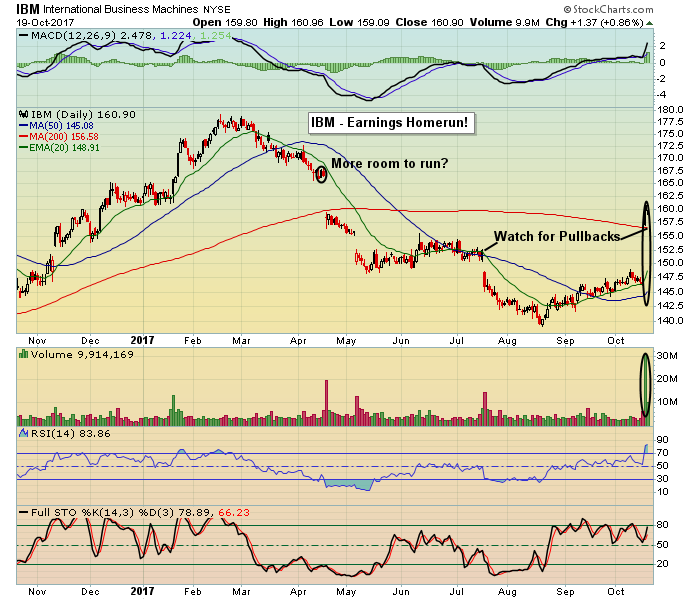 You can see from the price and volume action how pleased investors were with the results. IBM is still well off its March high but now it's at least back in play with potentially lots of room to move higher, especially if the overall market continues to rise. But with the big move it's already made it now makes sense to be patient and let the stock pullback some or at least consider averaging in just in case the stock give back some of the nice gains.
By the time earnings season winds down over the next 2-3 weeks there are going to be an awful lot of high reward to risk trading candidates, again, for those who are patient. This is what we teach at EarningsBeats. In fact, Tom Bowley and I conducted a webinar recently where we discussed how to approach earnings season, including stocks that could move higher into their respective earnings reports, as well as those who report and get a positive reaction. Powerful stuff! If you would like to view the video recording just click here.
Traders are always searching for stocks that have the potential to move higher and earnings season always presents great opportunities. Think about it; would you rather get involved in a stock that had weak or strong earnings results? And better yet, if you can uncover those stocks that report strong numbers AND have strong charts, better yet. But remember that being patient is the key. Let a company report its numbers, watch the market reaction, key in on the best of the best and wait for a pullback to a key price or technical support level to put your money to work.
At your service,
John Hopkins
EarningsBeats