They say how time flies; and it's true, especially from one earnings season to another, and starting this week we're going to start hearing from thousands of companies as they release their numbers. And boy, there's nothing traders and longer term investors care about more than earnings.
This makes total sense. Think about it. Companies cannot control everything swirling around them. What they can do is adapt to the times, adjust their strategies as necessary and stay focused while delivering strong results for their shareholders.
One thing is for sure; traders gravitate to those companies that report solid earnings, especially those who beat bottom and top line expectations. And you should focus on some of these winners as well.
For example, Micron Technology (MU) recently reported its earnings and as you can see from the cart below it gapped up sharply on extremely heavy volume.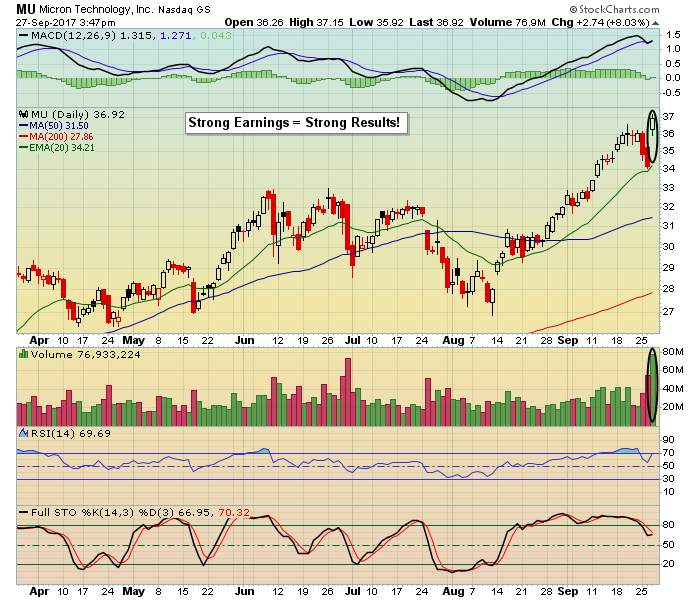 This big spike in volume shows great interest in the stock; everyone loves a winner. And the stock broke above a high it last saw in December, 2014. Pretty impressive!
We saw this pattern repeated over and over last quarter where a company would beat earnings expectations and gap up on strong volume. The other thing we saw? Patience rewarded. In other words, those traders who watched how the market reacted to a specific earnings report and then waited patiently for a pullback were handsomely rewarded.
As another example, take a look at the chart below on KORS, one of the stocks we watched closely and at the right time sent a trade alert to our members: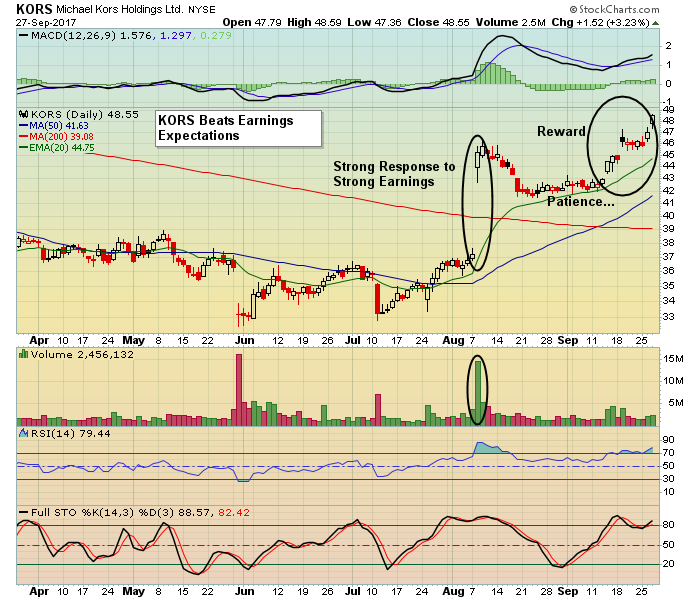 In this case, once the initial excitement settled down and the stock pulled back to its 20 day moving average, we issued the alert to members with the stock becoming a very nice winner, gaining 9.3%.
The whole concept behind EarningsBeats is to scan for those companies that beat earnings expectations - both earnings per share and revenue - and also have nice looking charts. Some of these become trade alerts for members. In fact, I will be conducting a Webinar this Monday, October 9, at 4:30 pm eastern and will be joined by StockCharts.com Senior Technical Analyst Tom Bowley as we show attendees how to scan for companies that beat earnings expectations (including some high reward to risk trading candidates) and how to establish a StockCharts.com Chart List, a powerful trading tool. To learn more and register just click here
And with earnings season about to begin, timing couldn't be better!
Earnings season presents some great reward to risk opportunities, especially for those who exercise great patience. Honing in on those stocks that exceed market expectations can indeed be profitable.
At your service,
John Hopkins
EarningsBeats