One by-product of focusing on stocks that beat earnings handily is the opportunity to boost overall returns. I know this for a fact as we studied the performance of almost 40 stocks that were trade alerts to EarningsBeats members over the past six months and found that on a risk adjusted basis, returns were almost 5 times that of the S&P.
For example, when we issue a trade alert to our members we provide them with entry prices, price target and stop loss levels. If a stock hits a price target or stop loss it is moved out of the active category and we can then calculate how it has done. What we found was that the actual number of winning trades barely outpaced the losers. But the average gain on the winners was over 6% while the average loss on the losers was just over 2%. So by allocating capital on an equal basis on all of the stocks, taking profits on the winners and minimizing losses on the losers, the risk adjusted returns were lofty compared to the S&P.
What this points out is traders are attracted to stocks that beat earnings expectations and if you are patient you can put yourself into position to profit. Our formula goes like this: We scan for companies that beat bottom and top line expectations, watch the market reaction, zero in on those that have a strong, positive response, then wait for them to pullback to key price or technical support. So when we issue a trade alert, our stops are going to be based upon levels that should hold, and if they don't, we exit positions while minimizing overall damage.
As an example, we issued a trade alert on IBM early last week. The entry price was $148.89, the price target was $158 and the stop loss was any close below the 50 day moving average. Within two days the stock closed below the stop loss level so was removed as an active alert with a loss of just over 1%.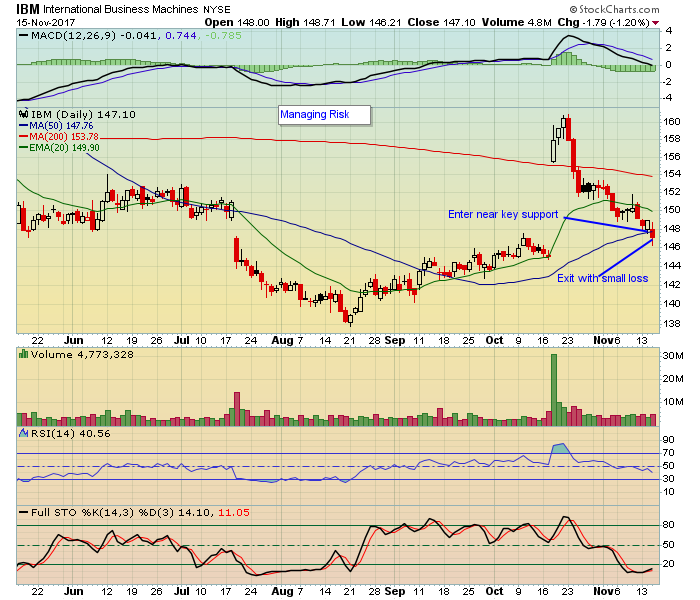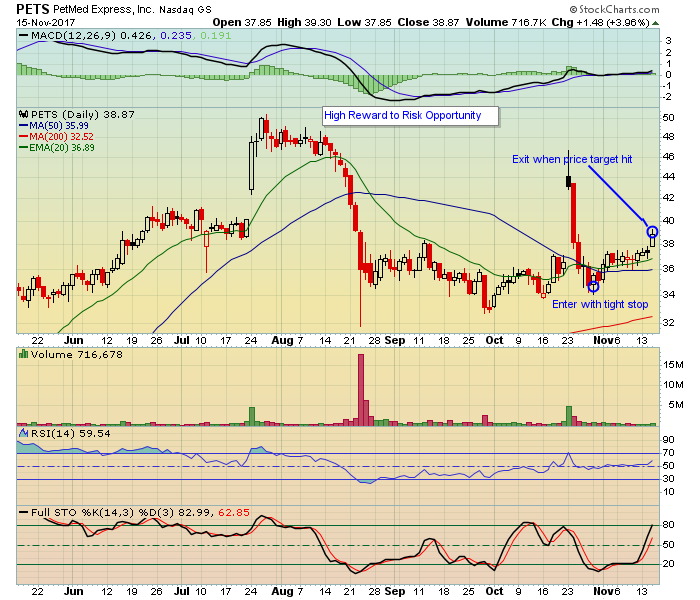 On the flip side, we issued a trade alert on PETS on October 31 at an entry price of $34.82 with a price target of $39 and a stop loss of any intra day move below $33.96. So when we issued the alert, we had a reward to risk ratio of about 4 to 1. The stock never hit the stop loss and in fact hit our price target this past week, resulting in a gain of 12%. In fact, if you want to see some more results of recent trade alerts at EarningsBeats, just click here.
Not every stock is going to be a winner but if you key in on the "best of the best", enter near key price or technical support and exit those that go against you quickly, you can minimize your losses. Combined with locking in nice profits on the winners can boost your risk adjusted returns.
At your service,
John Hopkins
EarningsBeats