I'm a big historian and a fan of the "history repeats itself" theory. But I'm a bigger fan of technical analysis where price action simply doesn't lie. You can listen to all the CNBC "hype" if you'd like, where their "experts" provide their favorite picks. I look at the charts of some of these "can't-miss" trades, shake my head and change the channel.
---
Call me crazy, but I like to trade stocks where I can minimize my risk and maximize my return potential. I like to own stocks that appear to be under accumulation - prices rising with strong volume trends. If all of this is in place, I'm especially bullish if seasonal indications are strong as well.
How do you find such stocks?
Well, for starters, I've entered the 20 year monthly seasonal information of all S&P 500 stocks into a spreadsheet and I sort it each month to identify stocks with the best historical track records for the past two decades. Knowing that the best stocks are likely to have seasonal tailwinds, I then review their charts to find the stocks that are technically sound. As we approached the seasonally bullish November-December period, I wrote about the strongest seasonal stocks to consider on both the S&P 500 and NASDAQ 100. You can CLICK HERE to review those stocks, pull up their charts and see how they've been doing. They have mostly followed their seasonal tendencies. One of the worst performers in the NASDAQ 100 in the November-December period is priceline.com (PCLN). Knowing that would have saved you a bundle when PCLN reported its disastrous quarterly earnings in early November.
So that brings me to my current list of Stocks to Watch as we approach December. Here are five stocks that have historically performed very well in December and also look solid technically:
1. ProLogis (PLD)
This is the #1 December performer in the S&P 500 over the past 20 years, averaging a 16.3% gain. If you look at a long-term chart, you'll see that PLD lost a considerable amount of its market cap during October and November 0f 2008 and had a huge snap back rally in December 2008 and that's the reason for the huge average gain. But if we look at the last nine Decembers (ignoring that December 2008 recovery), PLD rose 8 of those 9 years and its average gain over that period was more than 4%. PLD loves December and its chart continues rising as well: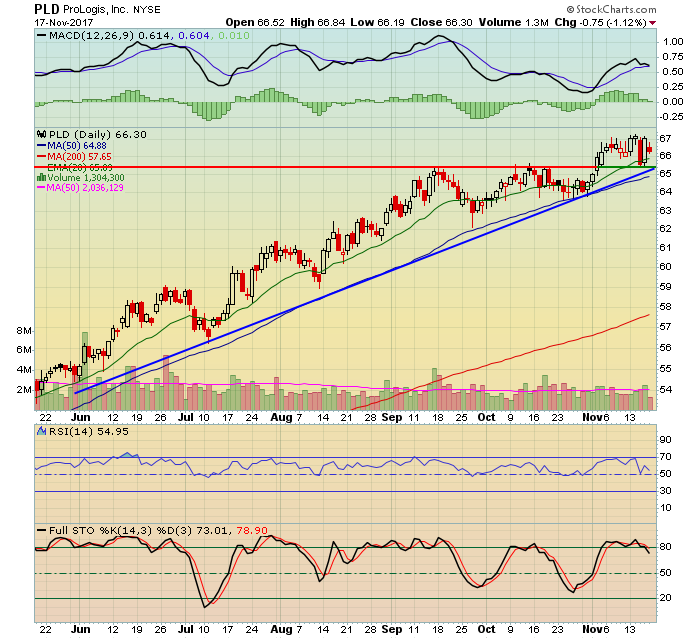 Trendline and price support intersect just above 65.00 so I'd look for support there on any short-term pullback.
2. Crown Castle (CCI)
Over the past 20 years, CCI has averaged gaining 8.6% during the month of December. We are right in the middle of CCI's seasonal sweet spot as the October through December three month period is its strongest of the year by far. Technically, I view the chart as being very bullish as well: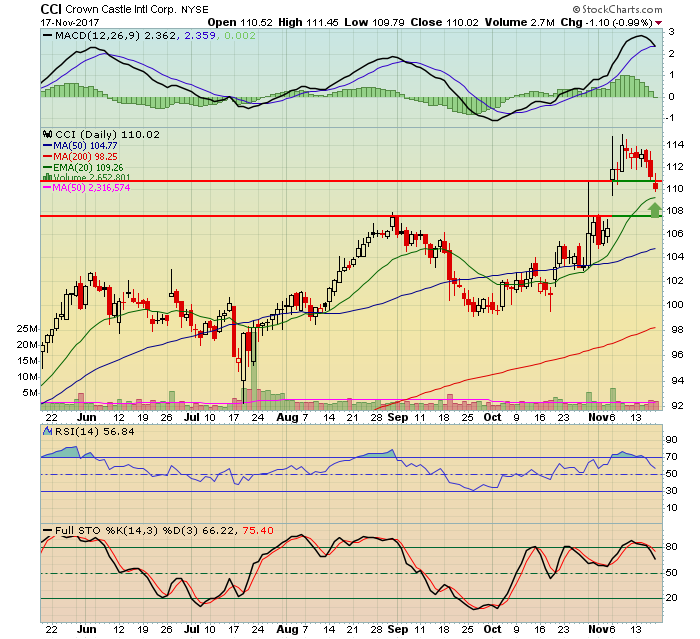 The top and bottom of gap support represent an "accumulation zone". CCI was very overbought recently, but its selling of late has helped to relieve those overbought levels.
3. Lennar Corp (LEN):
A homebuilder for December? Yes. While it may not make a lot of common sense, the Dow Jones U.S. Home Construction Index ($DJUSHB) performs its best from November through January, typically three of the coldest months of the year. Over the past 20 years, LEN has averaged rising 7.9% during December and it follows that month up with an average gain of 4.0% in January. The average gain in those two months alone (+11.9%) would be a solid year's return in the eyes of most investors, yet LEN has a history of doing it in just two months. Here's the current technical outlook: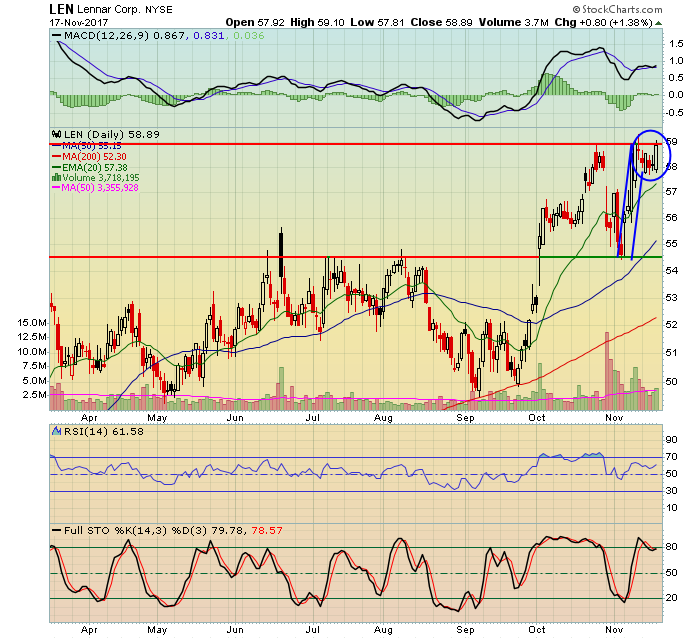 The breakout in October was accompanied by solid volume and while the selling in late October was accompanied by heavy volume, price support was not lost. During November, I've highlighted a bull flag with the parallel blue lines forming the flag pole and the blue circle highlighting the flag. A breakout above 59 with increasing volume would measure to 63.50.
4. Affiliated Managers (AMG)
AMG has averaged gaining 7.8% in December, by far its best monthly performance. AMG has also risen 79% of all Decembers over the past two decades and this frequency rate is also its best of the year. Technically, AMG has provided opportunities during consolidation/selling periods and we're seeing another one now:
Volume has begun to increase lately and, should that continue, it would be the volume confirmation we'd want to see upon the breakout of its recent bullish wedge.
5. Royal Caribbean Cruises (RCL)
The fourth quarter is a money-maker for RCL shareholders. Its October, November and December average monthly gains total 4.7%, 3.9% and 7.7%, respectively. Like homebuilders, you might not expect cruise lines to perform their best late in the year, but they absolutely do. Carnival Corp (CCL), a competitor, also sees similar bullish fourth quarter returns. Honestly, the chart couldn't look much better. After posting better-than-expected quarterly results earlier this month, RCL has fallen back to test trendline support and its 50 day SMA: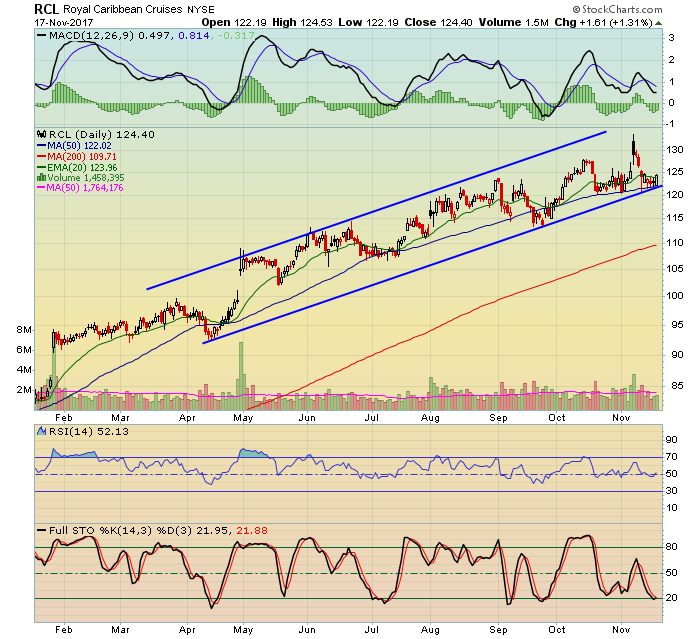 Initially, I'd look for a rebound to the recent high, but ultimately I'd look for a test of the upper trendline in RCL's channel.
Happy trading!
Tom