Earnings season is about to kick into high gear. Over the next few weeks thousands of companies will report their numbers. Some will beat expectations and some will disappoint. And some will present some great opportunities to make nice money, especially for those of you who are patient enough to pounce at the right time.
Here's a real life example.
This past week as I was searching for high reward to risk trading candidates I uncovered a stock - CLDR (see below) - on our ChartList that reported and beat earnings expectations, rose on nice volume, pulled back and then consolidated some as it looked to hold key technical levels. When it looked like the near term selling was over we issued a trade alert to members with an entry price of $17.71, a price target of $19.40 and a stop loss of any Intra Day move below $17.15 which resulted in a reward to risk ratio of 3 to 1. Our timing turned out to be great as the stock reached $19.11 the very next day and we issued a profit alert since the stock got within 1.5% of our target price and the reward to risk ratio shifted.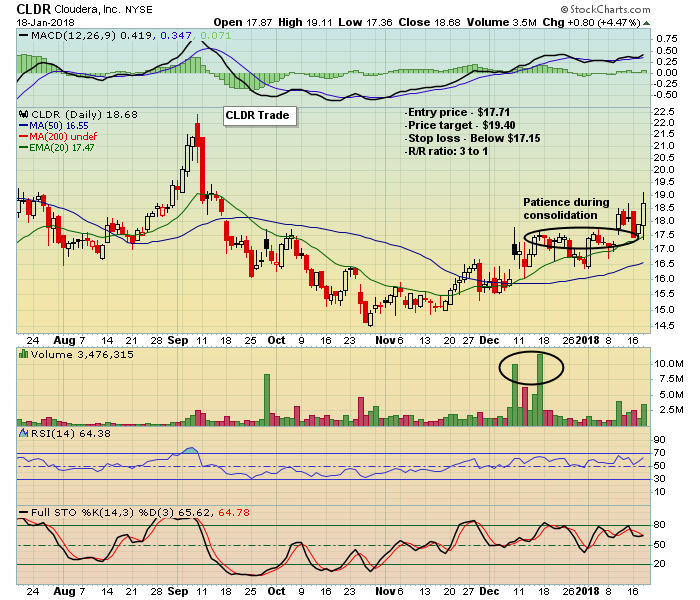 Of course not every trade is going to result in an 8% gain in just one day. But it does point out that if you exercise great patience after a company reports strong earnings you can put yourself in a position to strike when the reward to risk favors you strongly.
Importantly, a key component of achieving high risk-adjusted returns is getting involved in trades as close to key price or technical support as possible to minimize losses. In the case of the CLDR trade we identified a key price support level we did not want to see broken that would have resulted in a 3% loss if the trade went against us; very acceptable where the upside reward was three times as great. In fact, in looking at the results of our trades throughout 2017, we were able to achieve a risk-adjusted return five times greater than the S&P, largely because of a disciplined stop loss strategy. If you would like to see for yourself the trade by trade results, just click here.
When earnings reports start coming out in droves over the next few weeks we will be tracking those companies that beat earnings - top and bottom line - and also have charts that show great potential. These stocks will end up on our exclusive "Candidate Tracker" which we will scan daily as we look for high reward to risk trading candidates. And if we're patient and disciplined like we have been for a long time now it will serve our members well. And if you key in on those stocks that present the most promise while exercising the same kind of patience and discipline, you can achieve strong, positive results as well.
At your service,
John Hopkins
EarningsBeats