Earnings season is about to get underway with thousands of companies scheduled to report their Q1 numbers. It's an exciting time each quarter when companies are rewarded or punished depending on their results.
It's always interesting to watch how traders react to a specific earnings report since there's really no way of telling what the reaction will be. For example, a company might beat earnings expectations but the stock might sell off. Or a company might miss earnings expectations and garner a positive response. And it's because of this unpredictability that it's dangerous to hold stocks into an earnings report. But, if you are able to determine which companies beat top and bottom line expectations, you might be able to put yourself into a position to profit once the dust has settled.
For example, below is a stock we identified for members of EarningsBeats in mid-March that beat earnings expectations, made a nice move to a fresh high, then pulled back to its 200 day moving average, presenting a high reward to risk trading opportunity.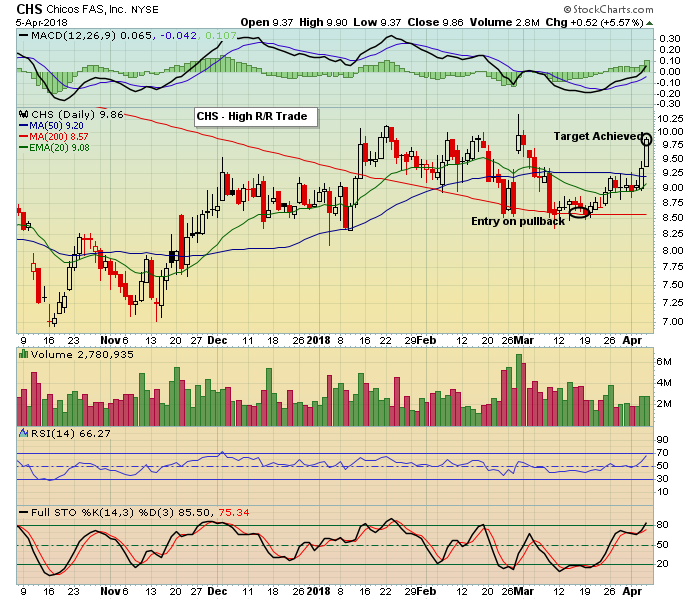 In this case, our entry price on Chicos FAS (CHS) was $8.83 with a price target of $9.75 and a stop of any close below the 200 day moving average with a reward to risk ratio of 5 to 1, the kind of odds I like. It took a few weeks to hit our target but it did get there last Thursday.
I want to point out that the key to every trade like this one is to wait patiently for a stock to pullback to a key technical or price support level. This will allow you to set a tight stop while minimizing losses in case a trade goes against you, a key component of achieving high risk adjusted returns.
There are going to be a substantial number of opportunities over the next 30-45 days that could provide solid returns. In fact I've decided to conduct a Quarterly Earnings Webinar this Monday, April 9, 4:30 PM eastern. I will be joined by StockCharts.com Senior Technical Analyst Tom Bowley. During this event we will examine some actual trades, show participants how we establish a ChartList of companies that beat earnings expectations and discuss ways to prepare yourself for the upcoming earnings season. To sign up for this FREE event plus access to our ChartList just click here. We expect a full house so if you want to attend you should sign up early.
Finding high reward to risk trading opportunities isn't any easy task. Zeroing in on companies that beat earnings expectations is a good place to start.
At your service,
John Hopkins
EarningsBeats