At EarningsBeats we issue long/short trade alerts on companies that beat/miss earnings expectations. When we issue a trade alert we include entry price, target price and stop loss. Stop losses are based upon key technical or price support, so they matter.
We continuously emphasize the importance of honoring stops if they come into play. Why? Because ignoring a stop can become extremely painful and we have an actual recent example to share with you.
We issued a long alert on Frontier Communications (FTR) on May 15 as it beat earnings expectations and pulled back to a level that presented a high reward to risk opportunity. We had two entry prices; $9.30 and then $8.85 on any pullback, both which hit. We had a price target of $11 and a stop loss of any Intra Day move below $8.70 which was an important price support. The stock started out well for us as it rose by 6% in a week's time. But then selling kicked in - big time - and in one day had moved below our stop loss, resulting in a loss of 4%.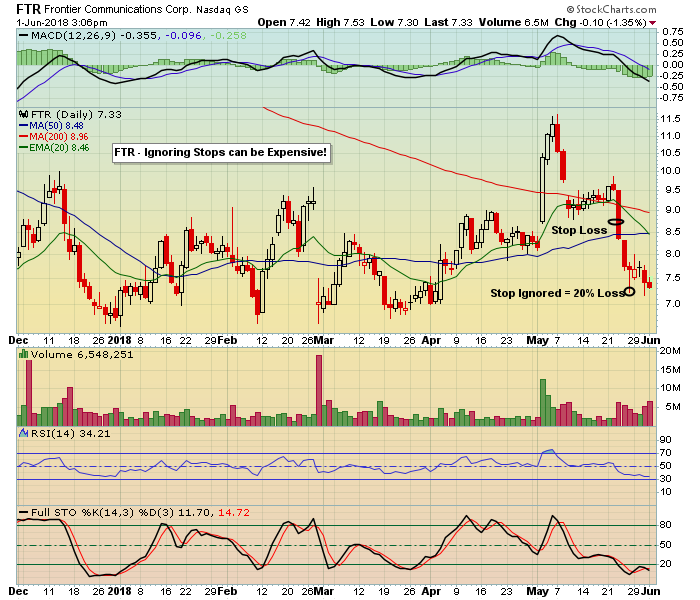 Now, while no one likes to lose on any trade, a loss of 4% is bearable. But what happened to the stock after it went through the stop loss? It fell another 17% in just two days. So if someone had ignored the stop they would have lost over 20% on the trade which is really unacceptable.
We actually track all of our trades and the most recent analysis that covered 12 months showed that our average loss on trades that went against us was just over 2% while the winning trades yielded gains of over 6%. And interestingly we had more losers than winners yet our risk adjusted return has swamped the S&P by a wide margin largely because of contained losses. If you want a more detailed analysis of our results including my Stop Loss Analysis, including how we specifically assign stops to maximize Reward to Risk while Minimizing losses on trades, just click here.
Traders understandably look to make money on as many trades as possible. But it's not just the winning trades that define success. It's managing the losses as well that makes a HUGE difference.
At your service,
John Hopkins
EarningsBeats