Q2 Earnings season has come and gone with the overall market response being mostly positive. And the good news for traders is there are plenty of companies that beat expectations, made nice moves higher and could become high reward to risk trading candidates on pullbacks.
As just one example, take a look at the chart on GrubHub, a company that reported their numbers on July 24 and easily beat earnings and revenue expectations;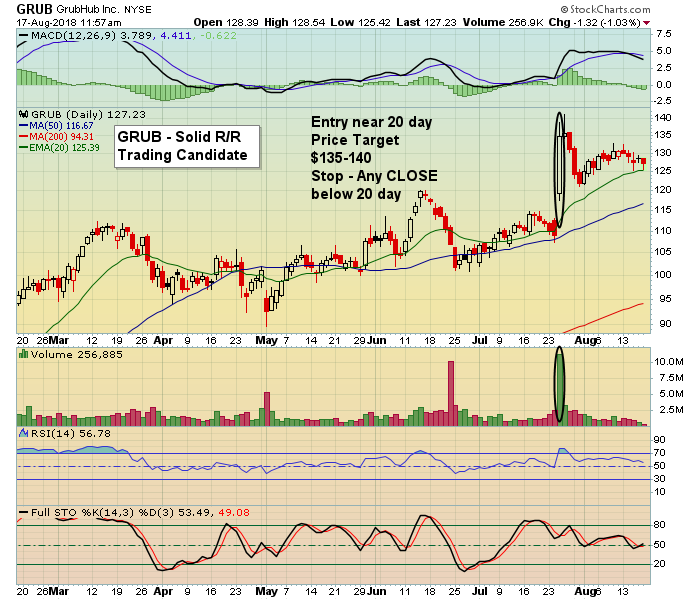 You can see from the chart above that the response to GRUB's earnings was very strong with the stock soaring on extremely heavy volume on July 25. But then profit taking kicked in and now the stock has pulled back (on light volume) to a level that could favor the long side.
There are MANY stocks that fit the GRUB type profile; report strong earnings, gap up on strong volume, pullback to key price or technical support and set up nicely for a bounce. Thus the key is patience; waiting for a company to report, watching the response and then taking advantage of the profit taking that is likely to take place.
At EarningsBeats that's what we do; track companies that beat earnings expectations, add them to our Candidate Tracker (aka "Chart List") and wait for the right time to get involved in a trade. In fact, I will be conducting a webinar this Monday, August 20 where I will go over a number of stocks that have reported their earnings the past several weeks and identifying appropriate entry, price target and stop loss levels. If you want to join me for this FREE webinar just click here (https://www.earningsbeats.com/public/Identifying-High-Reward-to-Risk-Trading-Candidates.cfm)
Earnings seasons bring with it lots of excitement with stocks moving sharply in both directions. Zeroing in on those stocks that beat expectations and getting them on your radar screen could lead to nice earnings opportunities.
At your service,
John Hopkins
EarningsBeats