Earnings season began in earnest last week, with major financial companies being rewarded and helping to lead the market higher. It's one of four time periods during the year when publicly traded companies share their earnings results so that investors can get a sense of the financial health of each company.
The response to each earnings report can be quite different. For example, Goldman Sachs reported their numbers last week, with the stock soaring 10% as traders cheered their results. However, for every company that beats expectations and is rewarded handsomely, there's another company that disappoints and gets slammed. Case in point: Signet Jewelers, a company that reported its earnings last week and proceeded to drop over 20% as traders dumped the stock en mass after the numbers were released.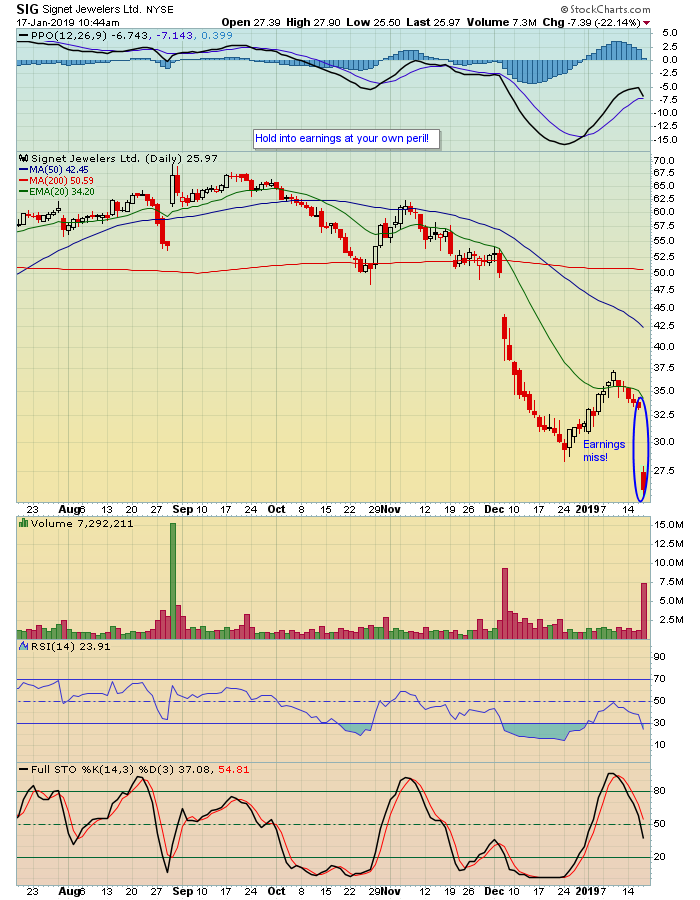 If you look at the chart above, you will see that it made a very nice move off of the December 24 bottom, rising more than 30% over the course of a few weeks. Then, in one swift move, it gave up over 20% - VERY painful if you were holding the stock into its earnings report. It's the reason we constantly remind our members to sit on the sidelines when a company is reporting earnings, since it's a crapshoot at best - witness the completely different responses to the GS and SIG reports.
Signet might serve as a poster child for companies that miss earnings and move lower, something traders might need to get used to more if profit forecasts are lowered. This is different than what the market has been used to the past few years, with many companies exceeding earnings expectations and being rewarded accordingly. It's one of the reasons we recently added earnings "Misses" to our ChartLists to go along with those companies that "Beat" expectations.
We're getting ready to conduct our Q4 Earnings Webinar, one of four yearly events where we delve into companies that beat/miss forecasts. It's a timely event, with earning season kicking off last week and thousands of companies set to report their numbers over the next several weeks. I will be joined by StockCharts.com Senior Technical Analyst Tom Bowley, who will discuss the combined power of formulating a ChartList while utilizing StockCharts.com technology to zero in on stocks that could become high reward-to-risk trading candidates, both on the long and short side. You REALLY don't want to miss this event. We expect a full house, so if you want to join us click here.
Earnings season is truly an open window into the financial health of the industry. If you can zero in on those companies that beat and those that miss earnings expectations, you can put yourself into a position to profit on both the long and short side.
At your service,
John Hopkins
EarningsBeats