Earnings season is off and running and already some companies that beat expectations could set up as high reward-to-risk trades. JP Morgan (JPM) is a perfect example of a company that reported stronger than expected numbers; you can see below the positive response from the market below.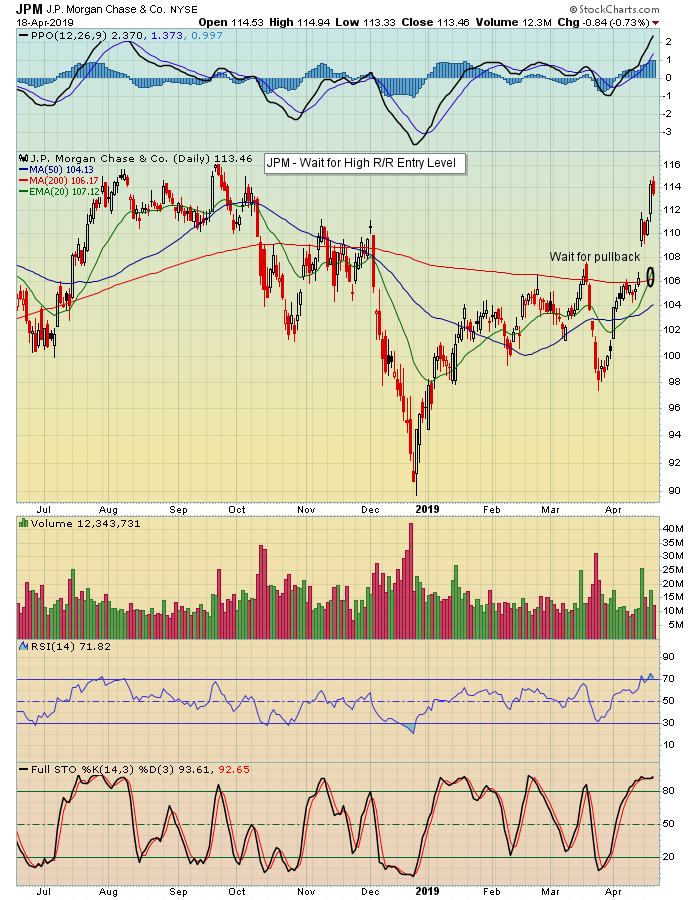 In the week since JPM reported its numbers, the stock has risen by 8.7% and has moved closer to testing the September 20-21, 2018 highs. It could still get there, but it's now technically overbought and this is certainly not a good time to chase. Instead, for those who are patient it makes more sense to wait for the stock to pull back to key support, perhaps close to the 20/200 day moving averages, which in this case happens to be close to the level the stock was at before it gapped up after earnings.
We see this play out quite often on those companies that gap higher after earnings; sooner or later, they settle down, profit-taking kicks in and they are ripe for a nice score. The key becomes waiting patiently for the stock to pull back to a key price or technical support level, with a tight stop in case it continues moving lower. Thus, you have a high reward-to-risk opportunity.
Over the next several weeks, thousands of companies will report earnings. Many of these companies will beat earnings expectations, gap higher and ultimately work their way back down to a suitable entry level. These are the types of companies many traders are attracted to; they are what I call the "best of the best." In fact, we will be conducting our Quarterly Earnings webinar this Monday, April 22, where I will be joined by StockCharts.com Senior Technical Analyst Tom Bowley. We'll be discussing companies that recently reported earnings along with companies that will be reporting soon and looking at their historical tendencies, i.e. how these companies have performed in the recent past after posting their numbers. In addition, we'll share over 100 companies currently on our Strong Earnings ChartList, including potential entry and exit levels, with participants. If you want to join us, just click here to learn more.
There are many factors that impact the price of a stock, but nothing to the same degree as earnings. If you are able to key in on those companies that beat earnings expectations, you will put yourself in a good position to profit, especially if you are patient and are able to enter trades on your terms.
At your service,
John Hopkins
EarningsBeats