Every trader dreams of owning a stock that doubles. If it can happen in just six months, even better. This has been the case for Twilio (TWLO), a stock featured during our Top 10 Stock Picks webinar in November of 2018 that has doubled in price since the November 20 bottom of $71.56.
You can see in the chart below that the stock came close to revisiting that November 20 bottom when the overall market melted down in late December. However, it instead put in a slightly higher low and then went off to the races.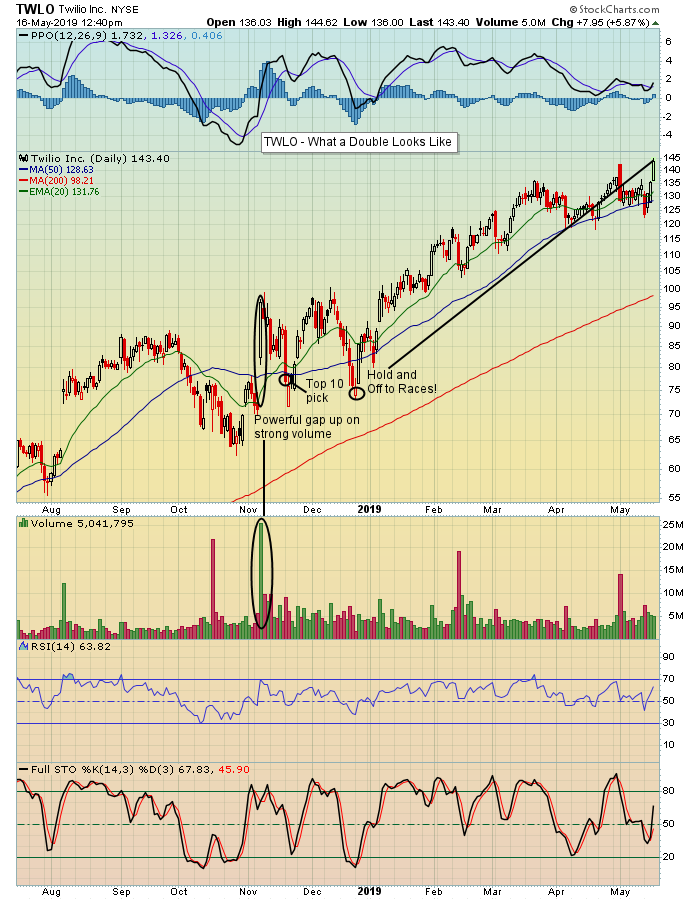 Take note also of the massive volume accompanying the gap higher after it had reported its earnings on November 6. This was a sign of strength with traders recognizing the potential of the stock on any pullbacks.
Of course, finding stocks that double in six months is no easy task. (If it was, everyone would do it!) But finding stocks that have the potential to outshine the overall market becomes an easier task if you can zero in on stocks like TWLO, which easily beat earnings expectations while exhibiting leadership qualities. In fact, we're about to have our next Top 10 Stock Picks webinar (featuring StockCharts.com's Senior Technical Analyst Tom Bowley) this Sunday evening, May 19. It's a very popular event and with good reason, given the stellar performance of stocks that made the Top 10 lists the past two quarters. If you want to learn more on how to register, just click here.
Q1 earnings season has pretty much come and gone. We saw a boatload of companies beat earnings expectations, gap higher and pull back to high reward-to-risk levels. These are the types of stocks you should focus on.
At your service,
John Hopkins
EarningsBeats