It was a brutal week, especially given the surging U.S. equity prices throughout 2019 thus far. The benchmark S&P 500 fell 2.18%, but intraweek losses were far steeper. There was a significant reversal on Friday as the Volatility Index ($VIX) appeared to confirm a near-term top - a bullish development indeed. The first chart illustrates the technical strength and reversal of the S&P 500 on its weekly chart:
---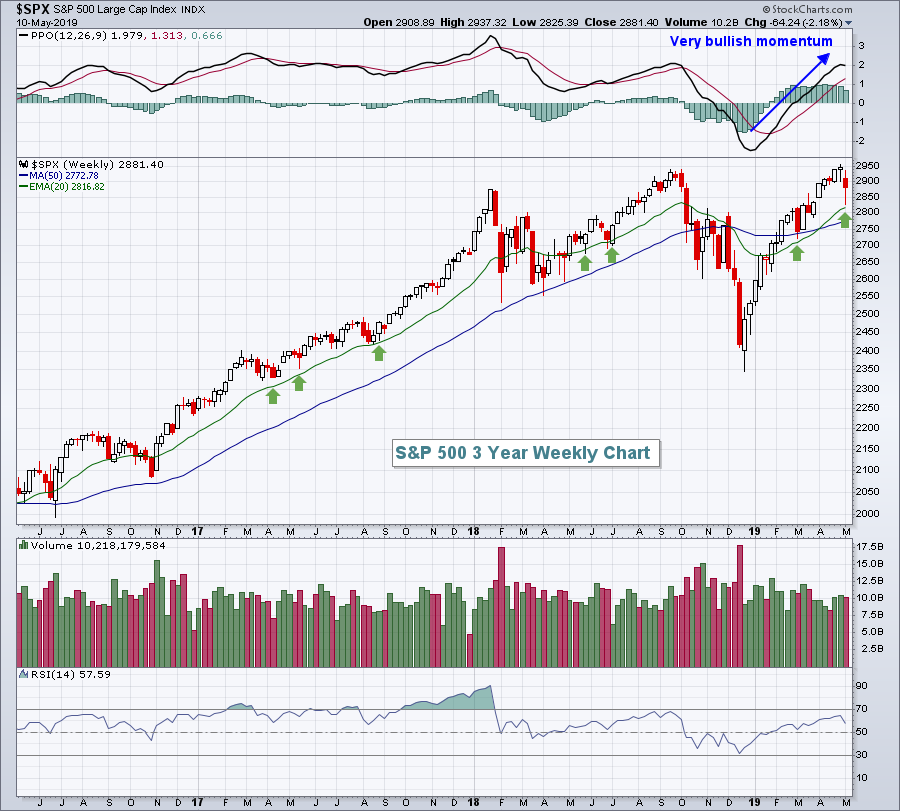 Any time I see the PPO rising like this, I expect a 20 period EMA test to provide support. The green arrows show several kick saves at 20 week EMA support the past three weeks.
The VIX also suggested we likely set a short- to intermediate-term bottom: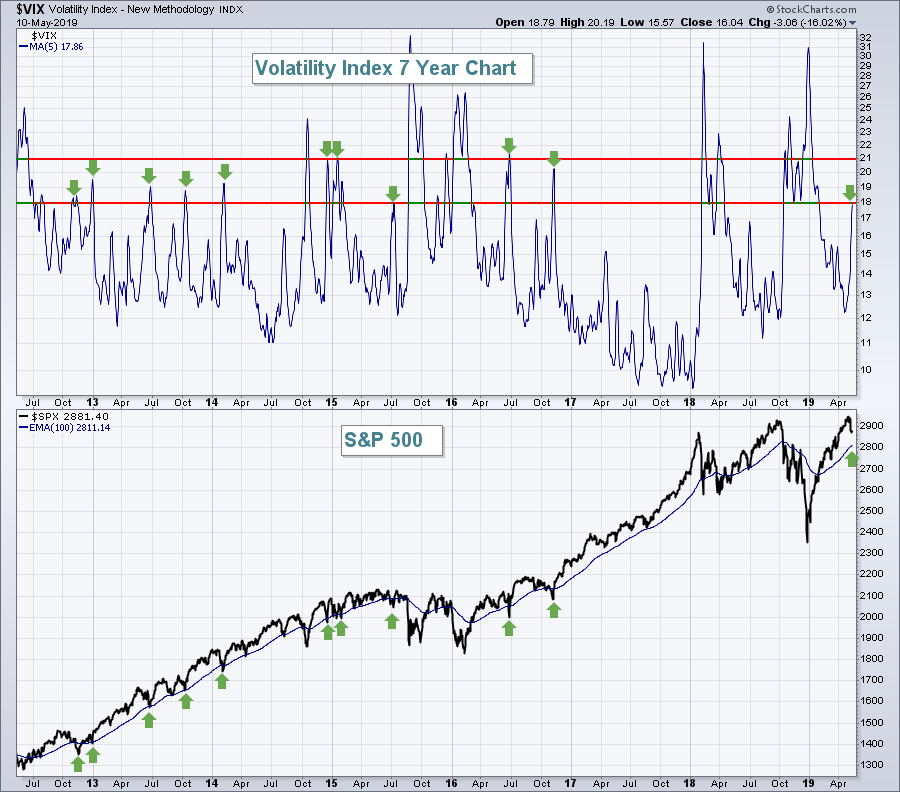 The top part of the above chart is a 5 day moving average of the VIX. In a bull market, when this 5 day moving average moves into the 18-21 range, short-term bottoms generally print. The green arrows above illustrate that point. While we didn't close at the 20 week EMA on Friday, we did approach that moving average on an intraweek basis.
So....assuming we've bottomed, where should we be turning our attention? I'll give you two industry groups, the first seems to be regaining its prior relative strength, while the second has been a serious underperformer for years and might just be starting its relative uptrend.
1. Defense ($DJUSDN)
Defense stocks had been a relative leader from 2013 into early 2018, but paused and took a year off. The group appears to be rebounding nicely now and I'd look for further relative strength: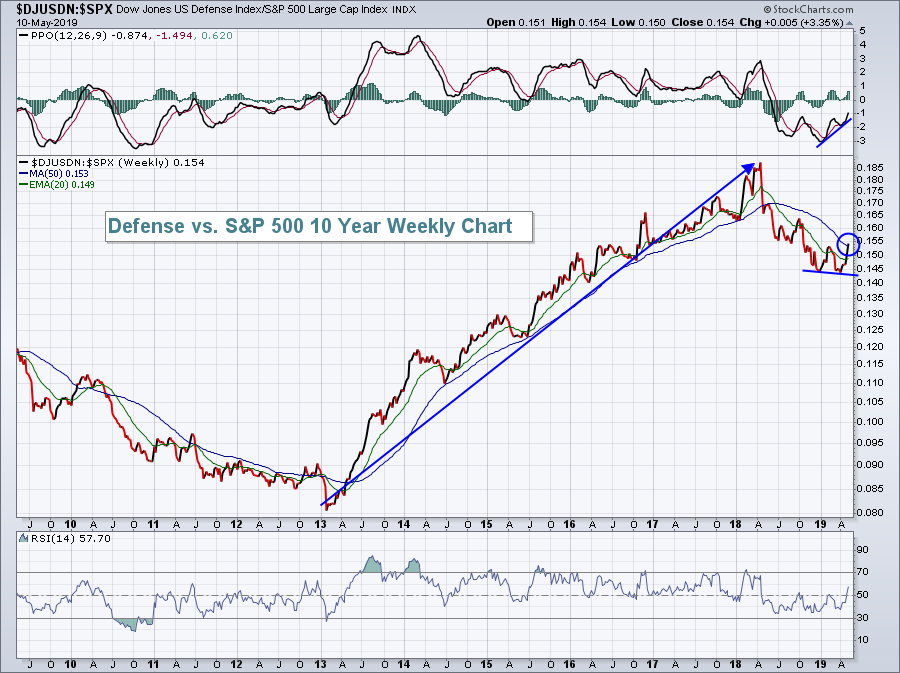 One positive here is that the relative strength ratio has just cleared its 50 day SMA. Relative momentum had already suggested an impending turn back to the upside. Unless the market proves me wrong, I believe this is an area to overweight during the balance of 2019.
2. Full Line Insurance ($DJUSIF)
A relative downtrend has been broken and I'd expect to see further relative strength in the weeks and months ahead. The DJUSIF has gained more than 12% in the past month and that's likely just the beginning. The DJUSIF underperformed for several years and has plenty of catching up to do: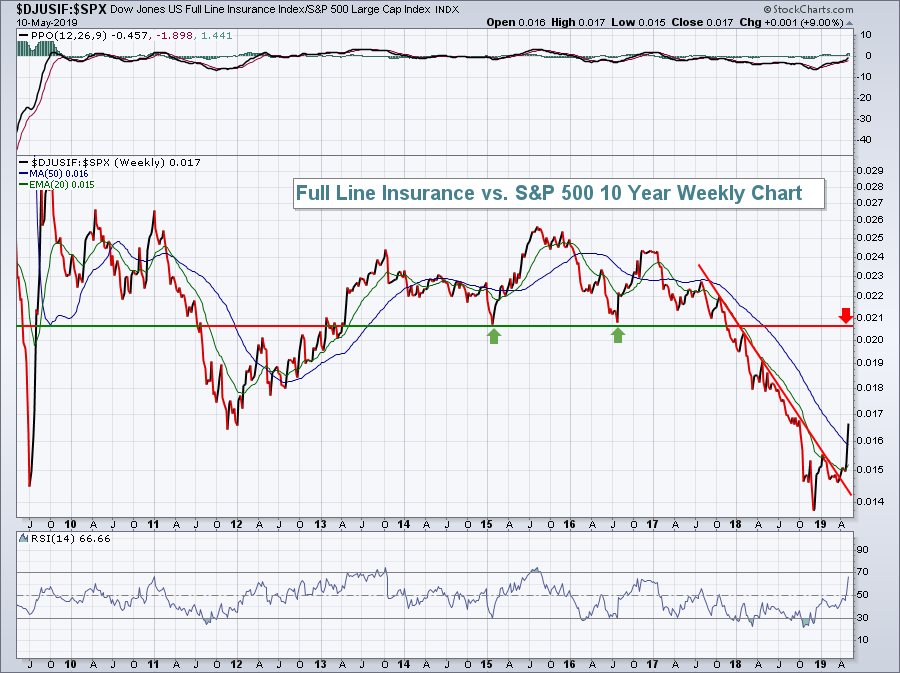 Because there's been so much relative weakness since the 2015 top, we do want to make sure the relative strength continues. Failure to hold its relative 50 week SMA would be an initial warning sign to heed.
I post a daily blog article every day the stock market is open. If you'd like to receive my article each day, go to my latest article, "Here's A Defensive Health Care Stock That Loves The Next 3 Months". Scroll down to the bottom of the article, type in your email address in the area provided, and click the "Subscribe" button. It's FREE and it's easy!
Happy trading!
Tom