Editor's Note: This article was originally published in Martin Pring's Market Roundup on Wednesday, May 8th at 6:37pm ET.
---
One area I monitor daily is the technical picture of bond spreads and other market relationships that reflect confidence. That's because changes in their direction often lead or confirm what is actually happening to equity prices in general. One of my favorites is the ratio between the iShares High Yield and iShares 7-10-year treasury ETFs (_HYG/_IEF). When it is rising, it indicates investors and traders are growing in confidence concerning the level of business activity, as they are willing to bid up the HYG in order to receive its generous yield. When they are worried about the economy, there is a rush to the quality offered by treasuries and the ratio falls. Chart 8 shows that this relationship clearly does not move tick for tick with the NYA. However, we do find that, if trouble is brewing we normally get an advance warning from the ratio itself or a reversal in its momentum. Right now, it is caught between the two converging trend lines. Whichever way it breaks is likely to signal the direction of the next important move for both confidence and the equity market.
What is surprising is the fact that this relationship has held up very well, despite the recent selling squall. Moreover, the two momentum series, which you can read about here, are both in a bullish mode. If investors are in any way worried by a failure in the trade talks, I would expect it to show up here. So far it hasn't, which could mean that the current decline will be limited in scope.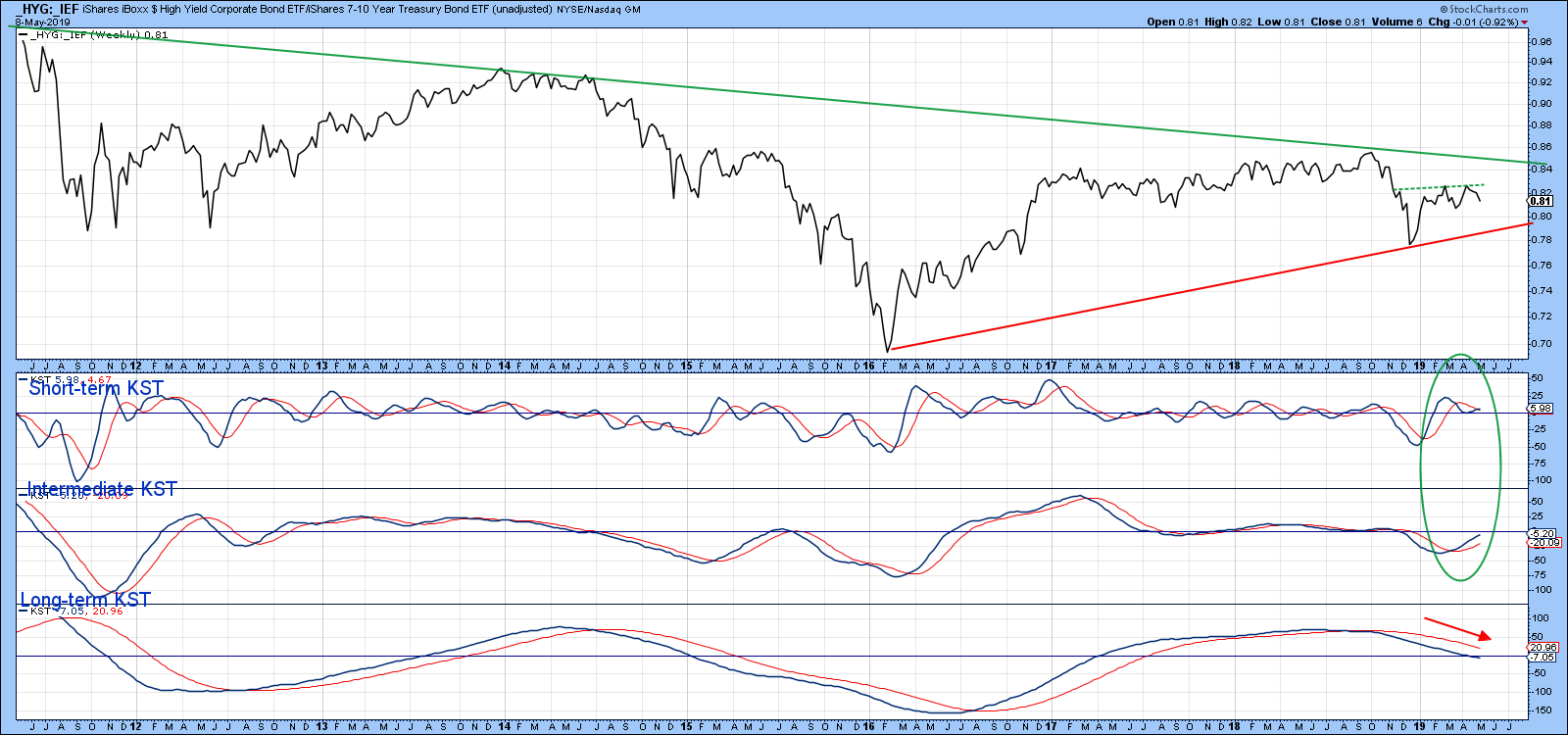 Chart 8
Good luck and good charting,
Martin J. Pring
The views expressed in this article are those of the author and do not necessarily reflect the position or opinion of Pring Turner Capital Group of Walnut Creek or its affiliates.