When you're a bull, the last thing you want to see is a pullback in stocks you own. This is understandable - who wants to see something they own lose value? But, at some point, the market and individual stocks will get overheated, so instead of worrying about a pullback, try to identify those stocks that are likely to get the most attention on any selling.
A perfect example is Microsoft, a company that recently beat earnings expectations, moved up nicely, got overbought and could prove to be a solid reward-to-risk trade at the right price.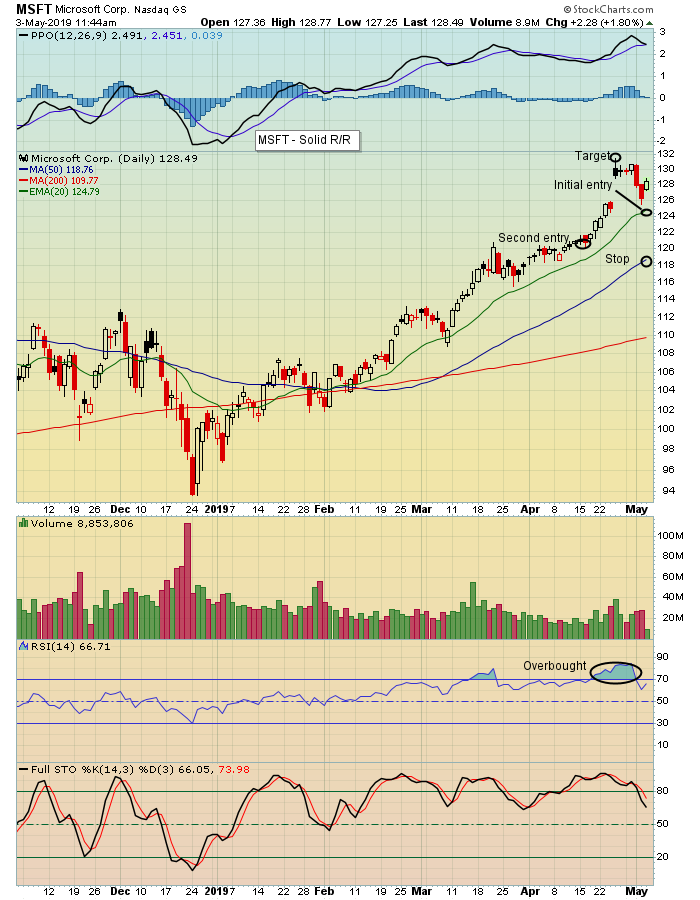 You can see on the chart above how stretched the stock got; look at that blue RSI cluster as the RSI neared 90, signaling an extreme overbought condition. Now, the question becomes this: what might be an appropriate entry point? The first key level of technical support is right near the $125 level, which might warrant some nibbling. Then, there's the price support in the $120 range. For those more conservative, you might perhaps wait to see if it falls even further. The 50-day moving average is right around $119, an exit point if it closes below that level. You might even think about averaging down, which would be a middle-of-the-road strategy that reduces your cost basis.
The point here is MSFT is the type of stock that traders are likely to gravitate to on any decent pullback. Earnings were strong and many traders will see the stock as a safe haven should the overall market fall further. There are many stocks like MSFT that recently beat earnings, hit new all time highs, got overbought and will be sought after at the right time. In fact, we currently have 255 stocks on our Strong Earnings ChartList, many of which look similar to MSFT that we'll be watching closely for high reward-to-risk entry levels. If you would like to see the full list, just click here.
Q1 earnings season is mostly in the rearview mirror now. Those companies that traders care about the most have already posted their numbers. With any luck, we'll see some selling at some point soon while keeping an an eye on those companies that exceeded expectations, which could set up nicely for solid gains.
At your service,
John Hopkins
EarningsBeats