With a new earnings season comes new leadership, and I'm already beginning to see a shifting of industry winds. Sure, some of the prior leaders continue to show leadership - software ($DJUSSW), financial administration ($DJUSFA), renewable energy ($DWCREE), and restaurants & bars ($DJUSRU) - but, as the current bull market extends its record run, there are other emerging leaders that we need to be aware of and take advantage of. I'll give you my two favorites below; in both cases, recent earnings back me up.
1. Defense ($DJUSDN)
Over the past three months, the DJUSDN has been among the top 10% of industry groups. It hasn't gotten there by accident, either; huge earnings reports from the likes of Northrop Grumman (NOC), Lockheed Martin (LMT) and Raytheon (RTN) are confirming the DJUSDN's relative strength since May. The change in trend took place then and can easily be seen on the following relative strength chart:
Just wait for the best of this group to report its earnings. That company, which will be reporting its earnings in the next two weeks, will be featured as part of our FREE EB Digest newsletter on Monday. I think it'll be an absolute blowout! If you're interested in receiving earnings and relative strength-related charts throughout the week to help you in your trading and investing (and more specifically this defense stock on Monday), then CLICK HERE to sign up. It's FREE!!!
2. Internet ($DJUSNS)
The DJUSNS had been a leading group through April 2019, but the May selling really hit this group hard. I started to sour on it, quite honestly, but, if you notice, the relative momentum (PPO) barely moved beneath the zero line. It has now started to turn higher again, with tremendous relative strength since the recent stock market low the first day of June: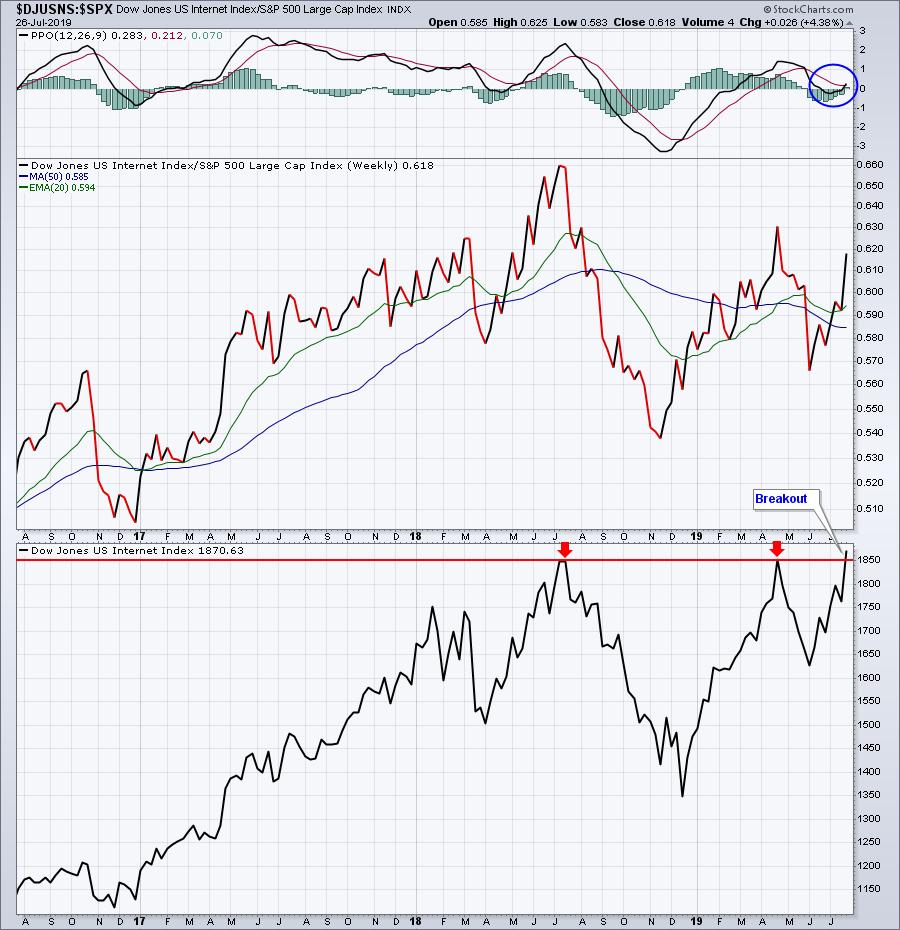 Furthermore, the DJUSNS broke out on an absolute basis. Why? Well, the latest quarterly results from Alphabet (GOOGL), Twitter (TWTR) and Snap, Inc. (SNAP) were superb. Better-than-expected revenues and earnings, combined with solid technical price action and relative strength, is a recipe for outperformance in your portfolio.
These are two groups that I'll be trading - you should too.
At your service,
John Hopkins, President EarningsBeats.com
"Better Timing. Better Trades."