The excitement is building as Tom Bowley gets ready to rejoin the EarningsBeats.com team as Chief Market Strategist. Why the excitement? Because Tom's experience as Senior Technical Analyst at StockCharts.com, along with being one of the original founders of and contributors to EarningsBeats.com, gives him a unique perspective and knowledge that will benefit both communities. Accordingly, we are pleased to invite the entire StockCharts community to join Tom for a special webinar this Monday, September 9th at 4:30pm ET, as he lays out his vision for EarningsBeats.com's future. Just click here to learn more and to get webinar instructions.
Speaking of Tom... Check out the leading stock that has helped to power his Model Portfolio higher.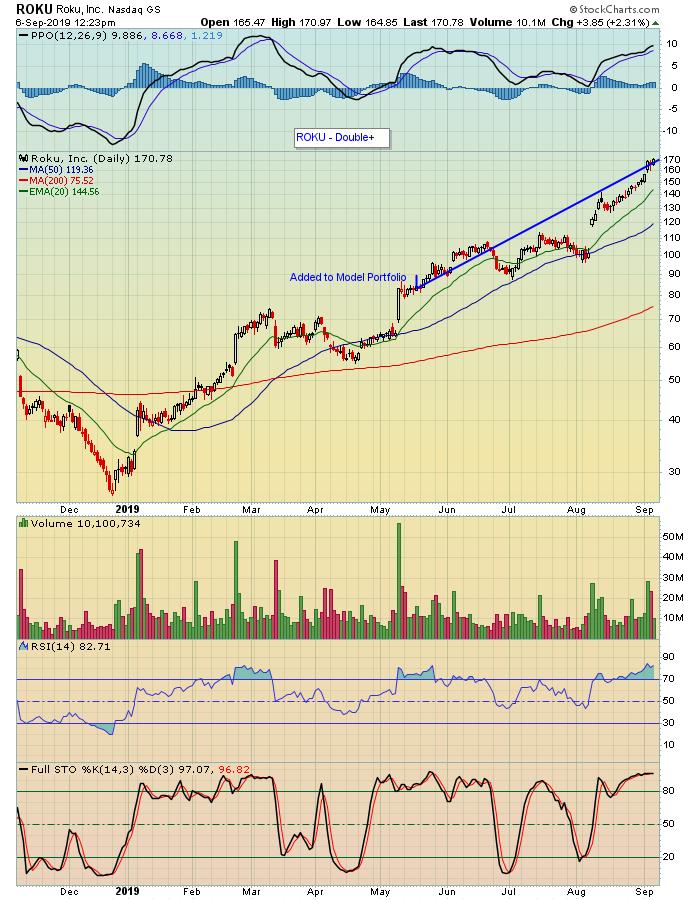 This stock was first added to the Model portfolio on May 19 at a price of $84.03. When the 90-day holding day period ended, the stock was trading at $134.96, a 60% gain. Then, when Tom released his new batch of Top 10 Picks on August 19, ROKU was once again one of the stocks in the Model Portfolio - IN SPITE of its huge gain. Since that time, the stock has tacked on another 25+%. In fact, since the stock was first added to the Model portfolio on 5-19-19, ROKU has more than doubled! I wanted to point this out as one of the topics Tom will cover during Monday's webinar will be the makeup and performance of his three portfolios - Model, Aggressive and Income - that have consistently and substantially outperformed the market. You DON'T want to miss this event!
In the meantime, with Tom front and center at EarningsBeats, we'll continue to focus our attention on stocks like ROKU that beat top- and bottom-line earnings expectations and have charts that indicate they could go much higher.
At your service,
John Hopkins
Better Timing. Better Trades.