Wall Street has placed its bets as we work our way into earnings season. It's very easy to see which groups are favored by big money - just look where that money has been going. Today, I'll give you my top 2 industry groups at the moment, starting with my favorite:
Computer Hardware ($DJUSCR)
Are you ready for a big number from Apple, Inc. (AAPL)? I am. Based upon the past three months' relative performance, there's not a group I'd be more comfortable with as earnings season kicks off than computer hardware. Look at the explosion in relative strength: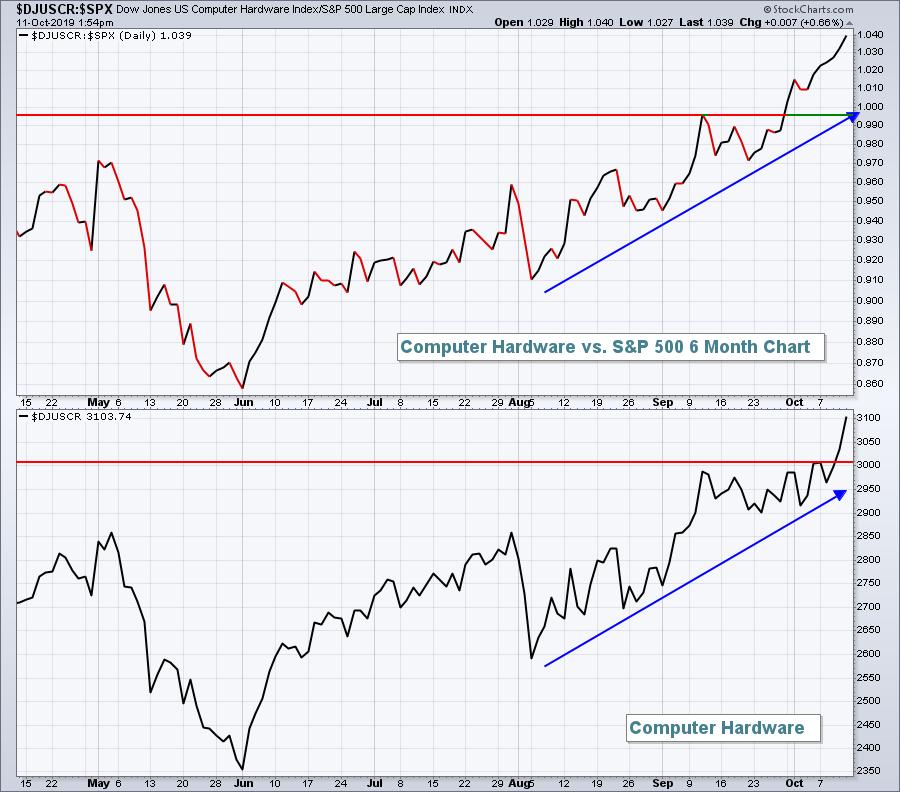 Why would money rotate towards a group like computer hardware unless management teams at companies within the industry are painting a rosy picture for analysts? Not every company in the group is created equal, so you have to do your homework, but the DJUSCR is going to produce some blowout quarterly earnings.
Mark my words.
Trucking ($DJUSTK)
This is potentially a very exciting group. Why? Well, it's part of the critical transportation area ($TRAN). When transports lead the market, we usually have a very strong market on our hands. The fact that Wall Street is betting on this group really adds to the bullishness I've been discussing throughout this period of consolidation. Yes, it's been volatile and yes it's been frustrating at times, but sticking to the bullish side (and with relative leaders) is going to pay off big time. Relative strength has really turned in truckers' ($DJUSTK) favor, so I'll be looking for solid results and raised guidance from leaders in this space. Here's the chart: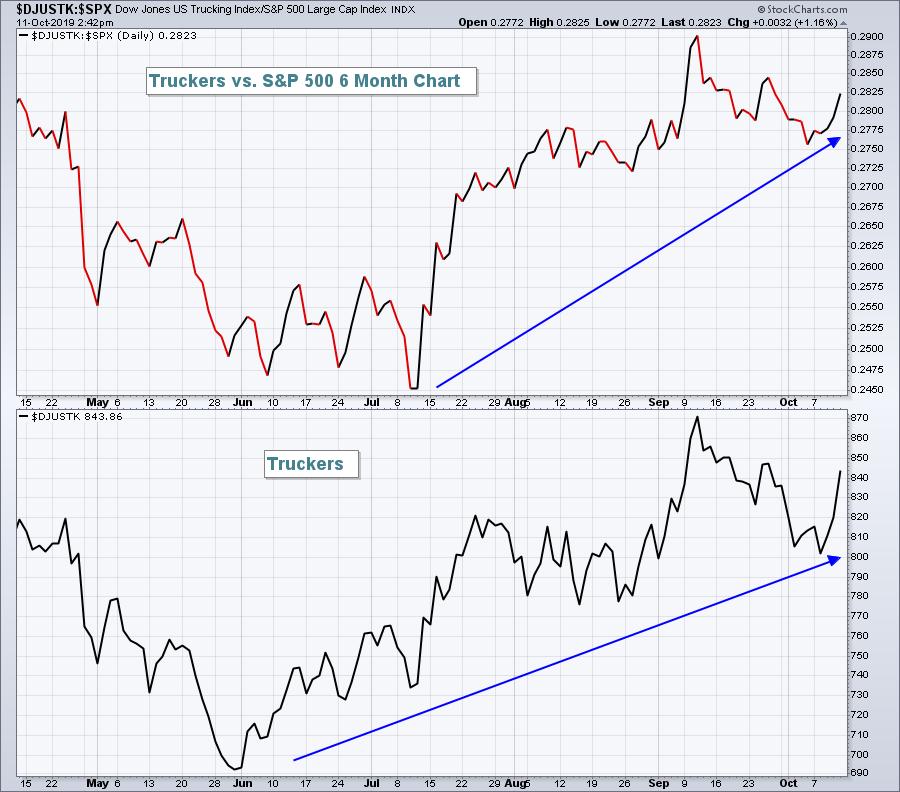 The above daily chart doesn't reflect it, but the weekly relative PPO for truckers has turned positive and relative price action is above both its 20-week EMA and 50-week SMA for the first time in over a year. This is a very bullish signal for economic improvement ahead.
If relative strength interests you, I'll be hosting a FREE "Q3 Earnings Sneak Preview" webinar on Monday, not only highlighting industry group strength, but also providing individual stocks that are likely to blow away estimates based on their recent performance. In addition, I'll provide you the 3 catalysts to send the S&P 500 flying higher in Q4 and throughout 2020. It's going to get exciting! You won't want to miss this event. CLICK HERE for more information!
Happy trading!
Tom