We are now deep into earnings season and, as we can see by the record highs in the NASDAQ and S&P, traders are mostly liking what they are hearing and seeing from companies who are reporting their numbers. We've seen some phenomenal moves in stocks - both to the upside and downside - which have turned into big gains and big losses, particularly for those individuals who chose to hold positions into earnings reports. For example, look at the chart below on Ultra Clean Holdings (UCTT), one of 15 companies our Chief Market Strategist Tom Bowley unveiled to EarningsBeats.com members last week. He felt it could attract a lot of buying interest once it released its earnings last Wednesday, based on its relative strength.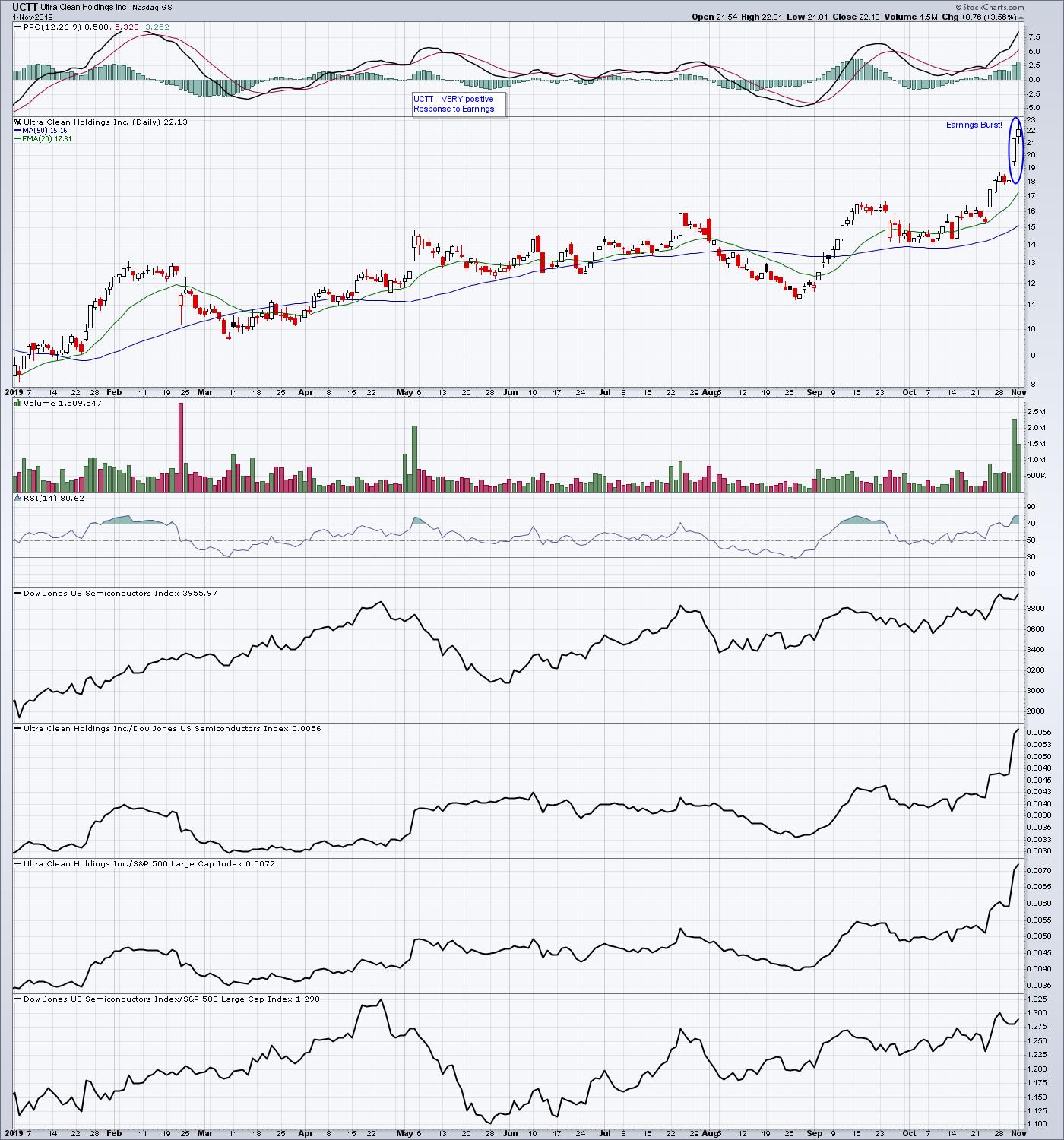 As you can see, within two days of its earnings release, the stock was up by as much as 26%; not too shabby!
Of course, it's impossible for anyone to predict every stock that might go higher or lower when they release their earnings, but it certainly helps to increase the odds of success if you can zero in on those charts showing the companies with the greatest relative strength. In fact, of the 15 companies Tom revealed to our members last week, 10 of the stocks did move higher, with the first 5 released gaining an average of 7% and the next 10 released gaining an average of 3.5% (including the 5 stocks that ultimately moved lower).
I want to point out that holding any stock into its earnings report is a risky proposition; you can never be certain how the market will react to the numbers. For example, even though UCTT gained 26% in 2 days, another stock, MDC, missed expectations - the "worst performer" - that showed promising relative strength into its report. The stock lost 11% the day after its earnings were released, though that was trimmed to roughly 5.5% at its high one day later. Still, if you were holding just that one stock, it might feel painful.
Since Tom got such a positive response to sharing promising stocks to our members, he's decided to conduct a FREE webinar this Monday, November 4 at 4:30pm ET, where he will release a new batch of stocks on companies set to report their earnings throughout the week. This event will be open to both our full service members as well as those who subscribe to our free EarningsBeats Digest newsletter, which is published 3 times a week on Mondays, Wednesdays and Fridays and focuses specifically on earnings-related topics. So, if you are NOT currently an EarningsBeats.com subscriber but want to attend this FREE, timely, educational and potentially profitable webinar, just click on this link to save a seat and we'll send out a webinar link to you prior to the start of the event. It's going to to be an outstanding event and we'd love to have you join us!
Traders are constantly looking for ways to get an edge to profit. Zeroing in on those companies set to report earnings with charts that look solid on a relative basis is something worth examining.
At your service,
John Hopkins
Better Timing. Better Trades.