When Charles Schwab recently announced they were cutting their online brokerage commissions to zero, the other major brokerage houses fell in line. Then, shortly after, Schwab announced they would be buying Ameritrade. Game on!
The most amazing part of this major development is it gives traders a tremendous amount of flexibility; essentially, with commissions out the door, traders are free to make as many in and out trades as they want at no cost. This is particularly true as long as you maintain sufficient equity in your account - that is, at least $25,000 at the start of the trading day - to avoid being labeled a Pattern Day Trader, which comes with certain restrictions.
One could argue that the elimination of fees could lead to too much trading, which is a valid point. On the other hand, grabbing profits quickly or minimizing losses by acting quickly could benefit traders as well. So yes, there are some trade offs, but one that could come with some big-time advantages if managed properly.
For example, look at the chart below on Chipotle (CMG), a stock on our Strong Earnings ChartList that beat both top and bottom line expectations when they reported their numbers on October 22. In spite of the earnings beat, the stock proceeded to move lower for two weeks straight before resuming its move higher after touching its 200-day moving average exactly. But there were a lot of support/resistance levels that were hit over that two-week period that could have presented trading opportunities, unencumbered by commissions. And there were certainly chances for traders to lock in nice profits or reduce losses based on those support and resistance levels.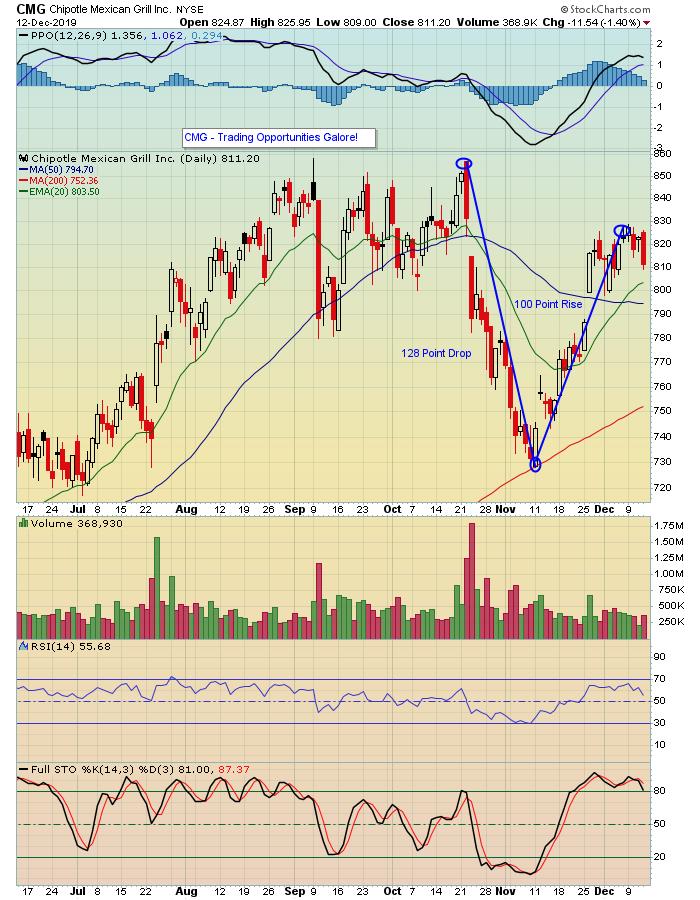 With all of this in mind, we are going to conduct a FREE webinar this Monday, December 16, where EarningsBeats.com Chief Market Strategist Tom Bowley and I will be covering this exact topic, including some possible trading opportunities on specific stocks. Given the nature of this event, I know we will have a full house! But you can find out how you can join us for this unique and timely event by clicking here.
At your service,
John Hopkins