I'm going to keep this article short and sweet. We're going higher.
If you're still convinced that the U.S. stock market is staring at a doom-and-gloom environment, I don't know what to say. Several months ago, I created a User-Defined Index, my "Pandemic Index", to track the worst-performing indexes during the pandemic. This index of the WORST groups just broke out. Here's the chart: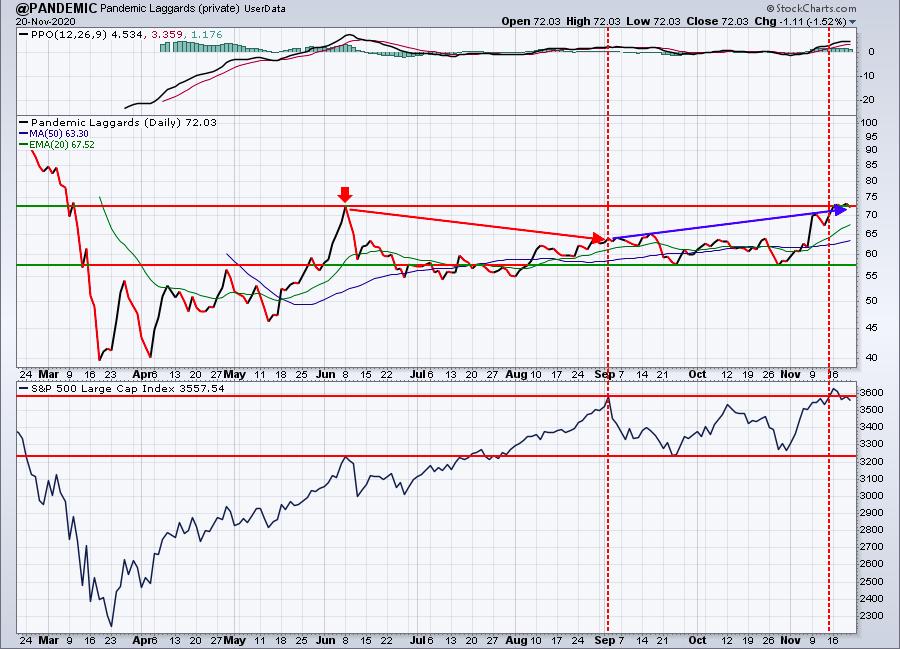 The hard-hit pandemic industries like airlines, hotels, etc., are rebounding. You can bury your head in the sand if you'd like, but the truth is the truth. The worst-performing groups in March and April are now showing leadership, and that is incredibly bullish, in my view. A secular bull market requires wide participation, so I didn't believe true confirmation would arrive until my Pandemic Index broke out. Well, it broke out. The above chart shows that the S&P 500 is trading just beneath where it was at the early-September high. The Pandemic Index is well above its early-September level and it just cleared its high from June.
One lagging group in March and April is now leading the charge. It's hotels ($DJUSLG). The more industry groups that break out, the more bullish it is for U.S. equities. Hotels broke out with the vaccine news last Monday. Check it out: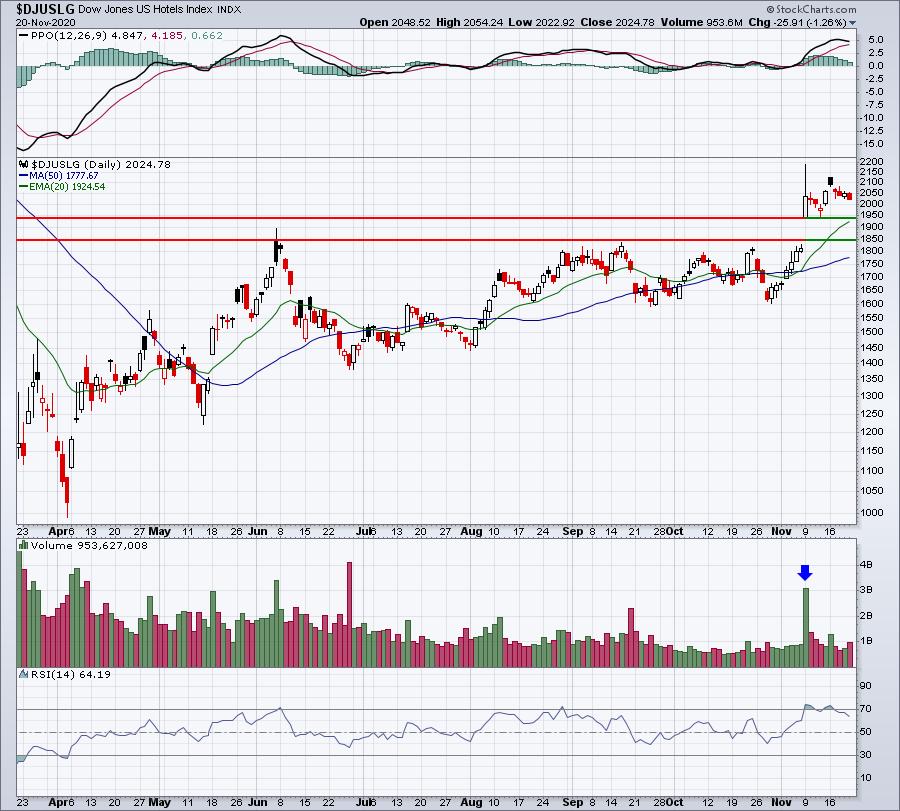 Watch the top of gap support near 1950. Hotels remain strong so long as that support holds. While I understand the rush into areas that have been rising since the vaccine news, I still believe many of the best investing ideas involve companies that have performed extremely well throughout the pandemic.
On Thursday, we had another great session with our EarningsBeats.com members as we unveiled our 10 equal-weighted stocks for each of our 4 portfolios for the next 3 months. They performed exceptionally well vs. the S&P 500 on their first day on Friday. My absolute favorite stock hands-down for the next three months will be provided to our free EarningsBeats.com Digest subscribers on Monday, November 23rd. If you're interested in that stock, simply CLICK HERE and subscribe to our free newsletter! There is no credit card required and you may unsubscribe at any time.
Happy trading!
Tom