Q2 Earnings season is winding down and, based on the record highs on all of the major indexes this past week, traders liked what they heard and saw.
The solid earnings beats by many companies comes as no surprise, with interest rates remaining low while the Fed continues its bullish stance and as the economy shows signs of improvement. In other words, as the economy strengthens and demand picks up, cheap money allows companies to leverage their balance sheets and reap nice profits, as seen by companies like AMD, which knocked it out of the park when they reported their earnings earlier last week.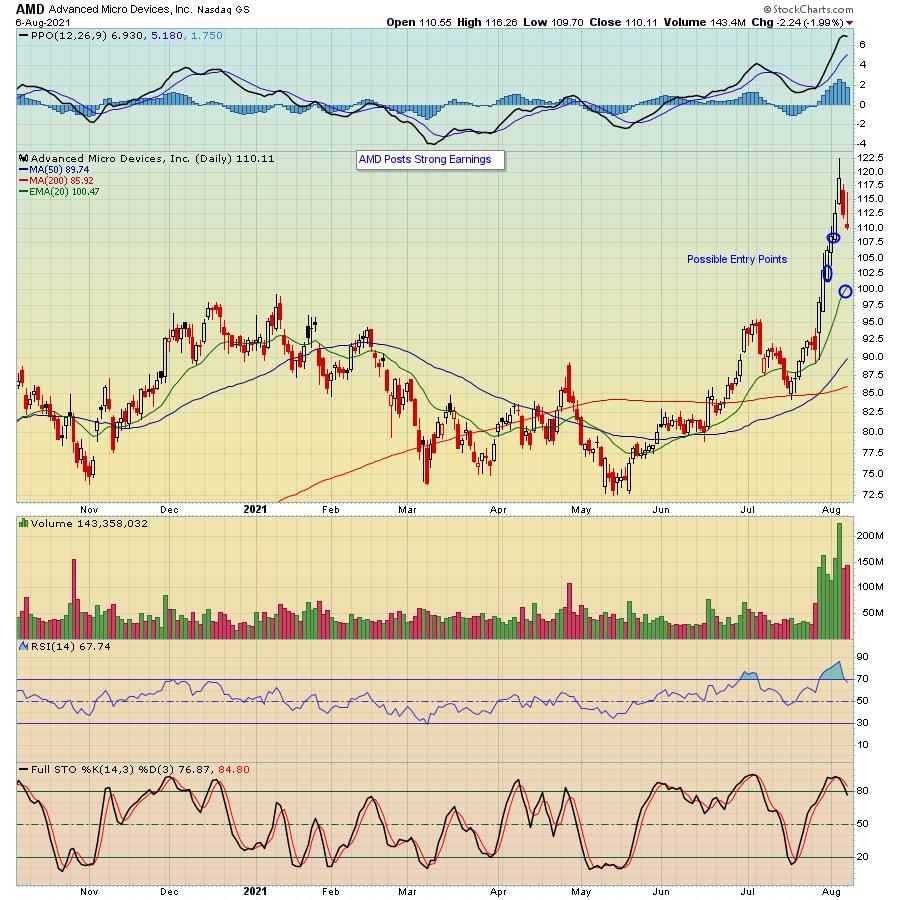 What's great about a blowout earnings season are the opportunities that arise, especially for those who are patient. For example, in the case of AMD above, it has already pulled back nicely off its high and there's a strong chance it could give up even more of the big gains that arose post-earnings, landing at levels where traders can enter at lower prices; this will be the case for many stocks. Thus, it becomes a matter of zeroing in on those stocks that beat all expectations, shoot up higher and pull back to key support levels, like I've identified above. And remember, traders gravitate to those companies that show the best results, especially those that guide higher. And this is why you need to know how to find the best trading candidates.
At EarningsBeats, our Chief Market Strategist Tom Bowley tracks charts on companies leading up to earnings, then analyzes the market response post-earnings. In other words, how does a company perform leading up to its earnings report and what does it look like a week or so after the numbers are released? This is very valuable information, especially when looking for high reward-to-risk trading candidates.
In fact, Tom will be conducting a FREE webinar this Tuesday, August 10 at 4:30pm ET, where he will demonstrate how he tracks these companies that includes creating a ChartList for ease of access. This event, our "Earnings Season Update," will be open to all members of the EarningsBeats and StockCharts communities, so, if you want to save a seat, just click on this link to sign up for our free EarningsBeats Digest newsletter and you will receive room instructions prior to the start of the webinar.
Earnings Season brings with it great opportunities to profit if you know where to look for the best candidates. You should start by keeping an eye on those companies that beat top- and bottom-line expectations and guide higher as well.
At your service,
John Hopkins
EarningsBeats.com