The carnage in the market, which has resulted from the 30% decline in the NASDAQ since its November 22, 2021 high, is going to be remembered for a long time, especially by those who painfully held on to stocks that, in some cases, fell 50% or more from their all-time highs. A prime example is Affirm Holdings (AFRM), a company whose stock has been completely obliterated the past six months, going from a high of $176 in November to a low of $13.64 this past Thursday (a 92% decline), the day before it reported its earnings. It didn't help that a stock in the same space - Upstart Holdings (UPST) - had fallen 73% over the span of a few days leading up to its earnings report, which preceded AFRM's own report.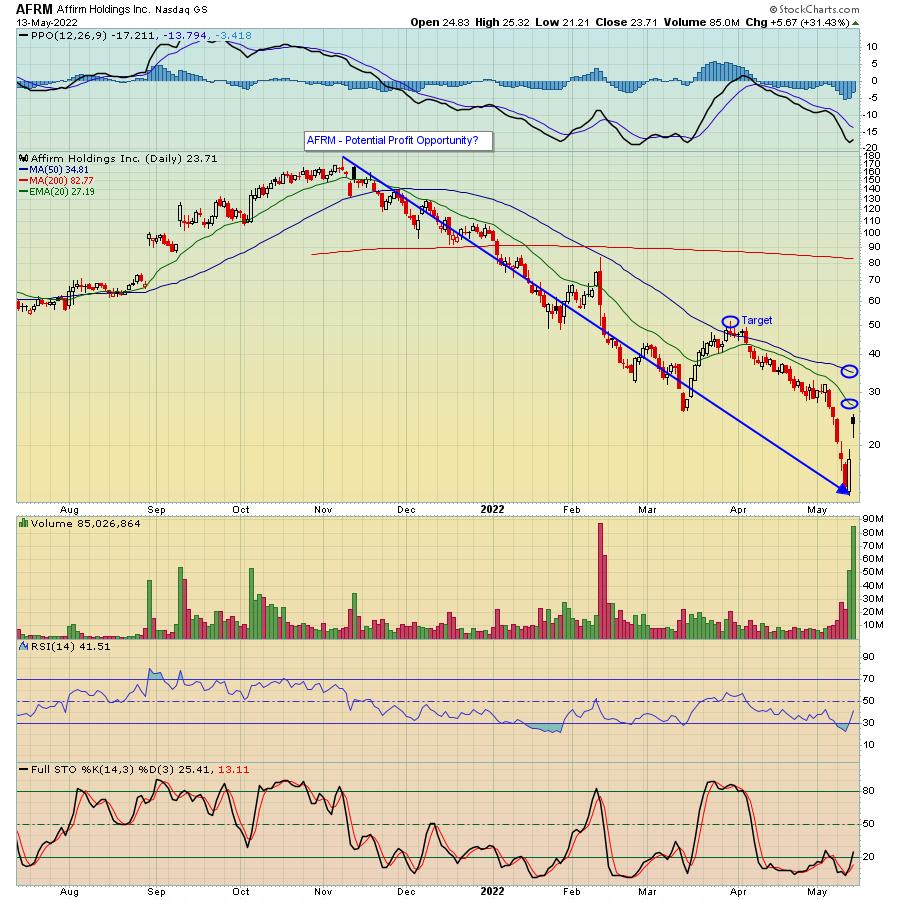 The panic selling in AFRM turned into a relief rally after they reported their numbers, which were better than expected, including a rosier going-forward forecast than had been anticipated. Accordingly, the stock rose 85% from that $13.64 low to a high just above $25, before closing at $23.71 on Friday.
The magnitude of AFRM's loss, like so many other stocks, is stunning, to say the least, paralleling the types of losses seen during the dotcom bubble. Whether or not these losses - or for that matter, the lofty prices in the first place - were justified is immaterial. Instead, we need to focus more on the here and now, trying to identify some of the stocks that have been beaten down and determine if they might be able to gain back a decent portion of their losses.
In the case of AFRM, it will be interesting to see if they can hold or build on last week's gains, maybe serving as a poster child for other stocks that have suffered a similar fate. For example, if the stock was able to clear its 20- and 50-day moving averages, where there's likely to be resistance, it might find its way to the March 30 high of $51.49, which would represent more than a double from Friday's close. It would be prudent to keep a tight stop, perhaps Friday's gap low of $21.21, in case selling resumed. Even then, that would represent a 10% haircut from Friday's close, so it might make sense to see if it revisits that level first. But the prospect of a possible double might make it worth the risk.
Trust me when I tell you there are a TON of stocks that fit the AFRM mold; Shopify (SHOP), Microstrategy (MSTR) and Netflix (NFLX), to name a few. And perhaps these stocks are destined to remain in the dust bin for a long period of time. But if you can zone in on the ones like AFRM that were put out to pasture before reporting better than expected earnings, you might have an opportunity to make some nice scores. In the meantime, if you would like to get ongoing, timely market insights and expert analysis from our Chief Market Strategist Tom Bowley, just click here to start receiving our highly educational EarningsBeats Digest that comes out every M, W and F.
At your service,
John Hopkins
EarningsBeats.com