While the Bull/Bear debate gets more one sided with each week (bullish), the sector rotation to lead the charge has been mixed. The all-important test at previous highs shows up now at this 2080 level. At 2080, we are back to the December cliff top. Our KST appears to want to roll over, but price rules all the indicators and it closed at a new high. Was this first-of-month money entering the market or a genuine initiative to buy attractive assets? I will say that it looks a lot like the November price spike which died on the first-of-month bullish sword as it tested the previous cliff top highs from August 2015.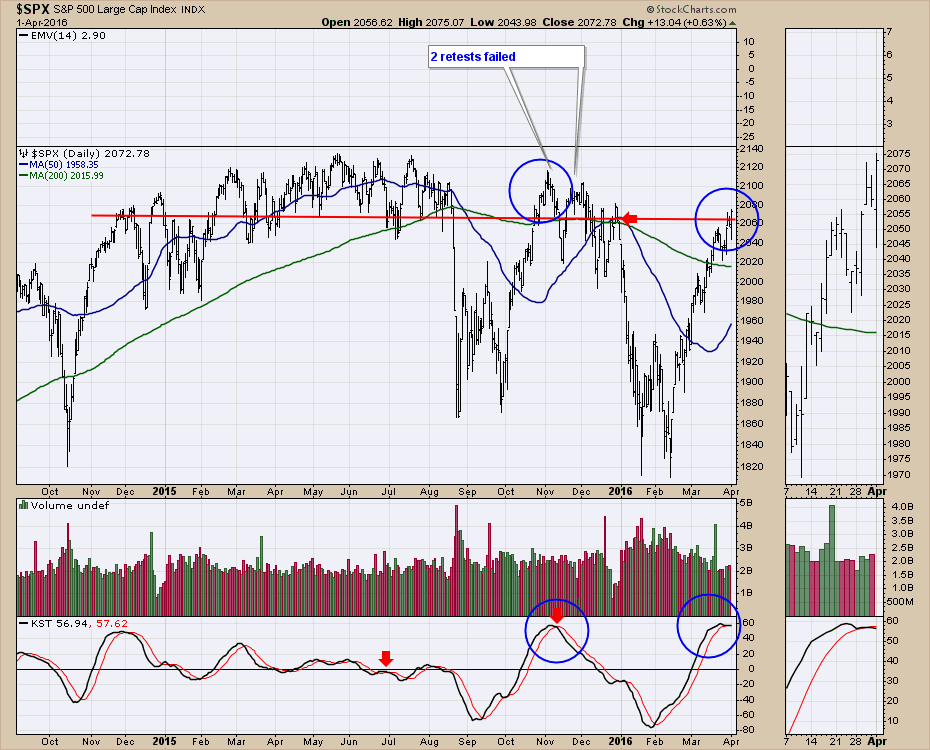 ---
We don't always get our way, but here are some sector rotations that make you question the rally from Sam Stovall's market rotation model.
We like to see banks lead, they aren't leading. Here is JP Morgan, mired in the middle.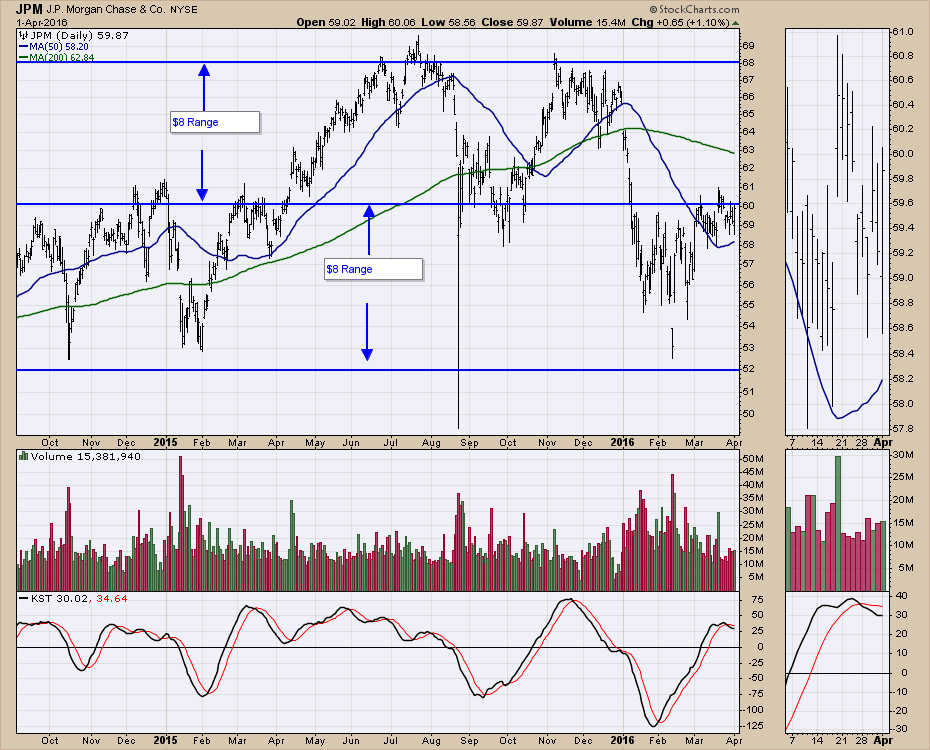 Citi (C), no annotation required.
A famous news media stock hawk suggested this stock would never see $17 again, but that is when it was going through $18. Today it seems muddled in the lower half of the range.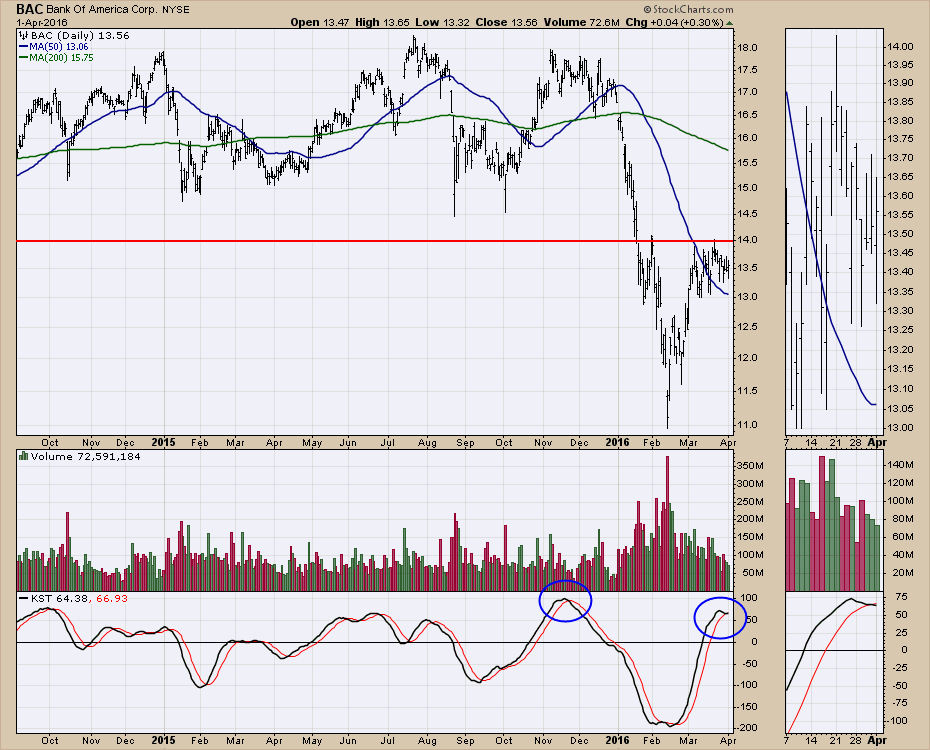 Broker/Dealer charts look more like oil company charts with a recovery off the lows, but nowhere near the highs. Perhaps today's bullish performance by Goldman Sachs Group is the start of a new uptrend.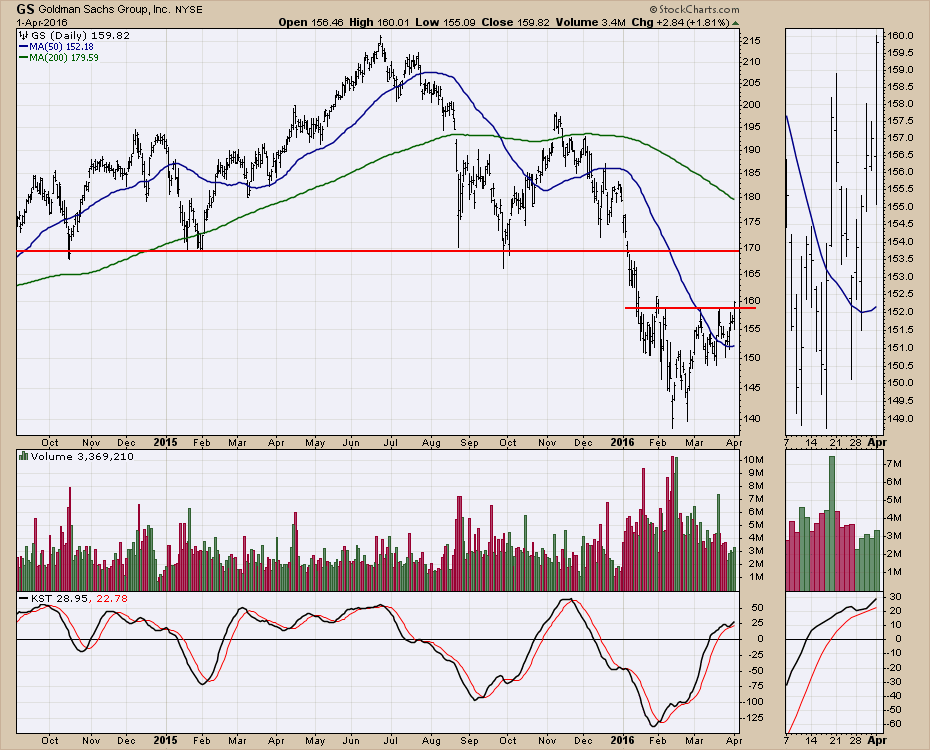 The chart of Morgan Stanley isn't quite as "bullish" as today's action in Goldman. Morgan Stanley (MS).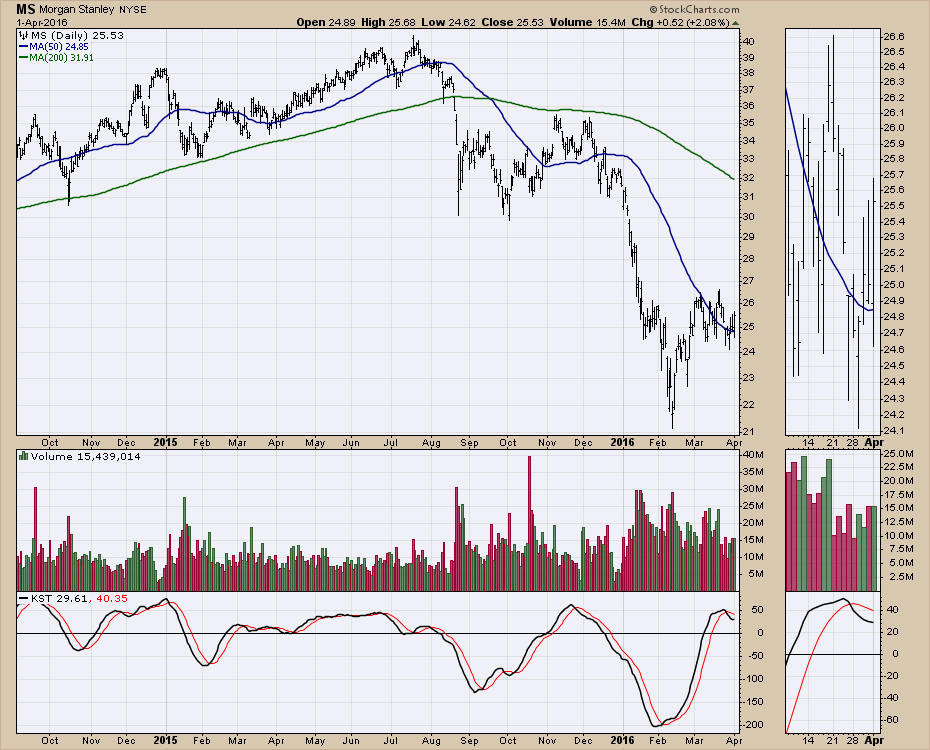 But we trade the market we have got and Telecoms continue to perform well.
Here's AT&T at the top of a cell tower.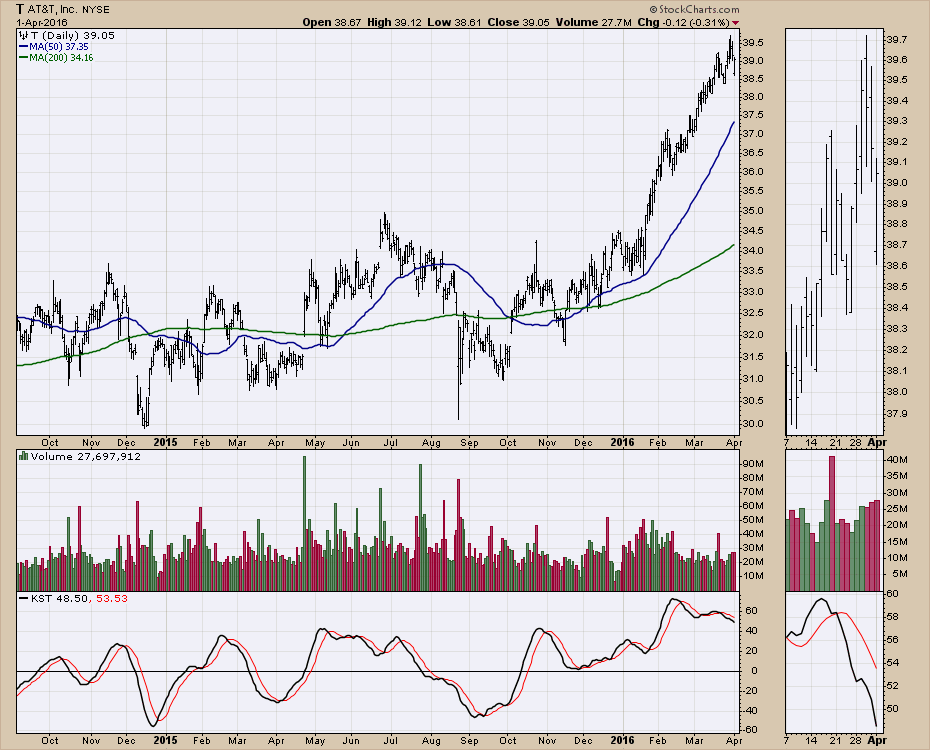 Here is the Verizon chart (VZ). These charts look like a hard place for technicians to keep adding to positions but they keep pushing higher adding lift to the $SPX. These are defensive places to hide in the market, but they certainly look bullish.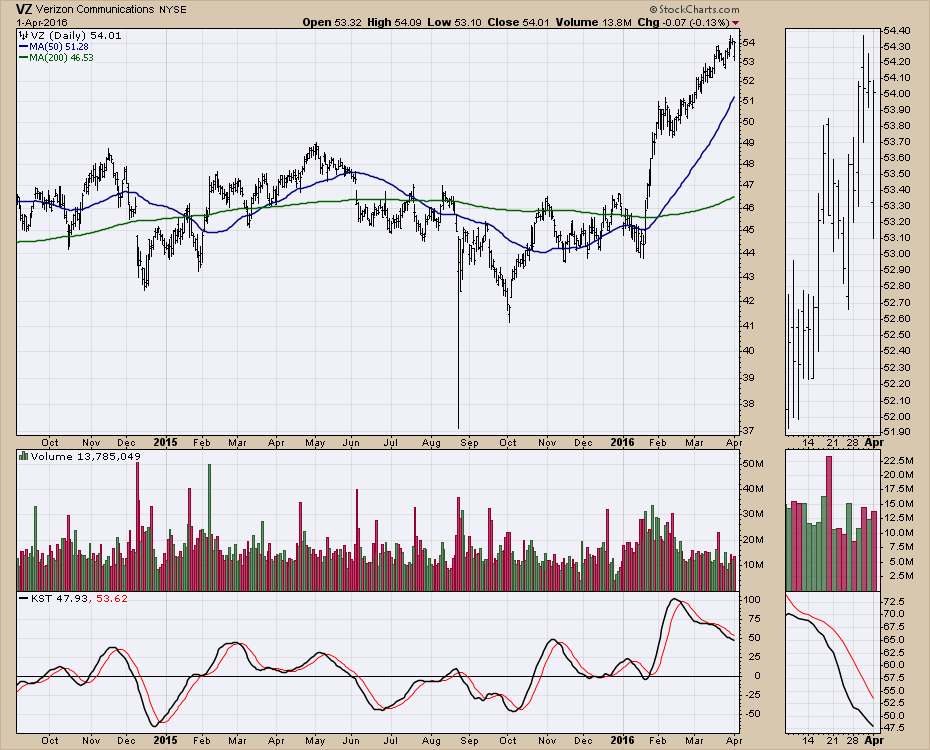 Outside days commonly reflect indecision in the market. For an outside day, the range of the day's price action goes above the high of the previous day and below the low of the previous day. When they continue to close on the high side in an uptrend, it can't really be called a reversal candle! For people trading the market intraday, these previous highs and lows are pivot points. 2052 was deemed to be important because if the market traded below that level, that would be broken support from the March 22 high. Oops. Big reversal off the low this morning forced shorts to cover all the way up, including the people who had set stops above Wednesday's high. You may remember the Tuesday-Wednesday surge as Yellen's lift.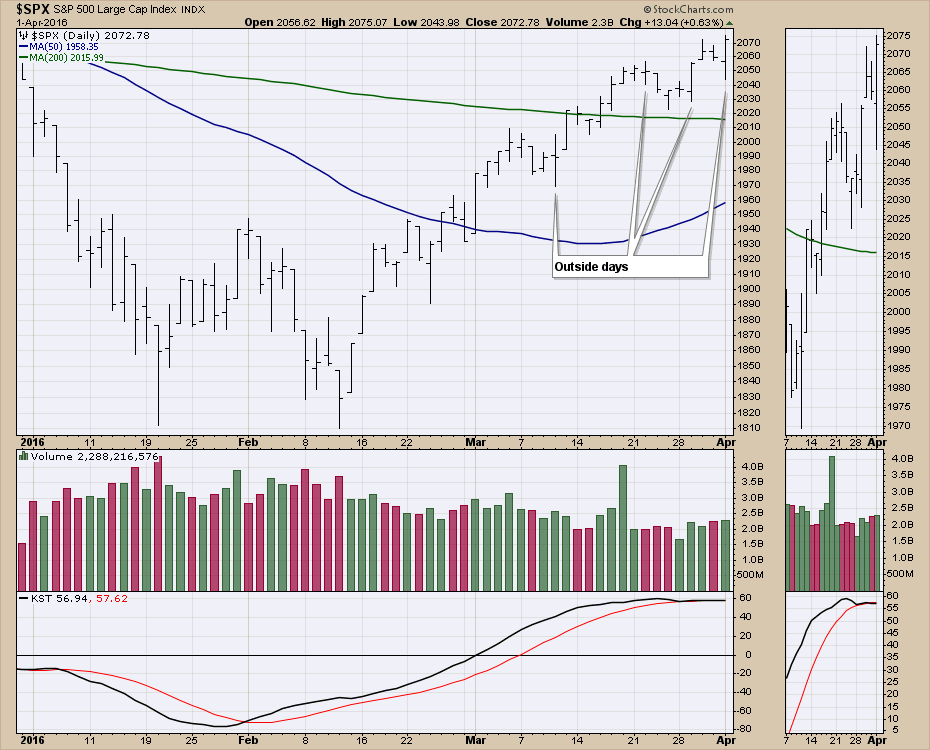 Oil traded lower almost every day this week. Gold traded dismally all week considering the $USD dropped significantly. Gold was up on the week marginally, but more on Yellen suggesting that everything is not fine and less on $USD weakness.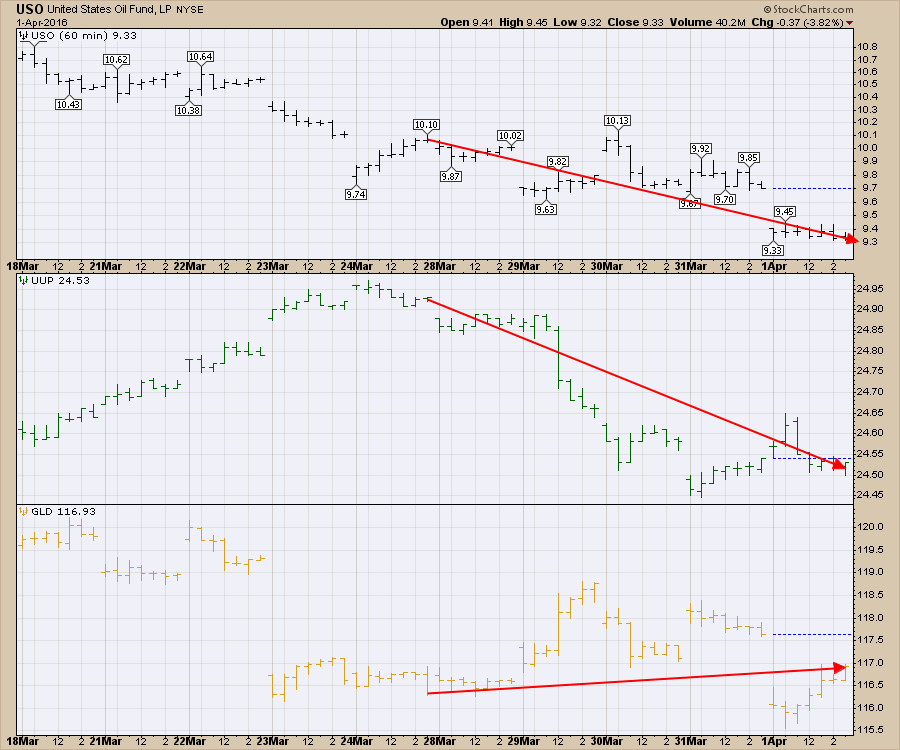 Oil continues to have put in its high on contract rollover and ended the week as shown below at 4-week lows based on this 2-month, 60-minute bars, USO chart. Meanwhile, the UUP and GLD both retreated as well. That is just a little odd.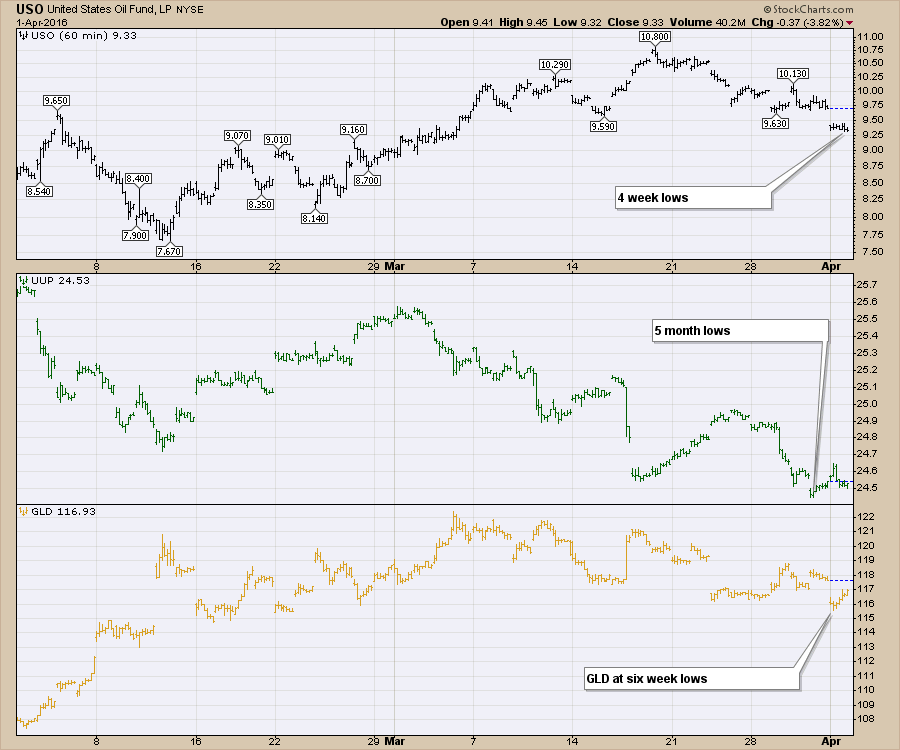 I covered a lot of the global currencies on the webinar and some suggestions for getting set up for a low in oil and gold. You can click here to catch the webinar from the archives. Commodities Countdown (20160331). You can also follow me on Twitter @Schnellinvestor. Just one more thing! I'll be doing a Canadian Technician Webinar on Tuesday, April 5th, 2016. Click on this link to Register.
Good trading and have a good weekend,
Greg Schnell, CMT, MFTA.