The "Wall of Worry" has been used for many decades to identify the period of time in the latter stages of a bullish run in the stock market, when all the naysayers start talking about a top. I have witnessed this often. As the bull ages, many start to think they can "call the top." The financial media parades expert after expert showing economic or political situations in which they believe is coincident with a market top. First of all, anyone who has ever looked at a chart knows that the topping process, also called distribution (more on that later), is a really long drawn out affair. The topping process leaves lots of dead bodies alongside the road.
---
Distribution - Market tops and market bottoms bring out two very different emotions. Tops, because the masses are generally bullish, are strung along with ever increasing volatility. I think much of the volatility is caused by the continuous churning of investors/traders moving things around hoping to protect themselves. This is where market internals (breadth) really add value to one's analysis.
Below are just a few headlines I pulled in about 15 minutes:
Bull market depends on whether Trump can deliver on key promises…
This chart says a selloff is looming as fear stalks the stock market rally…
Cramer's game plan: One number next week could hammer stocks…
USA Today's Headline—A Market Top Signal, Maybe…
Why the 'Trump Bump' Has Set Us Up for a Market Correction…
Why the Bull Market May Die Under Trump…
And here is an excellent example from 1973:
"There's never been a better time to buy stocks." - Alan Greenspan, NYT Bus. Sect., 1/4/1973, one week before the start of a 47% decline. You can see in Chart A the future FED President seemed to lack prescience in regard to the market.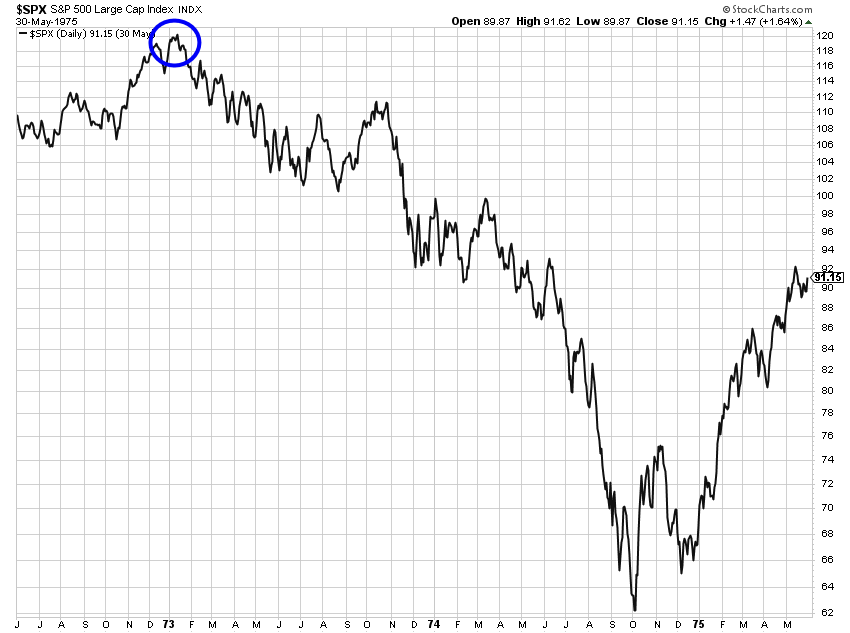 Chart A
The point of this simple concept is that many naysayers find personal joy in being right on rare occasions and because they are relatively unknowns, there isn't much risk. Certainly, there isn't any career risk because IF they just happen to guess correctly, it can be a career game changer for them. Reminds me of Elaine Garzarelli in 1987 – look it up. One great market call, and that was it.
As bull markets mature, the calling of tops is part of the game for many. Use a process that keeps all that noise out of your decision making and you might not even notice it. If you do, it will just be for entertainment. The markets climb a wall of worry; they have in the past, they will in the future. We are climbing one now.
Dance with the Trend,
Greg Morris