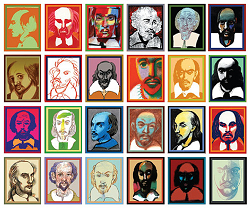 A couple of weeks ago I wrote about all the various types of technical analysts (Technical Analysts!); in this article I add to that list the authors and newsletter writers.
Authors
Well, I've written four books, two were essentially research projects (Candlestick Charting Explained and The Complete Guide to Market Breadth Indicators), one was a workbook, Candlestick Charting Explained Workbook, to add support for my first book on candlesticks, and the last book, Investing with the Trend, was me dumping 45+ years into what I refer to as my latest and last book. Of course, after the third book, I also called it my last one. Oh well.
---
How does anyone learn technical analysis? Most of us geezers learned it by reading books and newsletters. I still think that is one of the best ways to learn, however now there are other sources such as StockCharts.com's ChartSchool and the hundreds of blogs like mine, Dancing with the Trend, available on the internet. StockCharts.com's ChartSchool is an entire course in technical analysis; as I have even made a few contributions over the years.
Under the category of Author, let's discuss technical analysis books first. I used to have the mindset to read every book that was ever written on the subject and probably came close to it. My thinking was that if it was a book used to sell something else, then there still might be a single item of value and that alone would make it worth the cost of the book. I even read the "How to Make a Billion Dollars in Five Minutes" types of books, knowing beforehand it was almost assuredly going to be hogwash – or worse. However, sometimes there is a nugget of information in these books that maybe even the author did not realize he was sharing. Seriously, I have a pack-rat problem as I have over 750 books on market analysis, which includes technical analysis (majority), statistics, finance, and economics. I gave my 130 aerospace engineering books to Georgia Tech Aerospace Department a few years ago, after carrying them around for over 45 years, thinking someone might ask me about heat transfer or boundary layer theory. No one ever did. I donated my finance and economic books to the local high school library. Not sure if today's youth read real books now.
Newsletters
These, generally, are also great sources for learning technical analysis. In the 1970s and 1980s I read Stan Weinstein's Professional Tape Reader because he covered a "weight of the evidence" approach in his analysis. I tried many newsletter trials, but also found driving to the Dallas Public Library where they would subscribe to many newsletters if library card holders filled out a form requesting one. I filled out a lot of forms and spent a lot of time reading newsletters I didn't pay for.
In the last few years, blogs have also been added to my sources for technical analysis information. However, one has to be especially careful reading and believing an unknown person sitting at a computer. Many newsletter writers also offer blogs, make sure their blog isn't just to sell their newsletter. I have to be careful here since I'm writing this in a blog. Blogs are great because they are timely, just make sure you can tell the difference between selling and analysis.
To wrap this up, I have often wondered why today someone would read a newsletter. Most, I believe read them for trading information and/or investment advice. Some newsletters are good at this; some are not. If you find yourself wanting to get trades from a newsletter; what do you suppose is the reason? Are you not comfortable with your own analysis? That's understandable. Most, I believe, like to have the comfort of knowing someone else is in agreement with them or someone else agrees with them. The ones who have trouble pulling the trigger can use the newsletter to help him/her do so.
In Appendix D of my Investing with the Trend, I provided a getting started list of recommended books and then a few additional ones. I'm sure many listed here have more recent editions. Here is the list:
Getting Started List
Kirkpatrick, Charles D. and Dahlquist, Julie R., 2016, Technical Analysis, Pearson Education, Upper Saddle River, NJ.
Easterling, Ed., 2011, Probable Outcomes, Cypress House, Fort Bragg, CA.
Bernstein, Peter L., 1998, Against the Gods, John Wiley and Sons, New York, NY.
Montier, James, 2010, The Little Book of Behavioural Investing, John Wiley and Sons, West Sussex, England.
Additional Recommended Reading
I'm not sure why I started this list because there are so many great books on investing out there now that it is difficult to decide which to read. I guess I just answered my own dilemma as I have read many, if not most of them and these are the one I personally would recommend because they complement my Investing with the Trend book.
Pring, Martin J., 1985, Technical Analysis Explained, McGraw-Hill.
Bernstein, Peter L., 1992, Capital Ideas, John Wiley and Sons, Hoboken, NJ.
Makridakis, Spyros and Hogarth, Robin. 2010. Dance with Chance, Oneworld Publications, Oxford, England.
Mandelbrot, Benoit, 2004, The (Mis) Behavior of Markets, Basic Books, New York, NY.
Shefrin, Hersh, 2002, Beyond Fear and Greed, Oxford University Press, New York, NY.
Solow, Kenneth R., 2009, Buy and Hold is Dead Again, Morgan James Publishing, Garden City, New York.
Tetlock, Phlip E, 2005, Expert Political Judgement: How Good Is It? How Can We Know? Princeton University Press, Princeton, NJ.
Fox, Justin, 2009, Myth of the Rational Market, HarperCollins, New York, NY.
Coleman, Thomas S., 2012, Quantitative Risk Management, John Wiley and Sons, Hoboken, NJ
Weatherall, James O., 2013, The Physics of Wall Street, Houghton Mifflin Harcourt Publishing, New York, NY.
Dance with the Trend,
Greg Morris