The Precentage of Stocks on PMO Crossover Buy Signals is flashing a warning on three of the indexes we track in the decisionPoint Alert Daily Report. The Price Momentum Oscillator is a primary DecisionPoint indicator that generates short-term Buy and Sell signals when it crosses above and below its 10EMA. The chart below highlights a couple of examples.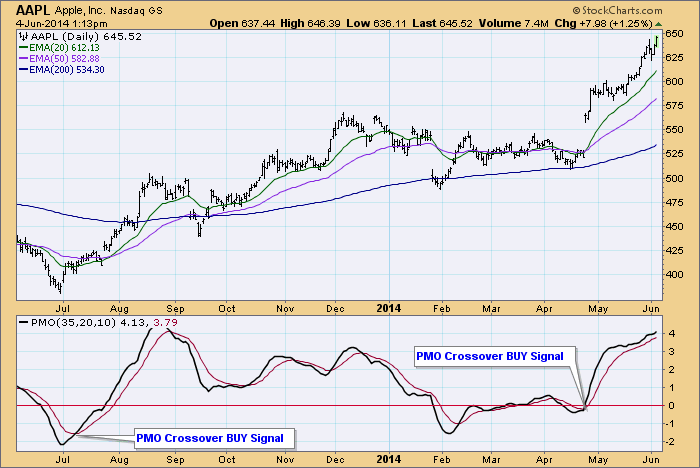 ---
We also track the PMO Buy signals for each component stock in some market and sector indexes. From this we derive the percentage of stocks in the index that are on PMO crossover Buy signals, and this produces an indicator that gives a good picture of the internal condition (overbought/oversold) of that index. On the chart of the Nasdaq 100 Index below we can see that the Percentage of PMO Crossover Buy Signals fluctuates through a range from about 10% to about 90%. Indicator reversals around the 90% level are often accompanied by price corrections. We have 16 of these indicators covering broad market and sector indexes, and only three are currently at extreme levels.
In the case of the Nasdaq 100 the Percent of PMO Crossover Buy Signals is currently at the top of its normal range, and we can expect it to reverse very soon. This makes price vulnerable for a pullback.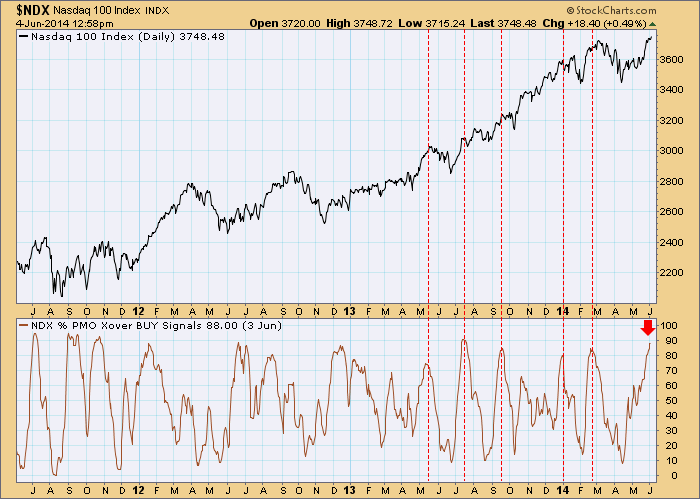 The same situation exists for the Health Care SPDR (XLV).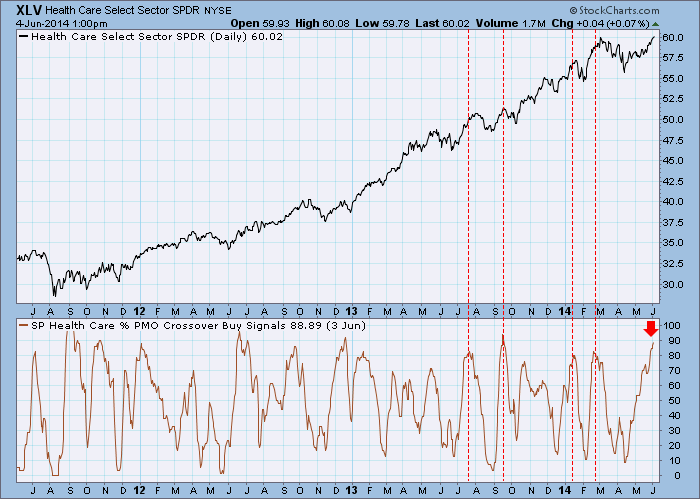 Finally, the Technology SPDR is in a smilar configuration.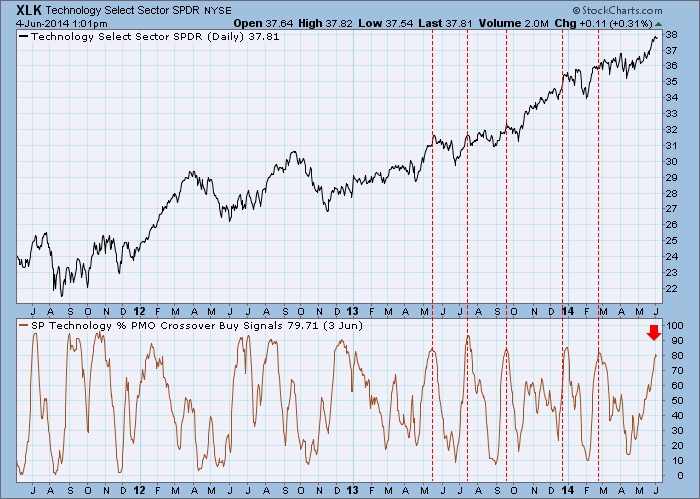 Conclusion: When the indicator reaches the top of its normal range, we can expect prices to stall or correct, but that is never a guaranteed reaction. Nor does the indicator have to top at high levels before price will top. There are plenty of mid-range indicator tops coincident with significant price tops. The current high indicator readings on the three indexes cited, should serve to alert us to possible price reversals. We do not see this as an opportunity to short -- we are in a strong bull market -- but it is a less than favorable condition to open or add to long positions in these indexes.