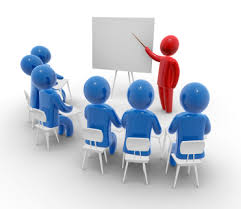 I'm sure that you have seen the information on the upcoming ChartCon 2014 in August, but you may not know that this convention is not just for StockCharts veterans. In fact, it will be invaluable to those new to StockCharts.com.
To the DecisionPoint subscribers that followed us to StockCharts.com, I know, based on many of the Support requests and questions that this transition has not been easy for everyone. Let me outline for you some of the resources that will not only be available at ChartCon, but also a recap and links to the many educational articles I've written on how to transition and use many of the StockCharts and DecisionPoint functions and content. In fact, you may want to bookmark this blog article for reference later.
---
If you make your way to ChartCon this year, I would highly recommend coming a day early to take advantage of the optional StockCharts University - SCU 101 - Getting the Most Out of StockCharts.com. You'll learn all about using StockCharts.com from the people that created it in this 7 hour seminar. I am sharing this from first-hand experience. I started at square one with all of you and this course made all the difference in how I was able to understand the navigation of the site and all of the amazing tools available.
For those of you who enjoy meeting the famous, the line-up of technical analysis superstars is beyond compare. If you've studied to become a Certified Market Technician through the Market Technicians Association, you'll recognize some of these key-note speakers as authors of some of the textbooks for the program! You'll be able to learn from experts in the industry. You can read more about the line-up here.
For DecisionPoint veterans, I will also be there. I cannot tell you how excited I am to meet and talk with you all. I'll be chairing a breakout session that will cover where all of the DecisionPoint content is and how to take full advantage of it. StockCharts beginners interested in learning more about market timing, you will definitely want to attend one of these sessions. Additionally, I am really looking forward to hosting an optional (and free!) "After Dark" session specifically tailored to teach spouses and beginners alike, what technical analysis is.
So don't think that ChartCon is only for advanced users or technical analysis professionals. It is a celebration of a mutual interest in the area of market technical analysis, charting and timing.
Below I've now listed all of the different educational articles that I have written in case you missed them.
In closing, I hope to see you in August at ChartCon 2014, if you are feeling overwhelmed by the plethora of tools and information available on StockCharts.com, I can guarantee you will leave the conference feeling more comfortable with not only the website but with the nuances of technical analysis.
Happy Charting!
Erin
---
DecisionPoint Blog Educational Articles by Erin Heim/Chip Anderson
Welcome to DecisionPoint on StockCharts!
Taking Your Charts To A New Level - SharpCharts vs. The DP ChartTool
What's Where on StockCharts.com? A Quick Tour of the Site
Creating a DecisionPoint ChartStyle
A Walk Through the New DecisionPoint Gallery
Amp Up Your Analysis With Overlays and Annotations
Help! Here's How To Find It On StockCharts!
Price Momentum Shifts - Creating A Watch List Using the PMO
Adding DecisionPoint.com's Chart Collections to Your StockCharts Account
Announcing the DecisionPoint Market Indicator ChartPack! All of Our Key Charts in One Easy-to-Use Package
Don't Forget To Login!
DP ChartStyles Made Easy
DecisionPoint Intraday ChartPack - A "Must-Have"
Top Five Things All DecisionPoint Subscribers Should Do NOW!
Customizing Gallery View For DecisionPoint (Or Your Personal Style)
Creating A Workflow ChartList
DP Subscribers: Renew Your StockCharts Subscription For Less Than Your DP Subscription!
Using PMO BUY Signals on DP SPX-Plus Tracker Report
DecisionPoint Trackers: Timing Signals and Strength Rankings Across the Markets
DecisionPoint Market Recap and Expanded Market Summary
The DP Alert Daily Report - One Stop For Market Posture and Timing Signals
StockCharts.com "Cheat Sheat" for DecisionPoint.com Users