We track a group of ultra-short-term indicators that identify buying or selling climaxes in that time frame. Climax readings typically tell us that price movement in the direction of the climax is probably exhausted, and that consolidation or price reversal is possible.
Today the Climactic Volume Indicator (CVI) and Participation Index-DOWN had modest climactic readings, which wouldn't normally attract our attention, but you can see how weak climaxes have led to weak rallies since late-April. With that in mind, we need to realize that another push toward recent highs is possible.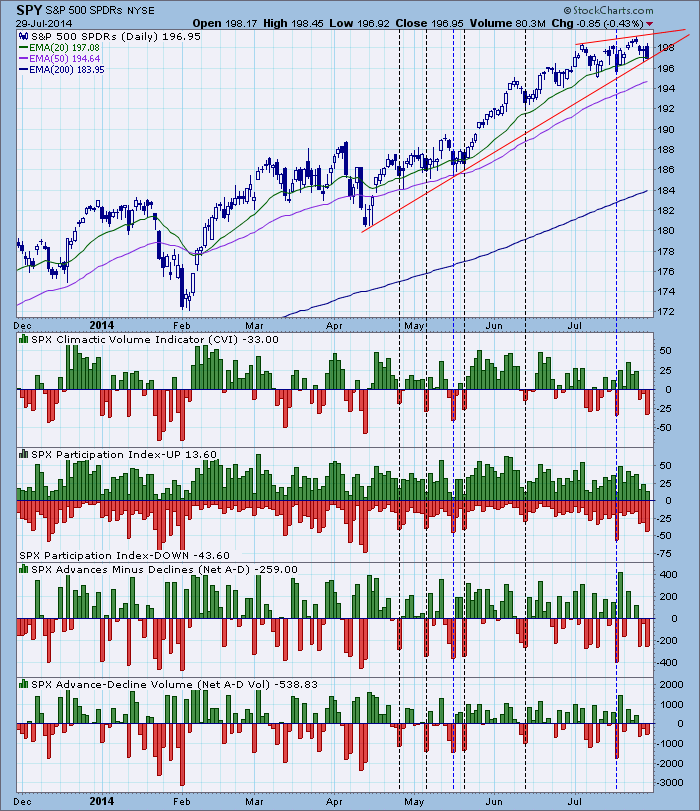 More typical (deeper) climaxes can be seen in January and April, and those kinds of readings are what we usually wait to see, but since then, we can see that the bears have been losing their grip pretty quickly.
In a bull market buying climaxes (tall green bars) are most likely to initiate moves to higher prices, but a short period of consolidation is possible.
Conclusion: For the last four months shallow selling climaxes leading to short rallies and higher prices has been the rule. We can't rule out lower prices and deeper climaxes during this current decline, but we're already in the danger zone for those who are thinking about shorting.

Happy charting,
Carl
About the author:
Carl Swenlin
is a veteran technical analyst who has been actively engaged in market analysis since 1981. A pioneer in the creation of online technical resources, he was president and founder of DecisionPoint.com, one of the premier market timing and technical analysis websites on the web. DecisionPoint specializes in stock market indicators and charting. Since DecisionPoint merged with StockCharts.com in 2013, Carl has served a consulting technical analyst and blog contributor.
Learn More